Top seven best-selling gin brands
The gin category was in rude health last year, boosted by flavour experimentation and growing interest in emerging markets. We present the brands at the top of their game.
Gin volumes soared by 12% in 2019, according to figures from Euromonitor, proving the category's resilience as many fear consumers are fatigued by the juniper-based spirit.
In the UK, gin sales were valued at around £2.6 billion (US$3.3bn) last year despite a slowdown in growth, according to the Wine and Spirit Trade Association (WSTA).
There was little change among the positions of our million-case sellers, with nearly all gin brands recording growth, except for one.
Following our recently published Brand Champions 2020 report – an in-depth analysis of the brands selling more than one-million cases annually – here, we run through the world's best-selling gin brands on the market today.
Click through the following pages to discover the top 10 best-selling gin brands, listed in order of their nine-litre case sales.
Data is listed to one decimal place for ease of reading, but the percentage changes are based on the full data supplied to The Brand Champions 2020.
7. Hendrick's
2019: 1.4m
2018: 1.3m
% change: 8.5%
Place last year: 7
William Grant & Sons' Hendrick's brand witnessed its fifth year of growth in 2019, increasing by 8.5% to 1.4m cases.
In October 2018, the brand opened the doors to its plush £13 million Gin Palace, which doubled its production capacity and increased scope for flavour experimentation.
Hendrick's unveiled a number of new products last year including a limited edition summer solstice-inspired gin, a moon-inspired gin and the travel retail-exclusive Amazonia. The brand also moved into absinthe.
6. Larios
2019: 1.5m
2018: 1.5m
% change: 1.6%
Place last year: 6
Beam Suntory-owned Larios continued its year-on-year growth in 2018 with a slight rise of 1.6% to reach 1.5m nine-litre cases. The brand's nearest competitor, Hendrick's, is closing in on Larios and could soon overtake the brand as the sixth best-selling gin.
In October last year, Larios created an expression flavoured with four distillations of wild juniper exclusively for travel retail.
5. Seagram's
2019: 2.6m
2018: 2.6m
% change: -0.8%
Place last year: 5
The only million-case gin brand to decline in 2019 was Pernod Ricard's Seagram's brand, which dipped 0.8% to 2.6m cases.
In the last 12 months, Pernod Ricard has made a number of moves in gin. The portfolio was expanded with the acquisition of Italian brand Malfy, followed by a "significant investment" in Japanese brand Ki No Bi and the purchase of the remaining stake in German brand Monkey 47. 
Malfy and Ki No Bi joined Pernod Ricard's Gin Hub, sitting alongside the likes of Beefeater, Plymouth and Monkey 47.
4. Beefeater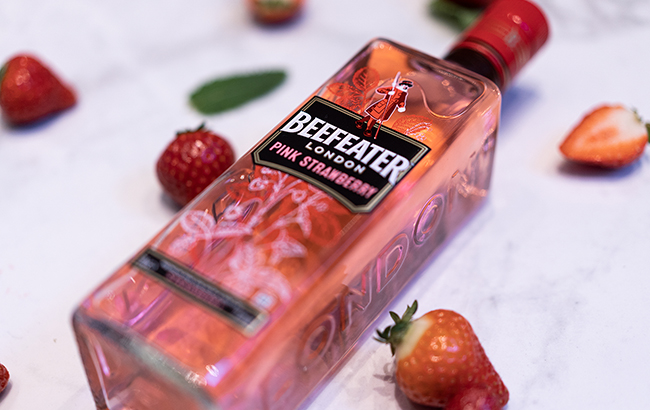 2019: 3.4m
2018: 3.1m
% change: 10.1%
Place last year: 4
After expanding its offering to include orange‐ and strawberry‐flavoured gins, Pernod Ricard‐owned Beefeater enjoyed double‐digit growth last year, growing volumes to 3.4m nine‐litre cases.
In Pernod Ricard's 2019 fiscal year, Beefeater grew net sales by 8%, with "very strong growth across all regions", in particular in the UK, Latin America and Africa and Middle East.
Strawberry-flavoured Beefeater Pink was unveiled in February 2018 by The Gin Hub. Louise Ryan, managing director of Pernod Ricard's Gin Hub, said last year during a briefing that the expression "exceeded all of our expectations and sales are fast approaching the 300,000-case-mark".
3. Tanqueray
2019: 4.5m
2018: 4.0m
% change: 11.9%
Place last year: 3
The fastest growth rate for the category came from this year's Gin Brand Champion, Tanqueray, which increased its volume sales by 11.9% to reach 4.5m cases.
D‐J Hageman, global brand director at Tanqueray, attributes the brand's 2019 success to its ability to "grow ahead of our competition in established markets like the UK and Spain, by supporting the exponential growth that we have seen in some of our newer gin markets like South Africa, Brazil and Mexico, and by igniting the beginning of the gin revolution in the US".
The brand has unveiled a number of innovations over the past year, including bottled Tanqueray and tonics and Citrus Heart Cocktail Bitters. The Diageo-owned brand also unveiled the latest iteration of its Unmistakably Tanqueray campaign.
2. Bombay Sapphire
2019: 4.7m
2018: 4.3m
% change: 7.9%
Place last year: 2
The second biggest-selling gin brand in the world, Bacardi's Bombay Sapphire, reported a 7.9% increase to 4.7m cases in 2019. The brand's competitor, Diageo's Tanqueray, is hot on its heels at 4.5m cases.
In August last year, Bombay Sapphire gin released a new US$20m global campaign, called Discover the Possibilities Within. The brand also launched a gin inspired by summertime in the English countryside.
1. Gordon's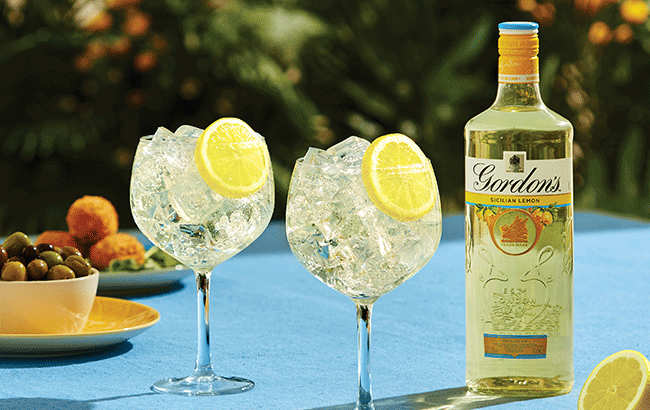 2019: 6.7m
2018: 6.5m
% change: 3.6%
Place last year: 1
There were no surprises in this year's best-selling list with Diageo-owned Gordon's retaining its crown as the world's largest gin brand. The brand's growth of 3.6% was much smaller compared to 2018 when it reported a huge 26.7% growth, which led to the brand being named our Supreme Brand Champion in last year's Brand Champions report. Despite the slower growth, it is still 2m cases ahead of competitor, Bombay Sapphire.
In 2019, Gordon's Gin created two commemorative cocktails to celebrate 250 years since it was created by founder Alexander Gordon in 1769.
A flurry of innovation during the first quarter of 2020 could see the brand boost sales.