Licor 43 creates campaign for vegan-friendly Horchata
Spanish liqueur brand Licor 43 has highlighted the vegan credentials of its Horchata expression through a new marketing drive in the UK.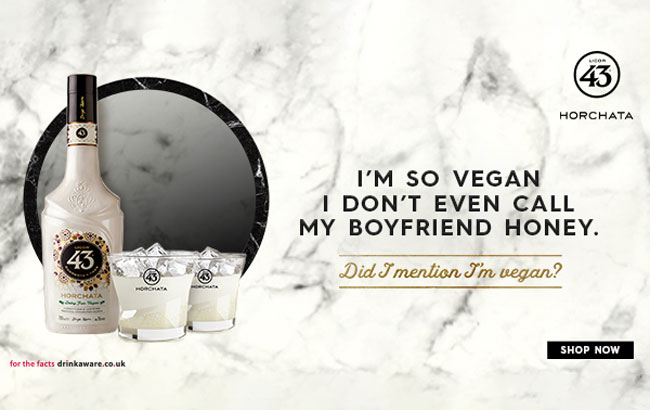 Earlier this year, Spanish drinks firm Zamora Company updated the recipe for its horchata-inspired Licor 43 liqueur, which is now 100% vegetable-based and free from dairy.
To highlight it's new plant-based recipe, Zamora Company has launched a campaign to reach the "dynamic, innovative vegan and free-from sector".
With the tag line 'Did I mention I'm vegan?' at its heart, the campaign will have several different incarnations that will run across Facebook and Instagram advertising, display banners and Google ads.
Running for five weeks from mid-July, the campaign features "conversational straplines" such as 'I'm so vegan I don't even call my girlfriend honey', 'Vegans just wanna have fun' and 'Smooth like jazz, but cool as funk'.
Craig Chapman, from UK distributor Cellar Trends, said: "We've created this campaign specifically for the UK market and have built in touches of attention-grabbing irony and humour.
"It's a bit of an unapologetic approach but still communicates the credentials at the core of the brand – the fact it's dairy-free and nut-free and tastes delicious. And the fact that tiger nuts don't come from tigers."
Last month, Licor 43 announced it would host its Bartenders and Baristas Challenge in a digital format this year due to the Covid-19 pandemic.