World Class winner James Grant on 'honest hospitality'
After competing in Diageo World Class multiple times, bartender James Grant was crowned champion of the cocktail contest last year. We caught up with him to discuss his journey to the top and his approach to hospitality.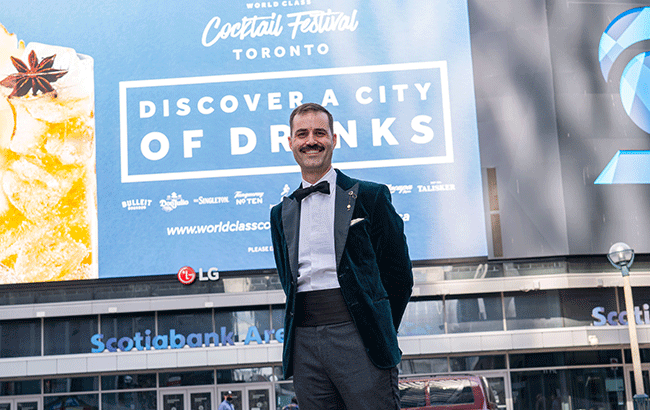 *This feature was originally published in the September 2021 issue of The Spirits Business magazine.
When I ask World Class bartender James Grant where it all began, I'm taken aback by his answer. Australian‐born Grant explains that his introduction to bartending was a "mercenary" one, taking a chance on a fake CV and the art of not getting caught.
"When I moved to London in 2013 I wasn't able to find a job, so I made up a bartending resumé and called my friends back home and was like, 'you're going to be my references.' None of them had worked in bars either, so I don't know what I was doing," he laughs.
While Grant's first experience of the alcohol sector was in a craft beer bar, it was the first taste of an industry that would go on to change his life. Diageo World Class has run for 12 years, now spans 60 countries, and the five‐day event is considered to be one of the most prestigious global cocktail competitions.
Emerge victorious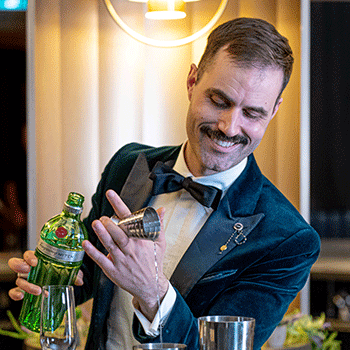 In March 2021, Grant triumphed in the Canada heat, and went on to represent the country at the first fully virtual World Class Global Final event, headquartered in London.
The virtual contest hosted 50 bartenders, with Grant emerging victorious after producing his signature A Tale of Two Malts cocktail. Before this feat, however, Grant had lost six consecutive finals.
"The running joke with the World Class competition is that they will always announce a winner and I will always cry," he says. "But it's never an issue of crying because I lost. It's just such an intense, emotional experience. Some years I'm crying out of joy, some years out of the relief that the event is over."
When considering the reason for his success in 2021, Grant says World Class showed him that winning was not necessarily about what he wanted to bring to the bar, but how he presented an experience to make guests feel welcome. "Obviously, competitions are great, and prizes are wonderful; all these great celebrations of what we do. You come away from it with the ultimate beneficiary being your guest. The other 360 days of the year, you can share these ideas and new developments you've learned. The guest is the one to benefit the most," he explains.
While competing in Diageo World Class competitions shaped Grant as a bartender, he also credits a lot of his success to the town he works in: Edmonton, Canada, where you'll find him creating cocktails in the Little Hong Kong bar. "Canada is a smaller market than a lot of other countries, and in the city I bartend in there's only about a million people. There's a small‐city mentality, and there's a certain amount of imposter syndrome with bartenders, both in small cities and nationally in Canada," he says.
"In a country which can quite often be inhospitable in terms of its climate and geography – Canada's not necessarily the easiest place in terms of the weather – when we get to connect with others, that is a very valuable thing. I think that is drawn out in our hospitality style – we love to host one another and make sure everyone around us is comfortable, safe and happy."
Unique experience
Having competed in numerous contests in the US and taken the opportunity to travel and meet bartenders in other countries, Grant has a clear perspective on what makes tending bar in Canada a unique experience. He says: "Bartending in Canada breeds a drive to go beyond what we think our limits are, and a strong connection with the team around you, the community, and your guest – it's this drive of putting hospitality first, and it's a very honest style of hospitality."
What does the future have in store for the World Class Bartender of the Year 2021? It's a title Grant very humbly talks about, demonstrating that stereotypical kindness and down‐to‐earth hospitality that we expect Canadians to possess. "It's a title that still feels weird coming out of my mouth. The next year is thrilling for me. I'm really excited to travel and be out where people are bartending, seeing what people are doing in Asia, South America or Europe," Grant explains. "And to potentially be at a judging table with people I've always looked up to as legends in the industry is really exciting."
Grant will judge the next edition of the competition he took part in himself, with challenges such as the creation of a Johnnie Walker Highball, hosting a masterclass on producing a Tanqueray No. Ten cocktail at home, or designing a Ketel One vodka serve with a positive environmental approach.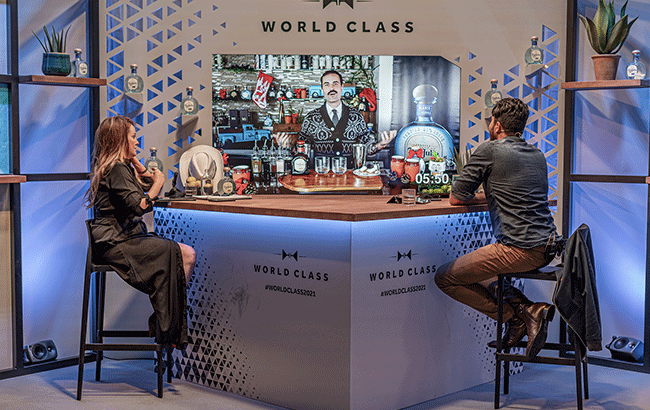 I ask Grant about his thoughts on the increasingly popular sustainability element that has exploded in the cocktail industry. From the reusing of waste ingredients to calculating the carbon footprint of serves, it's a concept that has firmly rooted itself into a growing number of bar menus. He says: "Sustainability is an enormous focus for the industry as a whole, whether that's bartenders looking to repurpose ingredients and build sustainability into their menu or whether it's on a larger scale. Diageo especially has made sustainability central to its business plans," he adds, noting the company's 10‐year plan: The Society 2030: Spirit of Progress.
"Diageo's sustainability plan extends not just to on‐premise bartending but also the production side of things, which is a side of sustainability we don't see as often, and when we do it's more public‐facing like Johnnie Walker transitioning to a paper bottle," Grant explains, referring to the launch of Diageo's plastic‐free, paperbased container.
"Having that focus at a high level and seeing the way bartenders feed this back into their programmes is exciting. Sustainability isn't going away. Bartenders are a fairly caring lot. We see a problem like that and we can't help but try to help."
While Grant has an appreciation for the adoption of environmental values in the cocktail world, his own mixology has a much more simple focus: classic cocktails.
Wonderful blueprints
After reading Gary Regan's The Joy of Mixology, Grant estimated there are only 10 actual cocktails – "Everything else is a variation on a classic". The late Regan provided "wonderful blueprints" for a number of drinks, and Grant came to appreciate how classic cocktails have stood the test of time.
"For me, classics are something that my mind can quickly default to. Someone else may tell me they love whisky, but don't necessarily want an Old Fashioned, so I'll make a Manhattan or Little Italy, one of these modern classics," he says. "When I make a cocktail off the cuff, people ask what it's called. I'm terrible at naming cocktails. But if I can put down a classic and they ask what it is, I can give the whole backstory. It's a more full experience for the guest."
When sitting in a bar as a guest, Grant has a hard time turning off his "bartender brain". "At the beginning of my career I used to order something not suited at all to the space I was in. I look back now and roll my eyes – I wasn't getting the best out of that bar, and they certainly weren't getting the best out of me as a guest," he says.
Grant finds a crucial ingredient to being the best guest is simply understanding context.
"I've sat at the American Bar at The Savoy, and I've also sat at a lot of dive bars. It's very important to recognise the difference between the two. I would not go to the American Bar and order a shot of beer. But I'm also not going to order a really wild, bespoke cocktail at a dive bar. As I move further and further into my career, I'll go in and recognise that more."
I ask Grant if he was walking into a bar right now to order a cocktail, what would that be? He tells me that today, in his "heart of hearts", it would be a Bobby Burns. "It offers a lot of variety. Elegant and classic," he says.