Canada's James Grant wins Diageo World Class 2021
Diageo has awarded Canada-based James Grant the title of World Class Bartender of the Year 2021 in the event's first virtual global final.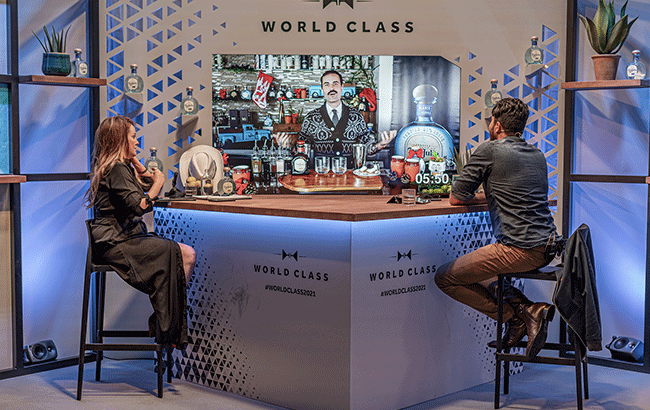 Grant, who is originally from Melbourne, Australia, and now lives in Edmonton, Alberta, Canada, welcomed the win after what he described as an "unbelievable" year.
"When I started my journey in bartending I never thought it would lead me here," he said. "I was simply inspired by the community and creativity of everyone around me, it was infectious and soon I had fallen in love with the craft and opportunities.
"It gave me the drive and determination to seek out the best in the business to learn from and that's what got me here today."
Over the past five days, Grant went head to head with 49 other bartenders in a live-streamed competition that encompassed a variety of cocktail-making challenges.
Finalists were tasked with developing a Johnnie Walker Highball inspired by their home city; hosting a masterclass to demonstrate how to make a Tanqueray No. Ten serve at home; creating a sustainable Ketel One vodka cocktail; and putting together a subterranean-themed Don Julia Tequila drink. Competitors also took part in a speed round challenge to determine their speed of service and cocktail quality.
Simon Earley, global head of Diageo World Class, said: "The judges were blown away by James' creativity and originality, creating serves that were amazing to experience visually, virtually and in person. They are a fully deserving winner and I'm really excited to start working with them as a World Class ambassador in the year ahead."
As part of his prize, Grant will judge World Class national competitions over the coming year.
"I want to thank all those who have been part of that journey and now I want to inspire up and coming bartenders to find a career and a creative outlet in the extraordinary world of bartending," Grant said.
Going virtual
After the 2020 competition was cancelled due to the Covid-19 pandemic, Diageo originally scheduled the 2021 final to take place in Madrid, Spain, but later moved the event online.
To execute the virtual competition, the spirits giant set up a production and broadcast hub in London. 'Avatar' bartenders mixed each competitor's drink for the judges as the contestant presented it via live stream from their own country.
Earley commented: "Our first-ever virtual World Class global final has been a huge success and has resulted in one the most innovative and creative competitions we have ever seen."
The week also saw a series of virtual events designed to reach consumers, including a cocktail-making session with actor and Tanqueray gin partner Stanley Tucci and Connaught Bar director Ago Perrone.