Bacardi launches non-alcoholic 'spirit' Palette
Grey Goose owner Bacardi has unveiled its first non-alcoholic 'spirit' brand, Palette, which has been created to elevate alcohol-free cocktails.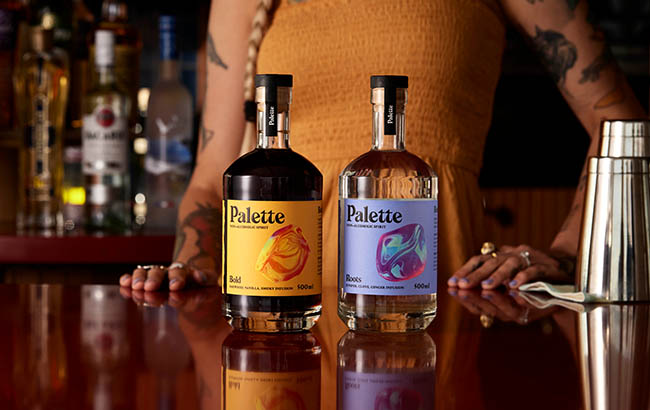 Palette is the result of a collaboration between Bacardi and bartenders in Amsterdam, with the aim of creating a non-alcoholic 'spirit' that would 'inspire creativity among bartenders'.
The brand debuts with two 500ml expressions: Palette Roots and Palette Bold.
Palette Roots offers a 'deep, complex and fragrant flavour', and is made using juniper berries, ginger and the oils of nutmeg, cloves and cinnamon.
Meanwhile, Palette Bold is said to taste like an aged spirit, with an 'upfront and punchy experience', followed by 'woody, oak and smoky' notes.
The brand's master of botanicals, Alessandro Garneri, and his team used 'cutting-edge' technology and three different methods to obtain 'intense, all-natural flavours' from the botanicals.
Ingredients used in the range include American oakwood, gentian root, juniper berries, nutmeg, cinnamon and ginger.
"We're calling time on sweet, tasteless 'mocktails'," said Marine Rozenfeld, innovation development lead for Bacardi Europe, Australia and New Zealand.
"With the launch of Palette coming hot on the heels of our new Martini Non-Alcoholic Aperitivo with its ground-breaking quality and taste, we are definitely taking mindful drinking to new heights.
"Palette is the perfect choice for creative bartenders looking to mix things up behind the bar. I can't wait to see how they use Palette to flex their creative muscles with non-alcoholic cocktails in a way that's never been possible before."
Focus on no-and-low
Palette joins Bacardi's low- and no-alcohol portfolio, which includes Martini Non-Alcoholic Aperitivo Vibrante and Floreale, Martini Fiero vermouth and St-Germain elderflower liqueur.
Bacardi has also expanded its low-alcohol range in recent years, including a 30% ABV range for Grey Goose vodka and the lower-ABV Plume and Petal line. The latter's launch received criticism over its use of gendered marketing.
Citing IWSR data, Bacardi said the no-and-low 'spirits' category increased by more than 30% in 2020, with global consumption of the subcategory expected to grow by 31% by 2024.
Bacardi also predicted the retail value of low/no 'spirits' will reach US$500 million in Western Europe by 2024 – a 400% increase from 2020 to 2024.
Bacardi recommends serving Roots in a Gimlette Highball, which combines lime juice, lime, mint cordial and soda water to create an alternative to the Mojito cocktail.
It can be also be mixed with Martini Non-Alcoholic Aperitivo Vibrante or combined with grapefruit soda, lime juice and tonic water.
Bold can be paired with lemon juice, agave syrup and mint, or mixed with ginger beer. It can also be used as the base for an Espresso Martini.
Palette will launch in select bars across London, Paris and Amsterdam this month.
Bacardi said it will continue to provide bartender education programmes and guidance to help venues tap into mindful cocktails as part of its Raise Your Spirits initiative.