Top 10 award-winning spirits bottle designs
We reveal 10 bottle designs that earned top marks in our Design & Packaging Masters competition – show-stoppers that are perfect for gifting during the festive season.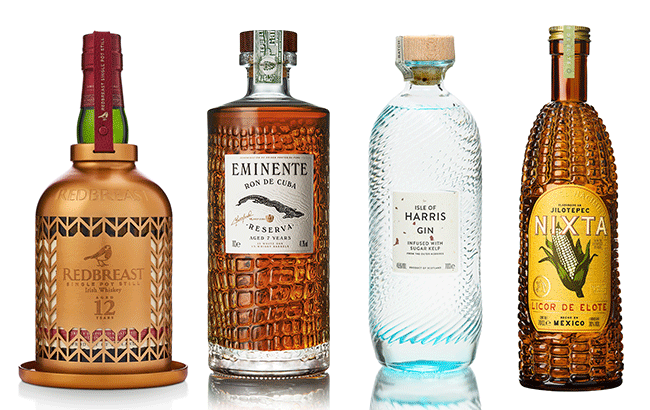 An aesthetically pleasing bottle helps to draw in drinkers before they've even tried the liquid inside – which means beautiful design is a powerful tool in the arsenal of spirits producers around the world.
Last month, we held our annual Design & Packaging Masters competition to determine the best bottle designs on the market. We brought together a panel of experts at The Bridge in London: Bryan Rodriguez, wine and spirits buyer at Harvey Nichols; Bernadette Pamplin, spirits writer and founder of the Under the Ginfluence blog; Ivan Dixon, independent spirits consultant; Hugo Mesquita, sales and marketing director at Amorim Top Series, sponsor of The Design & Packaging Masters; and Melita Kiely, editor of The Spirits Business and chair of the competition.
Our experts judged each entry on its appearance and functionality, and also considered the all-important aspect of sustainability in bottle designs.
For a look at the most beautiful and forward-thinking examples from our competition, read on.
---
Isle of Harris Gin

Price: £40 (US$53.17)
If you're in search of a stunning gin to display on your Martini trolley, look no further than the flagship bottling from Isle of Harris Distillers.
"I love the blue tints of colour on the base that very smartly travel up the waves of the bottle," one judge noted. "The wooden stopper is big and bold; it feels quality."
This Scottish gin is made in the village of Tarbert in the Outer Hebrides, and features botanicals including local sugar kelp, juniper, coriander and orange peel for a citrusy, maritime flavour profile.
---
Tiempo Tequila

Price: £54.99 (US$73.10)
Tequila lovers, this one's for you. Tiempo Reposado Cristalino debuted in October, but it's already snapped up an award for its design.
The bottle is made of recycled glass and features a sustainably printed label, as well as a natural cork and wooden stopper. Its striking box is printed with an illustration created by artist Alan Berry Rhys.
"The box is amazing, the colour is beautiful; it's visually delightful," one judge said. "I would reuse it as a water bottle."
---
Eminente Reserva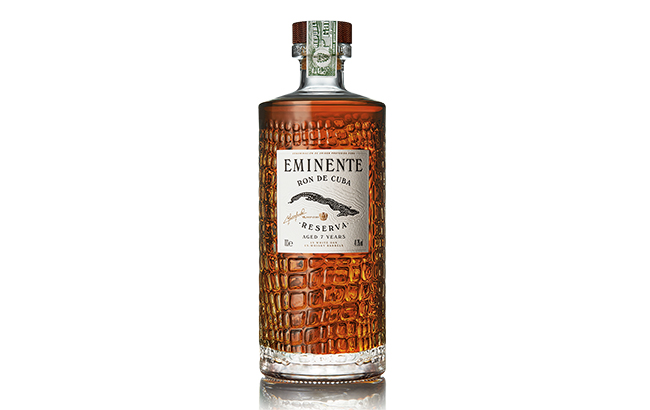 Price: £43.95 (US$58.42)
Moët Hennessy's Cuban rum brand Eminente secured the top accolade in our competition, the coveted Best in Class award. 
"As a gift pack, this is absolutely amazing," a judge commented. "The bottle and texture is stunning, and the extra glasses and canvas bag are well made, and will be reused. It's really beautiful."
Launched in the UK earlier this year, Eminente is a blend of aguardientes that is aged in white oak barrels that formerly held whisky. The liquid is then blended and aged with a light Cuban rum, and bottled at 41.3% ABV.
---
Nixta

Price: £34.95 (US$46.45)
Mexican liqueur Nixta, created by Casa Lumbre, wowed our judges with its corn cob-shaped bottle – a reference to the flavour of the liquid inside.
"An absolute standout bottle," one member of the panel commented. "The shape is beautiful, the label is vibrant but still has a Mexican heritage‐style to it. This shows how to properly package a product to represent the liquid inside."
Nixta is made from cacahuazintle maize, an ancestral variety grown around the Nevado de Toluca volcano in Mexico. It takes its name from the process of nixtamalisation, a Mesoamerican cooking technique that's used to bring out the flavour of the corn, and is employed in the liqueur's production.
---
Maison Ferrand Selection Des Anges

Price: N/A
Brand and packaging agency led the design of Maison Ferrand's Selection Des Anges bottling, which our judges called "top notch". They particularly loved its "beautiful glass work" and "weighty, expensive‐feeling" stopper.
The name of this luxurious Cognac translates to 'angel's selection', a reference to the liquid that evaporates from the cask as the spirit matures, called the angel's share. The bottling has an average age of 30 years.
---
Redbreast 12 Years Old and Bird Feeder

Price: €70 (US$79)
Our judges loved Redbreast 12 Years Old's creative accompaniment of a metal birdcage-shaped bottle holder that doubles as a bird feeder – or, as one judge called it, a "restaurant for birds".
For each bottle sold, the brand donates €3 to Birdlife International, a charity dedicated to the conservation of birds and their habitats.
"I love the idea of the bird feeder; this is such a brilliant initiative," said one of our judges. "The actual bird feeder cage is light and has multiple uses. You hope the consumer would use this for its intended purpose, or give it to someone who will."
---
Compass Box Rogues' Banquet Blended Scotch Whisky

Price: £180 (US$240)
The label for Compass Box Rogues' Banquet – another design from branding agency Stranger & Stranger – brings to mind the grandeur of a Renaissance painting. Our judges called it "complex", with "lots going on", and hailed it as a "very cool design" overall.
The bottling is a limited edition blended Scotch whisky with components from the the Miltonduff, Clynelish and Glen Elgin distilleries, as well as grain whisky from the North British Distillery. It was created to mark Compass Box's 20th anniversary – and we reckon it would make a fabulous gift, if you can get your hands on a bottle.
---
Olde Raleigh Distillery Blended Bourbon Whiskey

Price: US$79.95
American whiskey Olde Raleigh Distillery Blended Bourbon earned praise from our panel thanks to its unique bottle shape – the brainchild of CF Napa Brand Design – which our judges noted is "reminiscent of a whiskey still". They also loved its "great texturing on the label". 
Designed to be reused as a glass decanter, the bottle features details such as an embossed logo on the bottom and a coin attached to the wooden topper.
Located in Zebulon, North Carolina, Olde Raleigh Distillery makes its flagship Bourbon using 19th-century Scottish blending practices. The expression contains three Bourbons sourced from across the US, containing malted barley, corn and rye.
---
Stauning Kaos

Price: £60 (US$79.96)
Danish distillery Stauning is a frontrunner in the world whisky scene, and its eye-catching bottle design reflects the quality of the liquid in the bottle. Our panel was impressed with its "abstract black matte detail" and "striking, modern artwork".
Kaos is a blend of Stauning expressions, bringing together the producer's malted rye whisky, unpeated whisky and peated whisky. 
Earlier this year, Stauning unveiled El Clásico, a rye whisky finished in vermouth casks. The design for El Clásico also secured a Master medal in our competition.
---
Isle of Raasay Single Malt

Price: £48 (US$63.81)
Stranger & Stranger racked up another award for its bottle design for Isle of Raasay Single Malt. Our experts were keen on its use of texture, particularly its "fossil-shell embossing". 
"This is a beautiful bottle; stunning. The paper label feels luxurious," one judge enthused. 
The design is inspired by the landscape of Raasay, the Scottish island on which the whisky is made. The spirit itself is the first legal single malt whisky from Raasay.