Kendall Jenner releases 818 Tequila clothing line
818 Tequila, the brand founded by Keeping Up with the Kardashians star Kendall Jenner, has created a range of merchandise, with sales 'helping to support sustainability efforts'.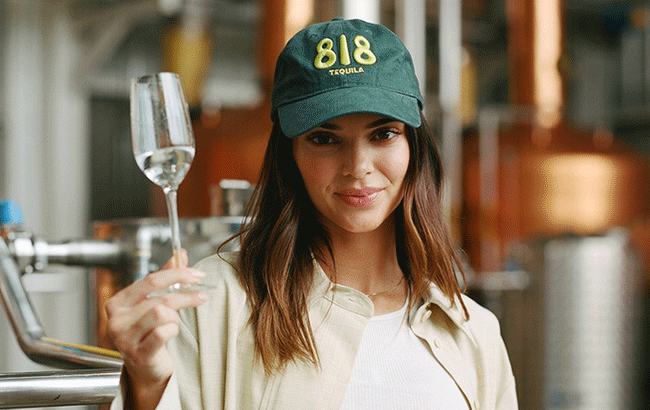 Jenner's Tequila brand released its clothing range yesterday (30 November) to mark Giving Tuesday, promising to use the proceeds to assist industry nonprofit Sacred Agave.
Sacred is organisation that gives back to the rural Mexican communities that produce agave spirits. In October, Jenner's Tequila brand teamed up with the nonprofit to found the 818 Bricks Program, which turns post-production agave fibres into bricks that can be used to build houses, schools and more.
The new line of merchandise features t-shirts, hats, sweatshirts, sweatpants and more, with prices ranging from US$29.99-US$99.99. Some items in the range are made from organic cotton, which the brand said it chose to help 'minimise environmental impact' and 'reflect [its] commitment to the Earth and the 818 community'.
Jenner launched the 818 Tequila range in May with three expressions: Blanco, Reposado and Añejo. The brand has reported rapid sales since its debut, claiming that in the first two months of business, its sales exceeded the figures forecast for its first two years of operation.
It has also faced backlash with one marketing campaign in particular – featuring Jenner wearing traditional Mexican clothing, riding a horse through an agave field – stirring accusations of cultural appropriation.
According to 818 president Mike Novy, the brand plans to pursue a luxury-focused international expansion strategy. Last month, the Tequila landed in the UK for the first time through online retailer VIP Bottles.
Earlier this year, we interviewed Sacred founder Lou Bank to learn about the organisation's mission and agave-replanting projects.
To learn more about the influx of celebrity-backed Tequila brands, read our analysis of the trend.