Marcis Dzelzainis: bringing nature to drinks
Pioneering bartender Marcis Dzelzainis has become a 'pine'-eering brand owner with his latest project, Idyll Drinks. Nicola Carruthers finds out more.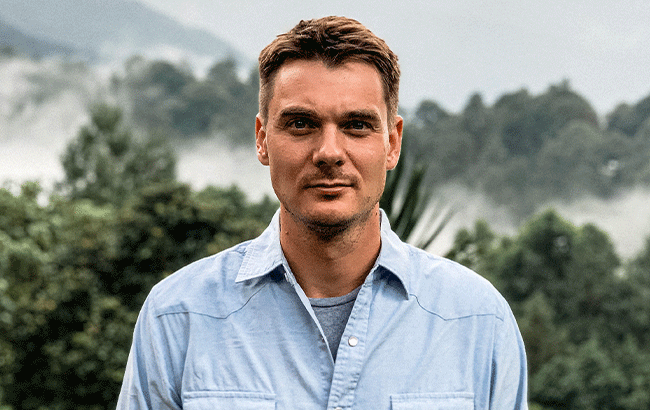 *This feature was originally published in the August 2021 issue of The Spirits Business magazine.
With a bartending career that spans more than 15 years, Marcis Dzelzainis has racked up an impressive career in the on‐trade, working in London venues such as the Zetter Townhouse, Sager + Wild and 69 Colebrook Row. Dzelzainis started bartending while he was in university in Leeds, working for Living Ventures, and like many in the industry became passionate about food and drink. Dzelzainis, with his longtime collaborator Michael Sager, were behind all‐day venue Fare Bar + Canteen in London's Shoreditch.
After selling his shares in Fare last October, Dzelzainis moved onto his latest project, Idyll Drinks. "Running a venue in this climate has been extremely challenging. I've always wanted to produce a pine soda and look at using wild ingredients," he explains.
It's not the first time Dzelzainis has dabbled in drinks brands; he teamed up with Sager and Alex Wolpert, of East London Liquor Company, to create agave distillates and sugarcane aguardientes, called El Destilado, in 2018.
Time for pine
The first product from Idyll Drinks is Pine Forest Soda, which is made with douglas fir and scots pine. "The idea came when I was working at Sager and Wilde, I was fascinated by pine as an ingredient," says Dzelzainis. "You can sustainably grow pine without damaging the tree."
Dzelzainis is also keen to expand into spirits.
"It's about using wild ingredients and highlighting the breadth of ingredients that exist in the UK. Stuff you might not be familiar with. The first product we'd like to do is an alexander seed distillate, alexander seed grows all across the UK.
"The best way to describe it is almost like a cumin‐scented spinach or celery. You can distil it in really interesting ways – you can distil the shoots or seeds." Dzelzainis said the aim with Idyll Drinks is to "scale up in a gentle way".
"We want to showcase these wild ingredients," he explains. "A lot of them are grown in marginalised areas. Wild margins are more interesting, and there's more biodiversity. It's about challenging the notion that everything needs to be in stock. We'll do limited releases tied into what's going on from a seasonal perspective."
Dzelzainis is seeking to secure access to a woodland area in Hertfordshire to offer foraging and distillation courses, and show consumers how to identify wild ingredients in the area.
Not one to sit still, he is also busy working on cocktail menus for two new venues in London – Cuban bar La Rampa near Oxford Circus, and all‐day destination Christina's at the Mondrian Shoreditch hotel. Both sites are due to open in early August. La Rampa will offer drinks that are "authentically Cuban", explains Dzelzainis, who became passionate about Cuba's cocktail scene after visiting the country numerous times and winning the Havana Club International Cocktail Grand Prix competition in 2010.
"I've always been really fascinated by Cuban drinks because it's a category that often gets lumped in with tiki," he explains. "People aren't quite sure what they are, and tend to just focus on a Daiquiri. I want to challenge people's preconceptions about Cuban drinks and show people the complexity of these drinks. Cuban drinks tend to have fewer ingredients, with a focus on using the freshest citrus possible. You need to juice fresh citrus for every single drink, which cuts down on your wastage."
Mojitos and Daiquiris
La Rampa will offer a menu of around 16 drinks, with a focus on Mojitos and Daiquiris.
The drinks list will include a gin‐based Mojito, along with Daiquiri variations such as the Papa Doble, a tribute to Ernest Hemingway's favourite serve, and the Jennings Cox cocktail, named after the Daiquiri's creator.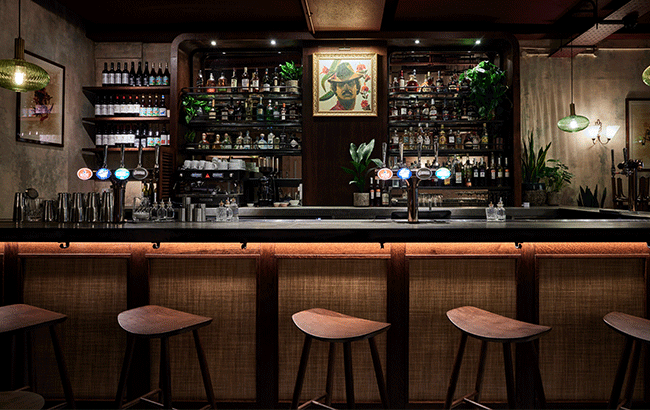 The bar will explore the versatility of rum, and will stock around five Cuban rums, including LVMH's new Eminente. "Rum has completely changed as a category," added Dzelzainis. "People are starting to understand and engage with the complexity of rum. We wanted to have a broad selection of rums that challenge the preconception of rum."
Dzelzainis said the venue would "look quite different to what people expect from a traditional Cuban bar", taking inspiration from 'old Havana', with a pale colour palette and tropical greenery. The bar is made with dark wood and rattan, while seating areas will consist of vintage furniture and velvet banquettes.
At Christina's, the focus is on UK producers, along with cocktails on draught and prebottled cocktails. "The idea is to look at Italian aperitivo culture but through the lens of British ingredients," explains Dzelzainis. He cites British producers who have put a spin on classic Campari and vermouth, such as London's Victory Distillery and vermouth and amaro maker Asterley Bros, the latter of which partnered with bartending brothers Joe and Dan Schofield to create a vermouth.
Dzelzainis says it is refreshing to see the east London venue buy direct from small producers. The drinks menu at Christina's will highlight wild ingredients as a way of connecting with nature, while minimising waste. Signature cocktails will include the 'hero' serve, an Oyster Shell Martini, made with Victory Oyster Shell vodka, Schofield's vermouth and oyster leaf, alongside drinks such as a Birch Bark Martini, Wild Nettle Spritz, Yuzu Negroni, Wild Meadow Sour and an Espresso Martini.
Never say never
Dzelzainis hasn't ruled out opening his own venue one day. "There's enough on my plate at the moment, but I never say never. Being a pub landlord is one of the hardest jobs out there. People don't see how stressful and difficult it is to actually be a small, independent operator. It's really tough. When you're an operator you have to wear a lot of different hats."
But the great outdoors is where Dzelzainis will focus on making a difference in the industry. "I'm 38 now, and I really can't emphasise enough spending more time outside working with wild ingredients, and trying to find a way of changing the industry in a positive manner. It's become really important. If you don't do it now, then when are you going to do it?"