Hernö secures listing with Ocado
Swedish distillery Hernö is now selling its core gin range through UK-based online grocery business Ocado.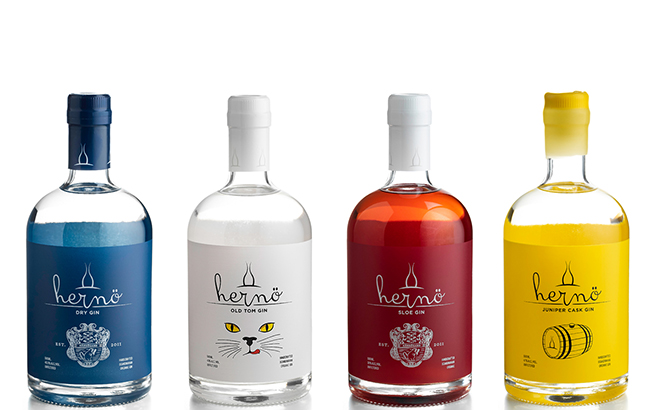 Hernö London Dry, Hernö Old Tom, Hernö Juniper Cask and Hernö Sloe Gin will be available to purchase online through Ocado.
Jon Hillgren, Hernö founder, said: "It's an honour to be listed in Ocado, who like ourselves have been driving real innovation in their own field these last 10 years.
"We're excited to be available on their platform and are convinced that Ocado's adventurous, quality-hungry customers will enjoy discovering these four special gins."
The London Dry Gin is bottled at 40.5% ABV and retails for £31.95 (US$42.87). Meanwhile, the Old Tom Gin clocks in at 43% ABV, and is available to buy for £34.95 (US$46.90). It is distilled with meadowsweet, and further sweetened with honey to lift its floral notes.
The Sloe Gin rests at a lower ABV of 30%, and is infused with sloe berries followed by a maturation period of three months. It can be purchased for £39.95 (US$53.62).
Finally, the Juniper Cask Gin sits at 47% ABV, and is matured in juniper wood casks. The 'intense juniper notes' are finished with a hint of citrus peel. This bottling retails for £57.95 (US$77.80).
Hernö is imported and distributed in the UK by Love Drinks.
Samantha Burke, managing director of Love Drinks, said: "Hernö continues to encapsulate consumers around the world through its high-quality, unique and beautifully crafted gin. The listing of this eclectic four-strong gin mix in Ocado is great news for the brand and even better for the UK's discerning gin lovers."
Hernö launched its Old Tom Gin in Waitrose supermarkets  in August this year.
The gin brand also recently expanded its presence and launched its Swedish Capital Gin in Stockholm, which was produced as a tribute to the city and its diversity of people and cultures. The liquid is infused with lemon myrtle, while notes of fenugreek are delivered on the palate. The liquid sits at 42.4% ABV.
The brand also launched a national Gin & Tonic Day in Sweden in April this year to coincide with the brand's anniversary.