Cocktail stories: Frozen Banana Ramos, Murder Inc
By Alice Brooker
With its Frozen Banana Ramos cocktail, London bar Murder Inc has created a to-die-for riff on a classic, according to founder Andy Mil.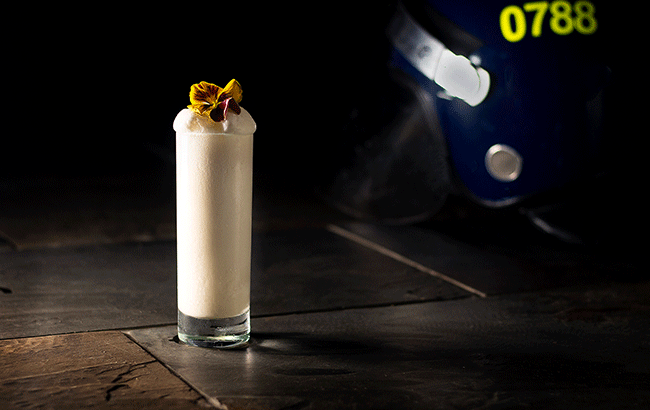 *This feature was originally published in the August 2021 issue of The Spirits Business magazine.
London bar Murder Inc offers a drinks menu with a 'spark of intrigue', and the Frozen Banana Ramos is the only cocktail to have never left the list.
According to Andy Mil, founder of the grungy basement space in Soho, the beverage has developed "a bit of a cult following".
The drink's ingredients include a homemade banana and coconut syrup, espresso mix, custard and, crucially, Jägermeister, all ingeniously blended instead of shaken for ages like its classic counterpart.
Mil explains that while Jägermeister was once the bartender's shot of choice, a wide range of consumers drinking the spirit meant "it fell out of niche with the cocktail bartending community". He says: "I wanted to create a drink that took away from the stigma that Jägermeister sometimes has. It's my favourite part of the cocktail."
The creamy serve carries "levels of bitterness and complexity without being overly sweet for its style of drink". The Murder Inc team has also produced the cocktail with "pretty much any fruit you can think of", even venturing into the vegan world with substitutes of dairy‐free vanilla ice cream instead of custard, and oat or soy milk – all of which work well, Mil assures.
Since the bar launched the Frozen Banana Ramos, it has remained a popular choice – particularly with those in the hospitality industry, as well as the "die‐hard regulars".
The venue, which displays quirky characteristics, such as a beer‐mat‐covered ceiling and framed pictures of 'tough guys', claims the dark underground setting means "every day is 10pm on a December Friday" – meaning there is no specific season to order the Frozen Banana Ramos. The team recommends pairing the cocktail with their Hubcap Nachos – "and lots of them".
Ingredients:
40ml Jägermeister
25ml Banana and coconut syrup
25ml Murder Inc espresso mix
25ml Custard
25ml Egg white
50ml Stout
Method:
Blend the mixture with 75g of crushed ice, until all the ice is dissolved. Strain into a Collins glass over the Stout. Garnish with grated nutmeg and an edible flower.
To make the banana and coconut syrup, combine 100g Coco Reál, 200ml banana liqueur, 100g caster sugar, 300ml water and 1 vanilla pod. Blend and bottle.
For the espresso mix, combine instant coffee, vanilla, rooibos tea, golden syrup, vanilla extract, sugar and cocoa nibs.