Oldest Glen Grant whisky hits Shanghai auction
By Nicola Carruthers
Bottle number 88 of Glen Grant's oldest single malt to date fetched CNY380,000 (US$58,922) at an auction in Shanghai, China.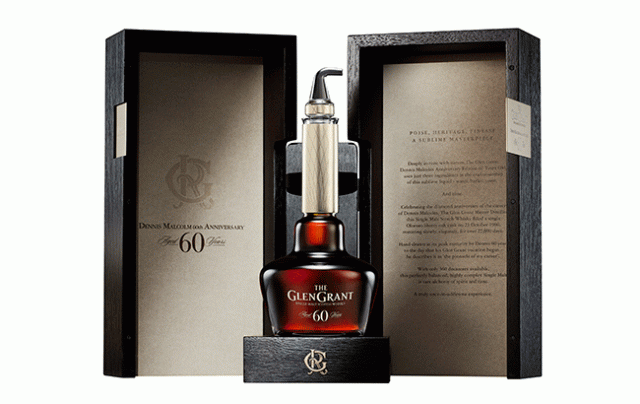 Last month, Speyside distillery Glen Grant revealed a 60-year-old single malt Scotch to celebrate master distiller Dennis Malcolm's six decades in whisky.
The 60-year-old comes from a single ex-oloroso Sherry cask, #5040, which was filled on 24 October 1960. It will be the distillery's oldest bottling in its 181-year history.
The new bottling was unveiled at a launch event at The St Regis hotel in Shanghai last week, which culminated in a live auction of bottle number 88 of the whisky. The number is symbolic in China for good luck and fortune.
The sale marked the highest price ever paid for a bottle in the region for Campari Group's portfolio.
"The Glen Grant The Dennis Malcolm 60th Anniversary Edition is a 60-year-old single malt Scotch whisky that pays tribute to one of the longest standing master distillers in Scotland and a globally recognised Scotch whisky craftsman, Dennis Malcolm," said Matteo Fantacchiotti, managing director Asia Pacific, Campari Group.
"This extremely rare and unique liquid is the hallmark of Dennis Malcolm's career and a once-in-a-lifetime experience available to just 360 discerning whisky connoisseurs globally, many of them residing here in the Asia Pacific region."
The Glen Grant Dennis Malcolm 60th Anniversary Edition is available to buy globally from October, and in select markets in Asia from November 2021. Only 360 decanters are available, priced at €25,000 (US$29,500) each.