The big interview: Dennis Malcolm, Glen Grant
By Melita Kiely
Having devoted most of his working life to Glen Grant, Dennis Malcolm was recognised by the Queen for his services to Scotch. As he celebrates 60 years in whisky, he tells Melita Kiely what has kept his love for the sector alive.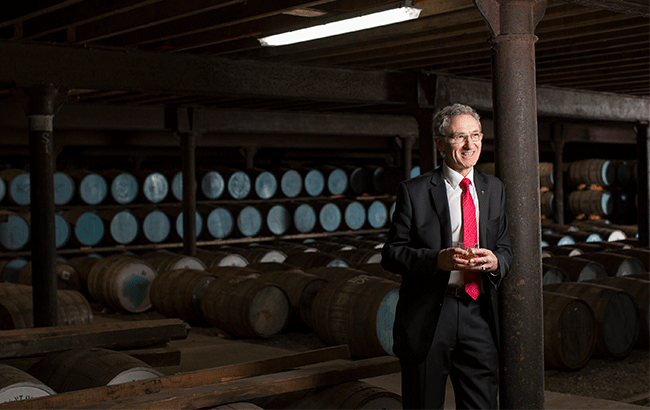 *This feature was originally published in the July 2021 issue of The Spirits Business magazine.
Destiny is what brought Dennis Malcolm into the Scotch whisky world, he tells me. Born in a house on the Glen Grant grounds, where his father and grandfather worked, Malcolm is now celebrating an extraordinary 60 years in the industry – and is the longest-serving master distiller in the Scotch sector.
His official whisky career began at the age of 15, when he started working at the Glen Grant distillery as an apprentice cooper.
"When I started to be an apprentice cooper, you had to spend five years learning your craft to make casks – and I didn't realise how important that was going to be for my career later on," Malcolm says. "Then, like all young people, I was curious and interested in how the liquid was made that would be put into these casks that I used to make."
Malcolm then went on to work across all the different processes in whisky production, from malting through to distillation. "I did that for a further six years to learn my craft at Glen Grant, then I went into a management role in 1971 and became the production brewer running the distillery," Malcolm recalls. "There was me, 25 to 26 years of age running this distillery, which was a fantastic thing to be able to say."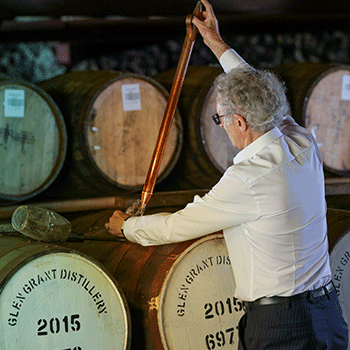 In 1979, Malcolm moved to The Glenlivet distillery to work as a distillery manager, "and I did that up to 1983", when he returned to Glen Grant to run all five Seagram distilleries: The Glenlivet, Glen Grant, Longmorn, Caperdonich and Benriach.
"I did that until 1992, when a position became vacant to run all of Chivas' nine [malt] distilleries, and that was based at Strathisla distillery," Malcolm explains. "I had more distilleries to look after and build my experience, learning how the nine distilleries all work because they're all different characters."
In 2000, Malcolm moved once again, this time to Balmanach distillery, a "very traditional distillery like Glen Grant", he says. "It was very hands-on; if you wanted something moved, you had to move it yourself, there was no automation."
But in 2006, "something was tugging at my heart", Malcolm says. That was the year Campari Group bought Glen Grant, and the company asked Malcolm if he'd return to where his whisky journey began.
"I didn't need a blink of an eye to make a decision; I was back as fast as I could because my heart's Glen Grant," Malcolm says.
Special release
When Malcolm reached the milestone of 50 years in the whisky industry back in 2011, he chose to mark the occasion with a special whisky release: Glen Grant Five Decades.
"I wanted to do something really unique," he explains. "I wanted to pick a percentage of every type of cask that the industry uses for maturing [whisky], and blend them all together to give us a unique product. See, my hair is white now – it was black when I started doing that," Malcolm laughs, never one to take himself too seriously. "It was a challenge-and-a-half because if you put too much of one cask in, it dominates the aroma and taste, so too much Bourbon cask and you get this toffee, vanilla dominating, but too many old Sherry ones, then you have too much sweet fruit, floral notes."
A self-confessed perfectionist, Malcolm spent weeks fine-tuning the final recipe.
"Glen Grant strives to be consistently perfect all the time because now we've gone from the barley to the bottle, we control everything from picking the raw materials, choosing them, to bottling them, everything has got to be perfect because when you do that – and we're the only distillery that bottles 100% of its product on site – you've got no cover to hide under if something's wrong, because you've done it yourself."
With 60 years under his belt, as of 3 April 2021, Malcolm has an extra-special surprise for whisky fans up his sleeve to mark the occasion. Glen Grant will release a rare 60-year-old limited edition whisky, the oldest and first of its kind in the brand's 181-year history.
"Sixty years in the industry – and at Glen Grant – is the best you can have because it's just one more year working doing something you really love," Malcolm enthuses. "With this [whisky] we've looked for something special to make people sit up and take notice of Glen Grant; it's not a mixture of many different casks. We've selected a very good single cask, which around about August time we should be able to firm up and put into action," he explains, tantalisingly keeping further information to himself for now.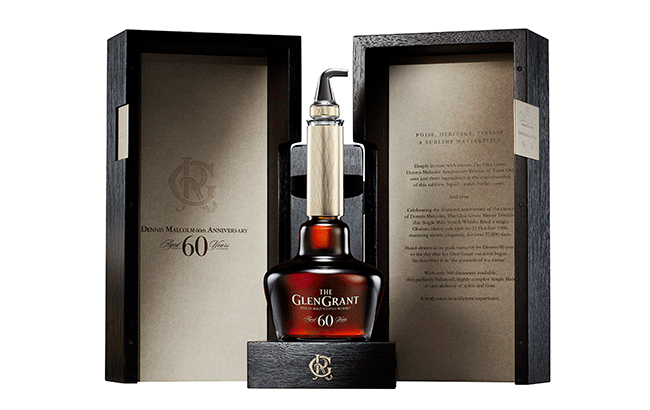 The whisky will be the latest in a long line of creative releases from Glen Grant, which Malcolm is incredibly proud of. He has high praise for the distillery's owner, Campari Group, which has "invested heavily" since it acquired the company in 2006. At the time of the takeover, Glen Grant had three expressions, Malcolm says: a five-year-old, a no-age-statement whisky and a 10-year-old, which was sold at the visitor centre.
"Since Campari took over, we have premiumised, and instead of just having three expressions, we now have five," Malcolm explains. "We have a none-aged, a 10-[year-old], a 12, a 15, an 18, and limited edition expressions, like the 170th anniversary in 2010 to mark 170 years of distilling. Then Aboralis launched last year to mark 180 years of the distillery, and we did a special whisky for global travel retail, so we've got quite a nice selection of expressions now to cater for most people's tastes. That's purely because Campari wanted to premiumise."
Not only that, but the parent company's investment enabled Glen Grant to double its capacity, buy 11 warehouses with room for 60,000 casks, and improve Glen Grant's environmental credentials.
"We actually installed a hot water recovery system because the environment is extremely important to us, and to every distillery, really, because the three main ingredients to make whisky are water, barley and yeast," Malcolm says. "In a week, Glen Grant uses two million litres of water for production, water going into the product, and 18m litres for cooling the vapour into liquid. So the hot water recovery system utilises the heat coming out of the water, and puts it back into the plant."
Hands-on role
Malcolm has been hands-on during the expansion and upgrading of Glen Grant. "My colleagues came over, and we went and brokered the deal to buy the warehouses, and I was told to get the costings for reroofing, rewiring and checking all the safety standards," he recalls. "Once that was all agreed by the main board, the millions were there in my budget and I had to secure the material and the jobs within the budget, and I had a three-year window to do it in."
The master distiller was also responsible for Campari's malts in Brazil during the "early days" of the takeover. Malcolm used to buy Scottish malt and ship it to Brazil, where it was distilled at Campari's distillery to make "pot malts".
A brief trip to visit the distillery is among many travel adventures Malcolm has had the privilege to enjoy during his distinguished whisky career. One of his most memorable voyages saw him traverse the US "around 2008/2009".
"We did a 'Meet the Masters' event," Malcolm recalls. "So we had a master distiller from Edrington, Suntory and me, a good few of us, and we went from one side of America to another and did masterclasses in speakeasies at night. It was wonderful to see how other people presented and how the younger generation were so interested in what we were doing and asking questions to make us pay attention. It was nice."
With the travel restrictions brought about this past year because of the Covid-19 pandemic, like most people, Malcolm has not been able to venture too far – or welcome visitors to the distillery. Along the years, Malcolm has hosted numerous well-known names at the distillery, and cites former UK prime minister John Major as one of his most memorable guests in 1996.
"Two or three weeks before he came, ever so many security people came [to Strathisla], which is next to the river [Spey]," Malcolm remembers. "It was special police from London and they had people going into the river, checking it. All the light stands in the street, around the distillery, the covers were taken off, checked and then sealed. So that was quite an affair, having the prime minister coming to see our distillery in Scotland."
A meeting with royalty
Malcolm has also brushed shoulders with royalty at Glen Grant, hosting prince Charles for the opening of the Glen Grant bottling plant in 2013. "That was really fantastic," he says. "He was a very down-to-earth people person, you can learn from him. He came in and had a look around the plant and the bottling hall; he asked very good questions, showing he was very interested. And when I went around and introduced him to people, before I did that he said to me, 'just tell me their name, that's all I need from you, Dennis'. And then he did all the questioning after that."
Even a mighty crash of empty bottles breaking mid-meet-and-greet did little to phase the prince of Wales, Malcolm adds. "One of the pallets crashed, and [prince Charles] said 'that'll be costly', and I said, 'they're all empty don't worry, else it would be'. And we just had to laugh – he was brilliant at putting people at ease."
In his final celebrity anecdote, Malcolm's infectious sense of humour shines through.
"A very famous person came to Glen Grant many years ago, and when this lady went back to America, after seeing the gardens and having a drink by the rocks beside the waterfall, she was inspired to record a new song, and it went to number one in America and the UK for eight weeks – and do you know the song? It was Tina Turner – it's Simply the Best," he laughs.
"I jokingly say that to people, but if you're at Glen Grant at any time, you'll never forget it because this is the best in the industry," Malcolm insists.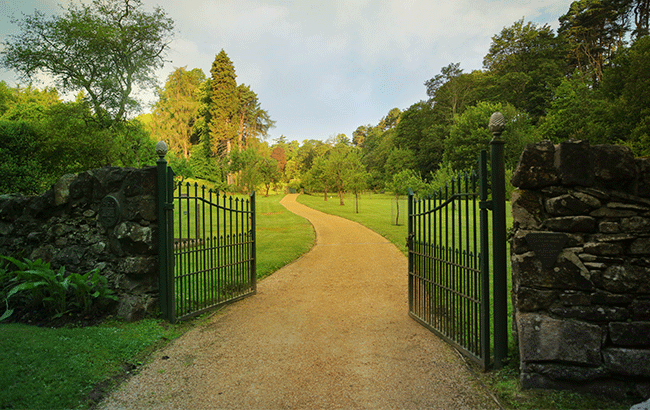 Enthusiasm and care
His passion for Glen Grant is unwavering – and this enthusiasm and care trickles through to Malcolm's local community. Over the years, Malcolm has remained active in the Rothes area, including serving on the local school board, and being appointed a convenor at his local church and as a justice of the peace – "I thought they'd give me a gun as well, but they didn't," he jokes, ever humble about his important work.
Malcolm's accomplishments speak for themselves, and in 2016 his contributions to the whisky world were formally acknowledged when he was named an officer of the Order of the British Empire (OBE) in the Queen's Birthday Honours, recognised for his years of service to the business and community in Speyside.
"I was quite surprised to be nominated for that because I'm doing something I love," he says. "So when I was awarded, I took it as recognition for the whisky industry, not just me. It's nice to see somebody in the whisky industry has been recognised and the industry's being noticed."
He stresses the importance of gratitude for those around you, and those who pave the way for others to succeed.
"I didn't get here on my own; there were many people before me at Glen Grant with loads of experience," he adds.
"They laid the foundations, sound foundations, and everyone coming after them just built on those foundations. So I had plenty of people supporting me. And you can't just take all the time – you have to give back as well."