Campari Group reports double-digit Q3 sales
Aperol owner Campari Group has reported an organic net sales increase of 27.3% for the first nine months of 2021, boosted by double-digit growth for all of its brands.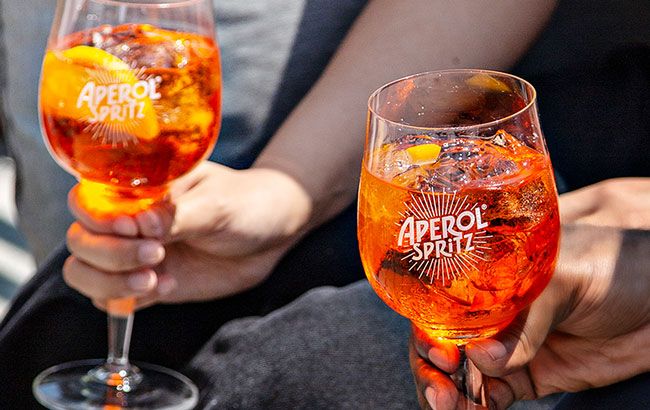 Italian drinks firm Campari Group saw net sales reach €1.57 billion (US$1.82bn) for the first nine months of the year. Organic sales for the third quarter of 2021 rose by 12.8%.
The drinks group saw organic net sales rise by 37.1% during the first six months of 2021.
Bob Kunze-Concewitz, Campari Group CEO, said: "In the first nine months of 2021, our strong performance generated double-digit growth across key markets and brands as well as across all key sales and profit indicators.
"The positive trends from earlier in the year have continued into the key summer season, thanks to a recovery in the on-premise driven by 'revenge conviviality' combined with sustained home consumption trends."
Aperol registered a 'strong performance' across its core markets, increasing by 29.9%.
Campari registered a similar performance to Aperol, rising by 28.4%. Bourbon brand Wild Turkey grew by 20.9%, led by the US.
Skyy vodka's sales rose by 11%, boosted by global markets, including the US. The brand's redesign also helped to drive its sales.
Grand Marnier liqueur witnessed positive sales, rising by 43.3%. The company's Jamaican rum portfolio climbed by 28.2%.
Espolòn Tequila saw sales rise by 41.1%, while Montelobos mezcal registered 'strong growth' due to 'positive category momentum'.
The double-digit growth of Campari Soda and Aperol Spritz ready-to-drink (RTD) products helped to boost the company's 'local priorities' segment.
Regional performance
In the Americas, sales were up by 28% organically compared with 2020 (and up 22.9% compared with 2019). Campari Group's biggest market, the US, saw sales rise by 23.4%.
Espolòn, Grand Marnier, Wild Turkey, Aperol and the Jamaican rum range reported double-digit growth.
Sales in Southern Europe, Middle East and Africa rose by 31.9%. The company's home market, Italy, increased by 29.6%. Within the region, the global travel retail channel was up by 43.9%.
North, Central and Eastern Europe increased by 19.8%, with the UK reporting a 'solid performance' (up 42.5%). Sales in Asia Pacific climbed by 30.4%.
Kunze-Concewitz noted that the sales boost helped to offset rising logistics costs.
He said: "Regarding the outlook for the rest of the year, we expect the positive brand momentum and favourable sales mix to continue in the last quarter, helping to partially offset the intensifying input cost pressure, particularly logistics costs, accelerated brand building investments, as well as structure costs phasing.
"Looking beyond the current year, whilst uncertainty remains in connection with the evolution of the pandemic and its induced effects such as logistic constraints and intensified input cost pressure, albeit mitigated by the improving outlook for agave, we remain confident of our solid business momentum."