The Spirits Business Awards 2020 winners
By Melita Kiely
There is an astonishing amount of talent in the industry, from boundary-breaking new product development to mindful marketing initiatives. Our 2020 awards celebrate amazing achievements across the spirits sector.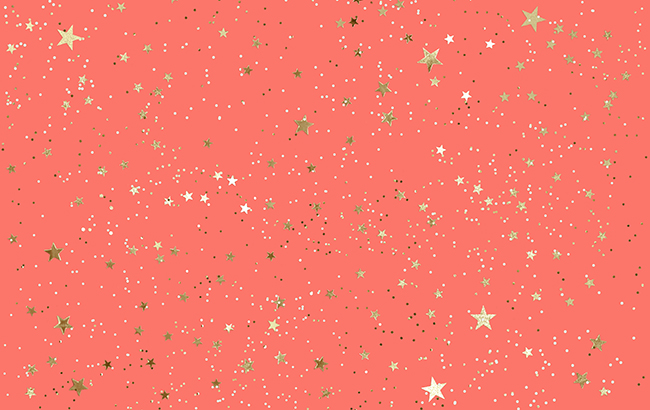 When The Spirits Business Awards launched in 2019, the aim was to celebrate the titanic workforce that makes up the spirits industry. In a year that has presented immeasurable challenges for the trade, it felt all the more important to champion the brilliant work that goes on across the sector.
The entries were divided into five categories: Retail and Marketing, Sustainability and Innovation, Tourism, Products, and People.
However, the pandemic meant it simply was not possible to judge The Spirits Business Awards in person this year, nor hold a glittering ceremony to applaud this year's worthy winners. Nonetheless, an esteemed panel of judges gave their careful consideration to this year's nominees over Skype, and the results are were broadcast on YouTube yesterday (1 December).
The 2020 judges comprised: Melita Kiely, editor of The Spirits Business; David T Smith, spirits writer and co-founder of the Craft Distilling Expo; Bryan Rodriguez, wine and spirits buyer for Harvey Nichols; Sophie Terzopoulou, head of marketing at Three Cents Artisanal Beverages, the official sponsor of the awards; and Heather Fritzsche, CEO of The Spearhead Group, which sponsored the Innovation in Packaging Award.
"Though the circumstances for this year's awards may look different to what we all would have hoped for, the sentiment behind them is unwavering," said Kiely. "It has been awe-inspiring to see the passion, creativity, innovation and adaptability of our industry across this year's entrants, and I would like with all of our winners a huge congratulations on their outstanding achievements."
Click through to the following pages to discover this year's winners, and if you weren't able to join the virtual awards ceremony yesterday (1 December), you can catch up on our YouTube channel. 
Retail and Marketing
SPIRITS RETAILER OF THE YEAR
Winner: 31 Dover
In a closely contested category, the judges were drawn to 31 Dover for creating a point of difference in the retail sphere, with a carefully curated selection of 600 SKUs, down from 1,700. In a six-month period, the innovative retailer grew its repeat-purchase rate grow by 60% and its actively-engaged consumers grew by 30%.
Runner-up: The Whisky Exchange
With innumerable high-quality products on offer, runner-up The Whisky Exchange was swift to enhance its portfolio even further during lockdowns, and continued to offer engaging customer experiences.
SPIRITS BOTTLER OF THE YEAR
Winner: Douglas Laing & Co
Taking the title for the second year in a row, family-owned Douglas Laing & Co was praised for its brilliant marketing, innovation and accessibility. "Their products are very nice for gifting, with really good pricing as well," said Smith. "You can find something different, but the quality is there."
SPIRITS DISTRIBUTOR OF THE YEAR
Winner: De Monnik Dranken
What stood out most about De Monnik Dranken was a sense of genuine pride and care for the company's staff, customers and the brands it works with. "There's a full service and experience being offered," said Terzopoulou. "They're also doing tailor-made packaging as well as distribution; it's important to feel closer to customers."
Runner-up: Spirit Cartel
This was a close call, but Spirit Cartel was deemed thoroughly deserving of the runner-up position thanks to its focus on education, experiential platforms and personalised service.
BEST NEW MARKETING CAMPAIGN
Winner: Chase the Next by Sterling Reserve
Indian whisky brand Sterling Reserve shunned the traditional use of celebrity endorsements in favour of a thorough, wide-reaching campaign that encompassed everything from music and social media, to comedy and online gaming.
Runner-up: Flaviar and Whistle Pig Blended at Home
The campaign succeeded in bringing together thousands of whiskey fans in the midst of the pandemic with home-blending kits, which enabled those partaking to virtually create a new whiskey expression together.
BEST EVENT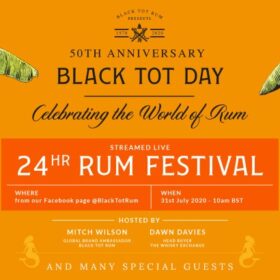 Winner: Black Tot Day 24-Hour Festival of Rum
This marathon online event assembled rum novices and connoisseurs from around the globe to celebrate the 50th anniversary of Black Tot Day, with a stellar line up of rum experts leading the 24-hour proceedings.
Runner-up: Greater Than Bar Wars by Nao Spirits and Beverages
Our runner-up event connected spirits brands and the hospitality sector in India, and gave bartenders the chance to showcase their skills in a nationwide cocktail competition.
Special commendation: Risk Takers, Rule Breakers and Cocktail Shakers by Freehand Beverages
The special commendation was awarded to Risk Takers, Rule Breakers and Cocktail Shakers for its celebration of women in the drinks industry in India.
PR COMPANY OF THE YEAR
Winner: May Fox Communications
In the age of social media, having the right PR team to communicate your brand message in a clear, candid and engaging manner has never been so important. Founded by Emily Harris, our PR Company of the Year, May Fox Communications, not only boasts a portfolio of high-quality, classic brands, but has also demonstrated its ability to build meaningful media relationships.
Sustainability and Innovation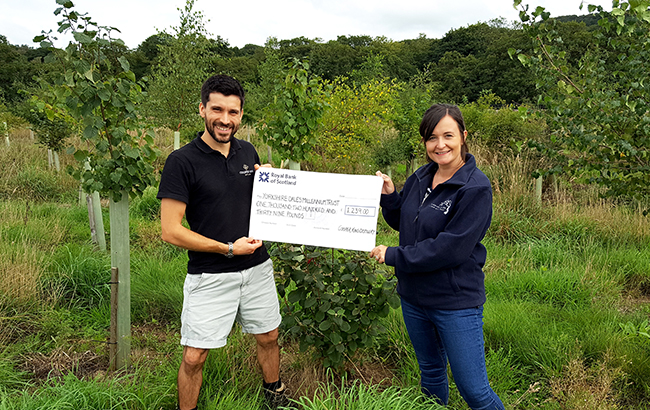 DISTILLERY SUSTAINABILITY AWARD
Winner: Cooper King Distillery
The judges applauded English producer Cooper King Distillery's green credentials, which include being powered by 100% green energy sources since day one. But its eco-friendly endeavours don't stop there; the distillery also operates a gin refill scheme, uses local producers to source its raw materials to reduce food miles, has eliminated all plastic when shipping, plants trees to offset its carbon emissions and donates 1% of gin sales to its partner tree-planting charity.
Runner-up: Ian Macleod Distillers
Our runner-up impressed with its charitable sponsorship, wastewater reduction and 100% use of wind power at the distillery, but most importantly the sustainably-focused packaging that was rolled out for its product range.
Special commendation: Cape Byron Distillery
The judges chose to give a special commendation to Cape Byron Distillery, which has achieved some incredible milestones, including planting more than 35,000 rainforest trees.
ETHICAL AWARD
Winner: Nip of Courage
Distributor Nip of Courage stepped up to support distilleries that were affected by the Australian wildfires at the start of 2020, extending a much-needed helping hand to others in a time of huge suffering.
Special commendation: Flor de Caña
After careful consideration, the judges agreed to award Flor de Caña the runner-up position due to the effort and progress the company has made towards being a more ethical firm.
INNOVATION IN PRODUCTION
Winner: Archie Rose Hunter Valley Shiraz Spirit
Produced by Australia's Archie Rose Distilling Company, the judges were unanimously taken aback by the producer's quick-thinking that not only ensured grapes tainted by the 2019/20 Australian bushfires did not go to waste, but guaranteed local growers were supported through the crisis.
INNOVATION IN PACKAGING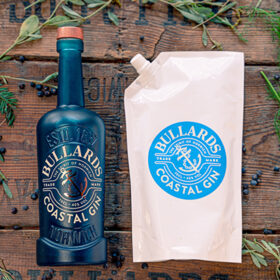 Winner: Bullards Spirits
After buying their first 'bottle for life', Bullards Spirits' fans are encouraged to replenish their gin supply with the brand's eco-refill pouches. The judges were impressed at the brand's foresight to create a letterbox-friendly 700ml pouch, eliminating any need for extra transportation if the recipient isn't home. The ability to pop the empty pouch in a Royal Mail postbox in the UK, without a stamp or envelope, so that it can be returned to the distillery and recycled, clinched the winning spot for the brand. "Sustainability has got to be part of packaging innovation; it's not negotiable anymore," said Fritzsche. "Bullards has thought about every step, from packaging to postage."
Runner-up: Casa Lagartos Rum
With its glass embossing to replicate lizard skin and beautiful aesthetic, making it a prime bottle to upcycle into a household object, Casa Lagartos was named our runner-up. The judges also liked how the bottle showed it is possible to create a striking design without the need for lots of extra materials.
Special commendations: La Fée Absinthe Superieure 200ml, and Mirabeau Rosé Gin
With a record number of entries this year, the judges wanted to award two special commendations. One was awarded to La Fée Absinthe Superieure 200ml with its built-in pourer and convenient smaller format, and the second was given to Mirabeau Rosé Gin with its eye-catching memorable design and lightweight feel.
Tourism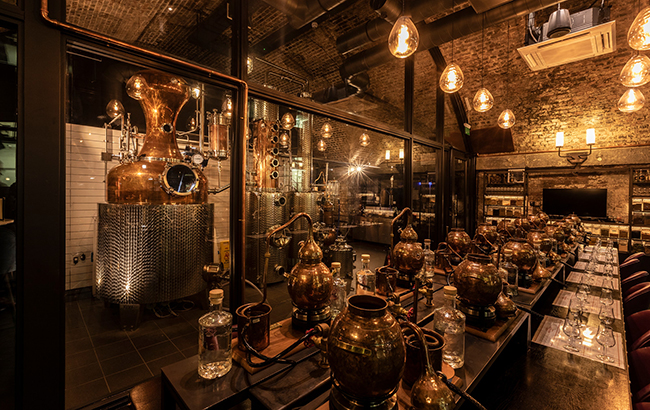 DISTILLERY CONSUMER EXPERIENCE AWARD
Winner: The Spirit of Manchester Distillery
The Manchester Gin producer was selected to receive the Distillery Consumer
Experience Award thanks to its Grade II-listed surroundings that offer a sense of grandeur, gin tours and tastings, and hands-on gin-making experience. "I love that you can make your own gin with the mini stills, it's a great way to enhance your experience," Rodriguez said.
Runner-up: Roe & Co Distillery
Dublin-based Roe & Co created intrigue among the judges with its whiskey and cocktail journey, from the live distillery all the way through to the Power House Bar.
Special commendation: Depaz Distillery
Martinique-based Depaz Distillery was given a special commendation for the impression of being taken back in time on a historical voyage of discovery.
OUTSTANDING CONTRIBUTION TO SPIRITS TOURISM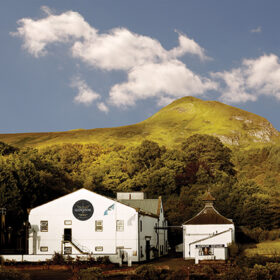 Winner: Glengoyne Distillery
The Scotch whisky distillery has achieved a number of 'firsts', including becoming the first to offer in-depth tastings in 1998 and leading the way with unique blending experiences in 2004, followed by the first all-day masterclass in 2005. Visitor numbers to our winner, Glengoyne, have grown by a staggering 117% to 81,848 in 2019, up from 37,792 in 2010. That makes the distillery the most visited in Scotland.
Product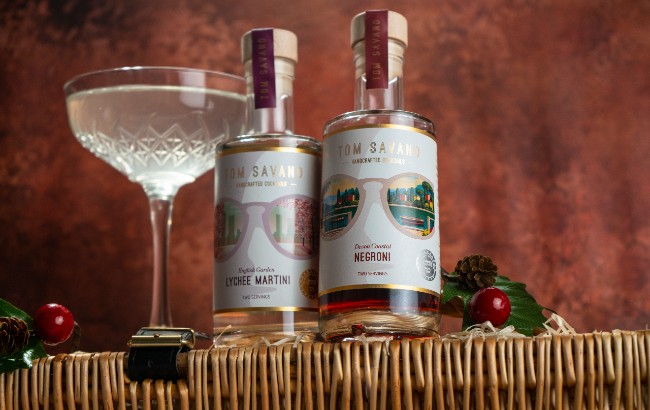 BEST NEW PRODUCT
Winner: Tom Savano Cocktails
Tom Savano Cocktails scooped the top award for its attention to detail and beautiful, premium aesthetic. The pre-mixed, ready-to-drink range comes in two bottle sizes to give consumers greater purchasing choice. The brand sold out twice during its first nine months of trading because of popular demand, proving it goes above and beyond the standard bottled cocktail.
Runner-up: Lyre's
The judges liked how non-alcoholic 'spirit' brand Lyre's broad portfolio would give consumers the chance to play around and make cocktails without alcohol.
Special commendations: Amaretto Adriatico and Blanco, and La Hechicera Serie Experimental No.2
Thanks to the incredibly high standard of entries into the Best New Product category, two special commendations were offered. Amaretto Adriatico and Blanco were recognised for their playful take on amaretto, not often seen, while La Hechicera Serie Experimental No.2 was rewarded for its tropical and colourful vibes.
People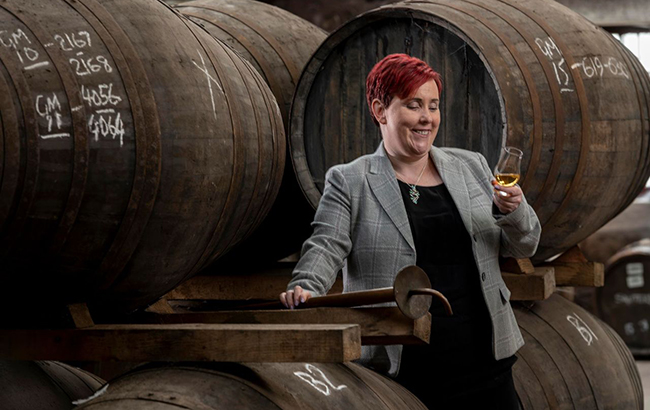 BLENDER OF THE YEAR
Winner: Kirstie McCallum, head of whisky creation at Glen Moray
A true expert, Kirstie McCallum has honed her craft working for numerous high-profile brands. The judges were united in their decision to name her Blender of the Year, spurred on by McCallum's passionate approach to whisky transparency, inclusivity and mixability, helping to create a more welcoming, modern space for new whisky drinkers.
DISTILLER OF THE YEAR
Winner: Dave Withers, Archie Rose Distilling Company
Master distiller Dave Withers has proven his talents in multiple spirits categories, including whisky, vodka, gin, rum and a smattering of limited edition bottlings. He has turned smoke-tainted grapes into eaux-de-vie, and will now work to push boundaries further at the distillery's second site in Sydney.
Runner-up: Don Benn, West Indies Rum Distillery
Not only is deputy operations manager and master distiller Don Benn dedicated to Barbados' rum heritage, but he has also helped the West Indies Rum Distillery improve its carbon footprint.
Special commendation: Damira Urkalieva, AYU
Master distiller Damira Urkalieva has used state-of-the-art technology to create award-winning products, such as Gradusnik vodka.
YOUNG ACHIEVER OF THE YEAR AWARD
Winner: Will Edwards, Archie Rose Distilling Company
Our Young Achiever of the Year Award goes to an entrepreneur who has accomplished a significant amount in a short timeframe. From founding a distillery when he was just 25 to being instrumental in building Australia's distilling reputation worldwide, Will Edwards has proven that he is an industry trailblazer.
Lifetime Achievement Award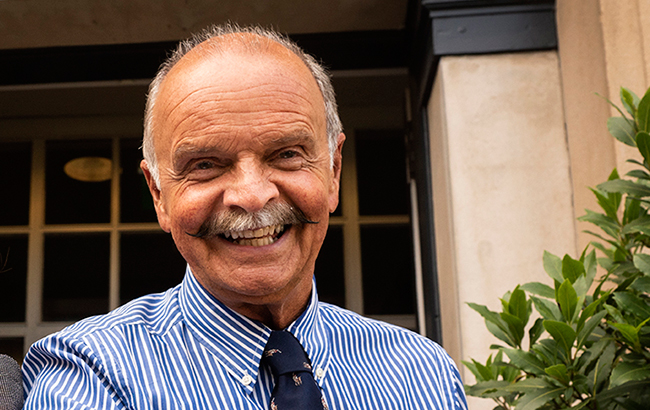 Winner: Fred Laing, Douglas Laing & Co
The most prestigious of awards goes to a Scotch whisky veteran who is a widely respected member of the trade: Fred Laing. The son of Douglas Laing & Co founder Fred Douglas Laing, the junior Laing began his tenure in whisky in 1966, when at the age of 16 his father took him out of school to join him on his business trips, so a young Fred could learn commerce and languages.
After cutting his teeth at Scotch whisky maker Whyte & Mackay and White Horse Distillers, Fred joined Douglas Laing & Co in 1972. From helping to build the family's first brand, King of Scots, to meeting the Queen to accept The Queen's Award for Export in 1990, and creating the company's much-loved Remarkable Regional Malts collection, Laing's ambitions have never waned.
"He made whisky less conservative, made it more fun, more accessible to people – I like that," said judge Rodriguez.
In 2013, he and daughter Cara Laing assumed sole ownership of Douglas Laing & Co, and in 2019 the firm acquired Strathearn Distillery. And with the firm's new Clutha Distillery and head office nearing completion in Glasgow, there is evidently much more still to come from this industry stalwart.
"Fred has a lot of knowledge and experience, and is well known for being welcoming to others," noted Smith. "He's deserving of this award not just for his knowledge and experience, but for being encouraging of the industry."