Bombay Sapphire premieres G&T campaign
By Kate Malczewski
Bacardi-owned Bombay Sapphire has debuted its first major campaign for the US, highlighting its signature gin and tonic serve.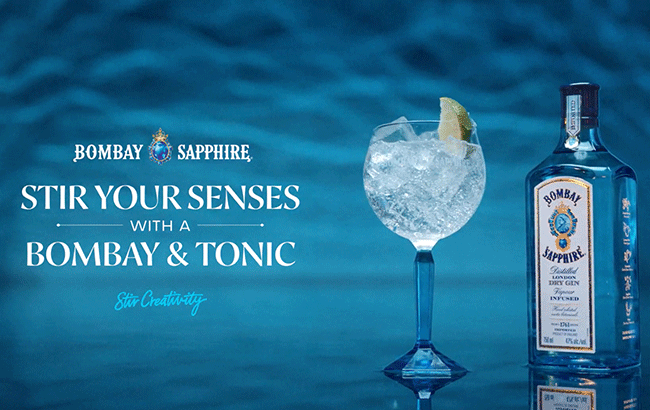 The Senses Stirred campaign showcases the Bombay and tonic in a style the brand calls a 'collage' of 'artistic installations', with shots including ice cubes in a glass and a botanical garden.
The series of six-, 15- and 30-second films was directed by Alan Masferrer, who has previously worked with BMW and Moncler.
"I have a particular affinity for the Bombay and tonic as it was the drink my parents met over, so I was definitely excited to collaborate with Bombay Sapphire on this campaign to illustrate this story of the ultimate sensory drink experience through our metaphorical installations of the bubbles, vapour mist, sparkling ice cube, citrus and botanical ingredients," Masferrer explained.
Natasha Curtin, global vice-president for Bombay Sapphire, said the campaign's aim was to turn the Bombay and tonic into a go-to drink: "The goal of our first major brand campaign in North America is to awaken the senses and illustrate the superior taste experience when our signature Bombay and tonic serve is consumed, thanks to our delicate vapour-infusion process and unique combination of 10 all natural, sustainably sourced botanicals.
"We want to make 'Bombay and tonic' a household name for the gin and tonic drinking moment, whenever effortless refreshment is called for. Through Masferrar's talented eye and cinematic qualities we were able to create a truly unique spot in the spirits space – one that spotlights the elevated, balanced and refreshing nature of the Bombay and tonic."
The campaign is set to launch next week, airing on network and cable programmes in North America. The TV spots will be accompanied by digital and social campaigns, as well as by on-trade and e-commerce marketing.
Bombay Sapphire is the second-biggest-selling gin in the world, and earned the title of Social Media Hero in our 2021 Brand Champions report. Earlier this year, the brand announced its intention to gain sustainable certification for all 10 of its botanicals; eight have already been certified.