A drink with… Martin de Dreuille, Grey Goose
Martin de Dreuille, the vice-president of global marketing at Bacardi-owned Grey Goose, discusses innovating in the low-ABV space and his ambitions for the year ahead.
*This feature was originally published in the April 2021 issue of The Spirits Business magazine.
What attracted you to working for Grey Goose?
I've spent my entire career in the spirits industry, working for a number of popular brands, and I've always been impressed with the Grey Goose product and family. Grey Goose is iconic for a reason – as the pioneer and leader of the super-premium vodka category, the brand is synonymous with exceptional quality and rich history. Additionally, we share a birthplace: France.
How has your role evolved while you've been working at Grey Goose?
Since I began my role in 2019, I've led the development and implementation of all marketing strategies, creative, digital and commercial programmes for Grey Goose worldwide, supported by a fabulous and diverse team in multiple countries. But by nature, my day to day is constantly evolving as the world around us changes. We saw this clearly in the past year. With widespread on-premise closures, stay-at-home orders, and necessary calls for social justice in 2020, we had to adapt, pivot, and embrace new priorities.
How is Grey Goose able to innovate in the vodka category?
Grey Goose is widely recognised as an established luxury brand, which gives us room to craft exciting innovations that stay true to our brand ethos. Our newest launch, Grey Goose Essences, is the perfect example. Essences is our new line of 'vodkas' infused with real fruit and botanical essences. Essences answers a gap in the category, as it offers 30% ABV, zero carbs or sugar, and yet still retains a naturally vibrant flavour.
What was the inspiration behind the Grey Goose Essences line?
Grey Goose Essences was inspired by the need for light, easy-to-make and refreshing cocktails that don't compromise on flavour, and the joy of sharing a cocktail moment. The line includes three vibrant expressions – Strawberry and Lemongrass, White Peach and Rosemary, and Watermelon and Basil – that were designed to be mixed with just a handful of simple ingredients: soda water, ice, and fruit or herbs for garnish.
How can you engage consumers with the new range during the pandemic?
Our goal is always to reach them where they're at, and with many consumers continuing to stay at home due to the pandemic, we are prioritising digital engagement strategies. One of the great things about Grey Goose Essences is its simplicity, so we're communicating how easy it is to order the product straight to your door via e-commerce, and craft multi-layered serves with just a few ingredients.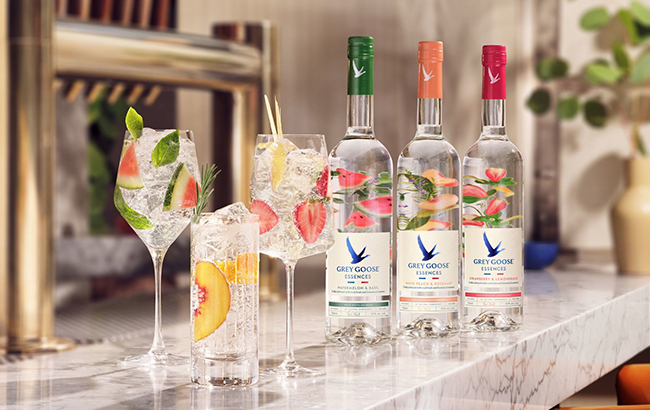 Who is Essences' target audience?
Grey Goose Essences was designed for mindful drinkers who seek fresh cocktails that pack complex, multi‐layered flavour. We believe it will attract both our core demographic and those who don't naturally gravitate towards vodka.
What challenges face the vodka sector in today's market?
A challenge in the vodka sector lately is the growing marketplace for other spirits categories that have effectively communicated their authentic and quality values. Grey Goose is very well positioned to face this challenge as we've always placed a great emphasis on the provenance of our ingredients, their quality, and we've also focused on our exceptional distillation methods. We've always prided ourselves on our quality, and it has helped retain and attract consumers over the years.
What can we expect from Grey Goose in 2021?
2021 has already been a very eventful year for Grey Goose, thanks to the launch of Essences, but we have more exciting programming and launches coming very soon. While I can't divulge exactly what they are, I can promise that you'll be seeing a lot more from us this year. Stay tuned.