Top Cuvée to open east London shop
By Kate Malczewski
Hospitality veterans Brodie Meah and Max Venning are expanding their Top Cuvée restaurant and retail concept with a new outpost in Bethnal Green, London.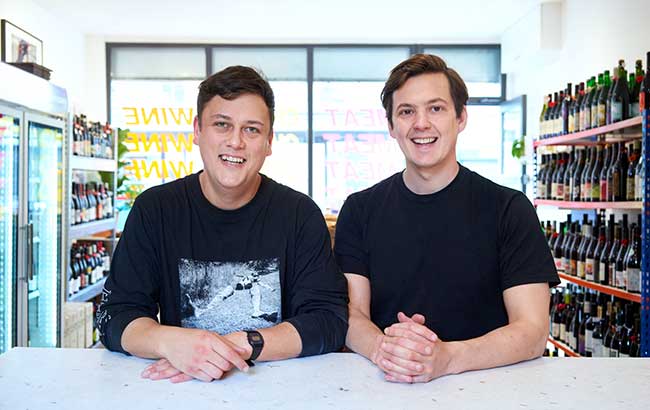 Meah and Venning opened their north London restaurant Top Cuvée in 2019 and pivoted to retail during the Covid-19 pandemic, selling wine, cocktails and deli goods through the Shop Cuvée website.
After experiencing high demand for their online business, they opened the first bricks-and-mortar Shop Cuvée on Blackstock Road in Highbury. This summer, the duo will launch a second shop in the Bethnal Green neighbourhood of east London.
The new Shop Cuvée will stock natural wines, bottled cocktails, deli items and branded Top Cuvée merchandise, and will offer deliveries via bicycle couriers.
Meah commented: "Bringing Shop Cuvée to a new audience in Bethnal Green is beyond exciting. It's where I've lived since arriving in London so I know it's just what the area needs and can't wait to welcome all our existing customers and meet some new neighbours."
The Bethnal Green location will also be home to an underground bar called Cave Cuvée, featuring small plates, a list of natural wines and a cocktail menu created by the team at Three Sheets, the drinking den founded by Max Venning and his brother Noel.
Meah continued: "Cave Cuvée is something new for us as a group, a project every wine person dreams of opening, an actually good wine bar – it's as much for us as our guests!"