Spirit Master: Big Peat
By admin
As consumer demand for boldly flavoured whiskies runs high, we take a closer look at Douglas Laing & Co's acclaimed Islay blended malt Scotch.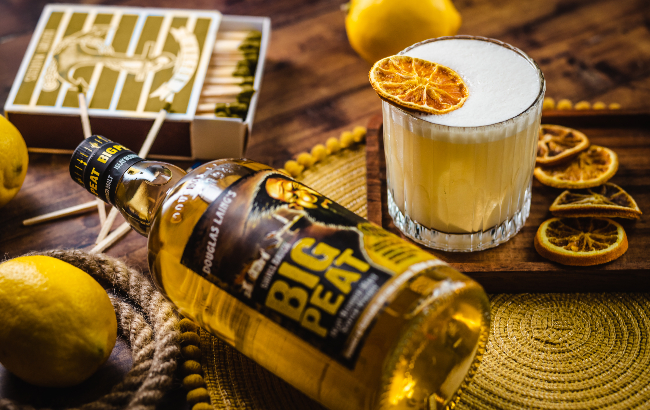 In May, The Spirits Business held its annual Scotch Whisky Masters competition. The blind tasting was held virtually, with judges sampling the whiskies from their homes in keeping with Covid-19 restrictions.
To determine the best of the Scotch whisky category, we assembled a panel consisting of Billy Abbott, ambassador for The Whisky Exchange, and Matt Chambers and Karen Taylor, co‐founders of the Whisky for Everyone blog. The tasting was chaired Melita Kiely, editor of The Spirits Business magazine.
We received a multitude of entries for the tasting, but Douglas Laing's Big Peat expression stood out for its rich, smoky flavours.
The whisky secured a Master medal in the Blended Malt – Ultra Premium category of whiskies priced at £51 (US$70) and over. Our judges praised its aromas of "apple and malt", and noted "punchy peat" on the palate that unfolded to notes of "honey, lemon zest, seaweed" and "oat biscuits".
Big Peat blends single malt Scotch whiskies sourced exclusively from Islay distilleries, including Ardbeg, Caol Ila, Bowmore and Port Ellen. At 46% ABV, it is produced without colouring or chill filtration.
Family-owned company Douglas Laing founded the brand in 2009, and has extended the range with various expressions over the years. Among its most recent releases are Big Peat BBQ Edition, developed for grilling festivities, and Big Peat Peatrichor, a bottling celebrating rainfall in Islay.
To learn more about the independent bottler, read our history of Douglas Laing & Co and our interview with its director of whisky, Cara Laing.
For further details and to enter your brand into The Global Spirits Masters, contact Rhiannon Morris: rhiannon.morris@thespiritsbusiness.com.