The big interview: Cara Laing
By Melita Kiely
As director of whisky and part of the third generation of family-owned Douglas Laing & Co, Cara Laing has a close affinity with the brand. She tells us how the pursuit of a career in vodka led her home to whisky and plans for Strathearn Distillery.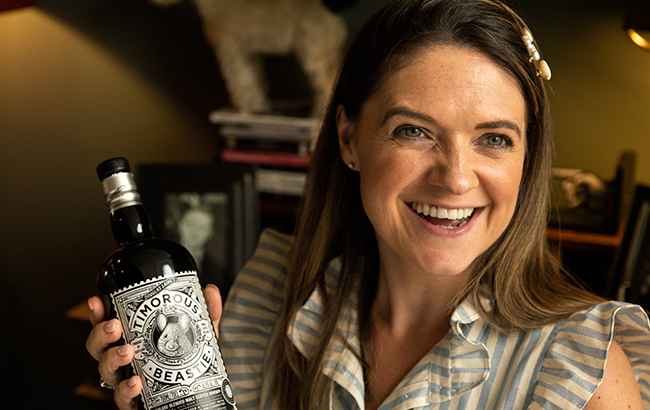 *This feature was originally published in the December 2020 issue of The Spirits Business magazine. 
"I was given my first Port Ellen in a Hot Toddy aged about nine, and I thought it was the most disgusting stuff, and I didn't really understand how it paid for holidays and nice things in life," recalls Cara Laing. It's a lot to ask of a nine‐year‐old to appreciate the nuances of a brand as prestigious as Port Ellen, even one who is part of the third generation of family‐ owned whisky bottler Douglas Laing & Co.
But it's safe to say that with time and her coming of legal‐drinking age, Laing's affection for whisky now runs deep. "The whisky bug has properly got me, and I now couldn't imagine working on anything else," she assures.
After graduating from university and working at a marketing agency, Laing found her first professional foray in the whisky world at Whyte & Mackay. "The first proper experience of working in whisky was when I moved to Whyte & Mackay, ironically because I wanted to work on one of their vodka brands," she explains. "I was severely hacked off because they put me on Jura, but it was almost love at first sight, I have to say."
Laing credits her father, Fred Laing, now chairman of Douglas Laing & Co, and Richard Paterson, master blender of The Dalmore, for "nurturing" her in the early stages of her whisky career.
"Bizarrely, I ended up leaving Whyte & Mackay because they did move me onto a vodka brand, and I thought no, I love whisky and I really want to work on whisky," she says. That prompted Laing's move to Morris & Bowmore in 2010, where she was global brand manager for Bowmore and Glen Gariach single malt for three years, before joining the family business in 2013.
"The company had just gone through quite a massive change where essentially my uncle left the business; I hadn't really been looking to leave Morris & Bowmore at this point," Laing explains. "But Fred, my dad, felt he needed support, and realised Douglas Laing was about to go through some huge changes. So I left and joined him, and a few months after that Chris [Leggat], my husband, joined the business as well, as he too is from a whisky background. So 2013 was an exciting one with a lot of changes and big things going on."
As director of whisky, Laing is responsible for looking after the marketing team and all the new product launches, "as well as being heavily involved in the spirit quality. That's what it all comes back to, and only members of the family approve the samples that come in and write the tasting notes," she explains, a hefty responsibility that currently falls to just Laing, her father and husband.
But she notes "my children show a bizarre interest in whisky, and love nosing it", alluding to a fourth‐generation takeover one day in the distant future. "We really, genuinely believe that the quality of the end product has to be great because we're literally putting our name on it," Laing adds.
YEAR OF CHANGE
Douglas Laing's most recent financial results show the family's endeavours are paying off. Last year, the company's full‐year sales grew 22% to reach £10 million (US$12.2m) for the first time following year‐on‐year growth since 2013.
"I don't think I'd be speaking out of turn to say we walked into a bit of a lifestyle business," she says, referring to when she and Leggat joined the company. "It was a business where you had a lot of 'oh, that's just how we've always done it'. My dad very much encouraged me to go and have my own career, and I learned along the way and saw how other businesses are run, and the challenges they face. Very quickly Chris and I recognised there was massive potential at Douglas Laing, but it needed a total overhaul – and a lot of it wasn't very pleasant – but it involved changing the team, changing distributors and changing the brand focus."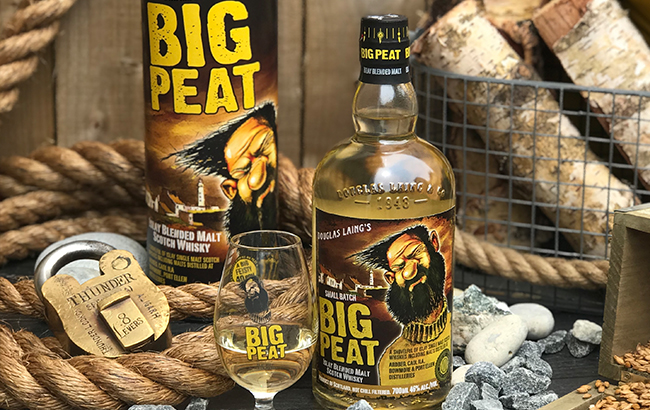 At the time, Douglas Laing boasted a lot of limited edition, single cask bottlings, "which is great, but it's very hard to build a brand with because it's so limited". However, there was a "jewel in the crown" that guided the new plan: Big Peat. "We realised we really needed to focus on Big Peat as a bit of a strategic brand priority, then quite quickly gave Big Peat a sidekick in the form of Scallywag," Laing says. "And really, that's how the Regional Malts grew, since we were looking to build brands that would have longevity because they were continuously available products." The Regional Malts range now consists of Islay malt Big Peat, Lowland malt The Epicurean, Speyside malt Scallywag, Highland malt Timorous Beastie, Campbeltown malt The Gauldrons and Islands malt Rock Island.
"We have fun with what we do and some of our brands are intended to look quite playful; behind the scenes we're very strategic and we've got a clear vision on the short‐, medium‐term and long‐term plans for the business," Laing says. "Last year was a record‐breaker for us, and we're on target with our KPIs [key performance indicators] this year, which, given the world we're living in, is no mean feat."
STRATHEARN TAKEOVER
The year 2013 really was a pivotal moment for the group in more ways than one, and the company seems to be repeatedly drawn back to this moment in time. The year also marks the establishment of Perthshire‐based Strathearn Distillery, and at the time Laing says Douglas Laing was giving the site some serious consideration.
"Strangely enough, in 2013 we looked at it with a view to maybe investing or doing something with the owner at the time, but it didn't come to fruition," Laing remembers. However, the idea evolved over the years from investing to full ownership, and last year Douglas Laing acquired Strathearn for an undisclosed sum.
"In terms of the distillery as it stands today, we're in the process of some heavy investment in new equipment and machinery, which doesn't sound terribly romantic, but we have a new still and new mash tun and various other pieces to allow us to increase the capacity to produce whisky quite significantly." This will take the distillery's capacity from 15,000 litres per annum (LPA) to just under 150,000 LPA.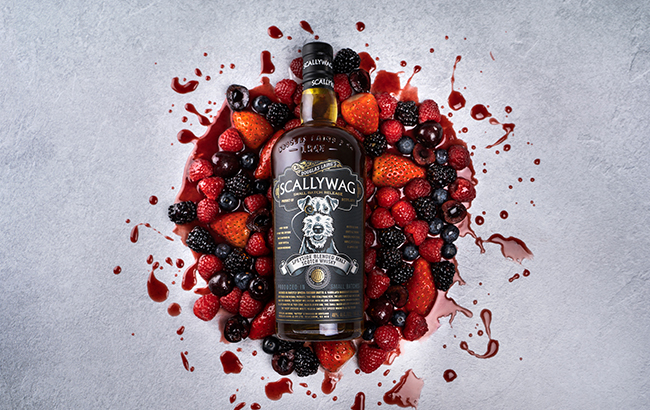 With the purchase, Douglas Laing has inherited some bottled stock, which is available in "very small quantities on our website", and through a handful of specialist retailers. But Laing says the team is "very much now planning for the first official Douglas Laing release of Strathearn, so yes, it's very much a case of watch this space".
Strathearn's branding has also been overhauled, Laing reveals, adding "we're making some serious inroads to starting to have that one roll out". The style will remain relatively similar to what the previous owners created – "if it ain't broke, don't fix it" – apart from a "slight revamp to the cask policy".
The distillery will "always be small volume" but "excellent product quality", Laing insists. "We're excited for the second batch, which will be the first under the distillery becoming part of Douglas Laing. But it will very much be a brand in its own right," she adds. Plus, once things start to "look a little more like normality" following the pandemic, Laing is looking forward to hosting people at the distillery in the new tasting room snug.
CLUTHA DISTILLERY
This is not the only major project under development at Douglas Laing, however; there's also Clutha to consider. In 2017, Douglas Laing confirmed plans to build a £10.7m Scotch whisky distillery in Glasgow on the banks of the River Clyde. The site is due to house a bottling complex, visitor centre, whisky laboratory and archive, as well as a new corporate head office for the firm.
"We feel that the whisky category does picturesque, beautiful distilleries around Scotland in hard‐to‐get‐to places very well," Laing says. "We kind of have that in Strathearn as well; it's very pretty and quaint. But as a family we are from Glasgow, my grandpa was from Glasgow, and we felt there was an opportunity for a slightly more urban, gritty distillery."
At first, the goal had been to have Clutha operational to coincide with Douglas Laing's 70th anniversary in 2018. But because of a multitude of hurdles that have got in the way – not least the Covid‐19 pandemic, and an original site that turned out to be a "massive flood risk" – it was not meant to be.
Undeterred, Laing believes this has been a blessing in disguise for the firm: "Looking back, we were on the brink of making some very big calls, which I think we could have got very wrong, so I would have loved to have seen us move to Clutha way before now, but, equally, I think if you believe in fate, certain things have happened for a reason, and I think where we have now got to is 100% right. Now, it's just a case of getting everything over the final hurdle, getting all the equipment in and distilling and properly moving things forward."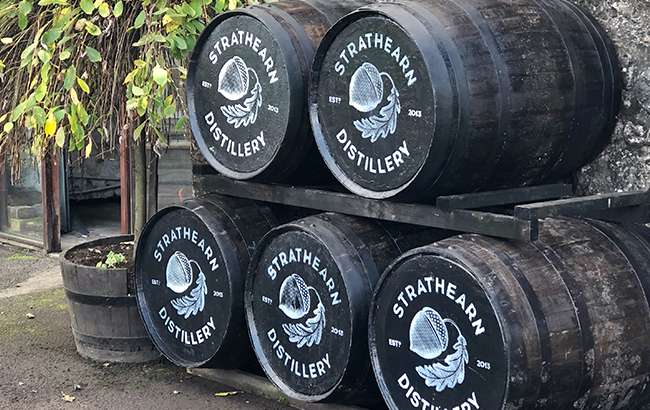 Laing honestly explains how the pandemic has thwarted building plans, which were meant to seriously "kick off" in March when bit by bit the world ground to a halt because of Covid‐19. "But I totally acknowledge we're not the only ones to have felt the brunt of that, and I'm very thankful we at least still have a business at the end of it," she says.
The bottling and warehousing facilities are expected to be completed during the first quarter of 2021, and Laing hopes the team will be able to move into the new head office in autumn next year. Provided there are no further setbacks, distilling should also be able to commence next year with capacity to produce up to around 250,000 LPA.
Lowland whiskies, as Clutha will be, are typically known to be "elegant, light, grassy, nutty and floral". However, Laing has very different plans for Clutha. "We want to do the polar opposite," she explains. "The plan for Clutha is to make it a really big, chunky, robust single malt. We'll go quite heavy on the Sherry casks for maturing this whisky, so it'll have slightly more of the character of Scallywag for us, so sort of a thicker, treacly, dark fruit, chocolatey style."
While it will be several years before Clutha will own anything old enough to be released, Laing is hesitant about dabbling in any white spirits, such as gin or vodka, before the distillery's whisky is ready.
"It's great from a cashflow perspective in the early years, but then you become known as 'Clutha Gin'; then three years later, we're like 'no, no, we're all about whisky'. And I think consumers are left thinking 'what is Clutha?'," Laing says. "That's not to say we couldn't market it under another brand, but where we're fortunate is that we've got the wider Douglas Laing business and brands, so right now we don't need to, and we don't have any plans to do a white spirit at Clutha. The plan is to remain Scotch whisky specialists; that's very much our ethos."
With a recent distillery purchase done and dusted, a new distillery and HQ under way, plus a thriving bottling business, is there room for another acquisition? "Always," Laing says laughing. "Chris and I don't really sleep," she adds, although it's not hard to see why. "So yes, we always have that mindset that if an opportunity came up that was interesting, 100% we would look at it.
"I don't see us standing still for long; our next milestone is obviously to get this project, we call it the 'Campus Project', ie head office and distillery, fully under way and up and running. But once that's done, I can see Chris and I being like 'what's next?' We don't do boredom very well and there's times I'd love to sit for an evening and watch something on Netflix and chill out, but maybe that's what retirement will be for."