The world's best-selling Indian whiskies
By Alice Brooker
India is one of the world's biggest spirits producers, and the past year proved challenging for the country's whisky brands. In this ranking, we analyse how the category's top sellers performed.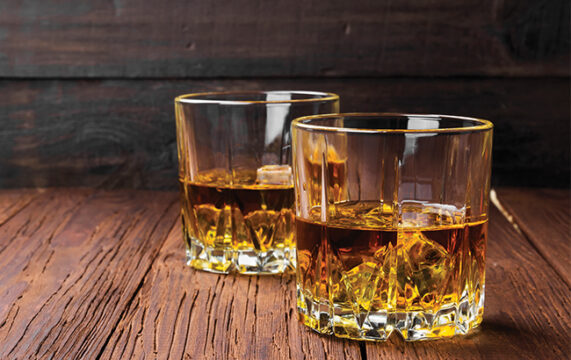 Last year, Indian spirits faced major obstacles in the form of the Covid-19 pandemic and a 150% import tariff.
However, a new 'enhanced trade partnership' with the UK could lower or remove the levy. The deal includes a a £1 billion (US$1.41bn) trade‐and‐investment package, and could remove the large tariff on UK-made whisky.
The tumultuous year of 2020 led to just two of the top 10 best-selling brands experiencing growth. All the same, the top brand of 2019 held its place on the leaderboard, despite a 16.4% drop in million-case sales.
This year's title of Indian Whisky Brand Champion was given to Sterling Reserve for the third year in a row. While it wasn't among the category's top 10 brands, it managed to retain its sales figures from the year prior despite its competitors suffering double-digit declines.
Earlier this month, we released our Brand Champions 2021 report outlining the sales of the world's biggest spirits brands. Based on our findings, we're counting down the top-selling Indian whiskies on the market.
Click through the following pages to discover the top 10 best-selling Indian whisky brands of 2020, listed in order of their nine-litre-case sales.
Data listed is to one decimal place for ease of reading, but the percentage changes are based on the full data supplied to The Brand Champions 2021 report.
10. Royal Challenge
2020: 4.3m
2019: 5.5m
% change: -22.2%
Place last year: 9
Sales of Royal Challenge dropped by nearly a quarter in 2020, causing the brand to move down one place on the leaderboard. The Diageo-owned whisky saw sales of 5.5m cases in 2019, falling to 4.3m in 2020.
Matured in charred American oak casks, the whisky is a blend Scotch and Indian malts, as well as grain spirits.
9. Old Tavern
2020: 4.5m
2019: 5.3m
% change: -15.2%
Place last year: 10
Despite Old Tavern moving up a rank on our table of best selling Indian whiskies, the Diageo-controlled United Spirits brand still lost a significant sales throughout the year, dropping from 5.3m cases in 2019 to 4.5m in 2020.
8. Bagpiper
2020: 5.3m
2019: 6.1m
% change: -12.5%
Place last year: 8
Maintaining its eighth-place position on our list of best-selling Indian whiskies is Bagpiper, owned by Diageo. Bagpiper has suffered a continuous decline in sales since 2016.
The brand, launched in 1976, is said to have a 'light malty aroma with a hint of wood'. The spirit associates itself with the likes of Bollywood cinema – numerous Bollywood stars have been brand ambassadors for Bagpiper.
7. Blenders Pride
2020: 6.6m
2019: 7.7m
% change: -14%
Place last year: 7
Pernod Ricard-owned Blenders Pride held on to the position of seventh place. After witnessing uninterrupted growth from 2016 to 2019, the whisky saw a 1.1m-case sales drop in 2020.
The brand launched in 1995, an Indian whisky blended from Indian grain spirit and Scottish malt. Its messaging is geared towards the 'contemporary, confident Indian', with the tagline 'good taste stays with you'.
6. Hayward's
2020: 9.7m
2019: 9.6m
% change: 1%
Place last year: 6
Hayward's managed to see growth in 2020, a rare feat across the category during the pandemic. With a rise in sales of approximately 100,000 cases, the United Spirits brand maintained sixth place on the leaderboard of best-selling Indian whiskies.
The whisky has not yet faltered in sales over the years, witnessing a steady growth since 2016. The spirit is described as 'a blend of extra neutral alcohol and flavourings'.
5. 8PM
2020: 10m
2019: 8.5m
% change: 17.6%
Place last year: 5
8PM, the flagship whisky of Radico Khaitan, saw an impressive boost of 17.6% in sales, with recorded figures displaying a 1.5m-case increase. Yet the brand did not waiver in its place on the leaderboard, holding on to the middle-ground fifth place it secured in 2019.
The 2017 Brand Champion winner launched in 2016, and has witnessed steady growth since then.
Last year, drinks group Radico Khaitan released what is thought to be the world's first single malt whisky finished in Indian Cabernet Sauvignon casks, called Rampur Asava.
4. Royal Stag
2020: 18.5m
2019: 22m
% change: -15.8%
Place last year: 4
Pernod Ricard's Royal Stag was hit with a 15.8% sales decline over 2020, with recorded figures presenting a drop from 22m cases to 18.5m. In 2018, the brand surpassed the 20m milestone for the first time.
Introduced in 1995, the whisky is considered to have a leafy, woody aroma with smoky notes of tropical fruit.
3. Officer's Choice
2020: 20.8m
2019: 30.6m
% change: -32%
Place last year: 2
Officer's Choice suffered a staggering loss of 32% in sales in 2020, losing its 2019 position of second place. The Allied Blenders & Distillers-owned whisky claimed the title of world's best­-selling Indian whisky brand in 2018.
With a plummet in sales of 9.8m, the brand sits incredibly close to the sales figures of Pernod Ricard's Imperial Blue.
The 42.8% ABV whisky launched in 1988. The brand's portfolio also includes Officer's Choice Blue, Officer's Choice Rum and Officer's Choice Black.
2. Imperial Blue
2020: 21.3m
2019: 26.3m
% change: -19.1%
Place last year: 3
The 2018 Indian Whisky Brand Champion suffered a 19.1% sales drop, but it moved up a position in our ranking of best-selling Indian whiskies, now sitting at second place.
The brand credits its success to its 'iconic' campaigns, and is Pernod Ricard's best-selling Indian whisky.
1. McDowell's No.1 Whisky
2020: 25.7m
2019: 30.7m
% change: -16.4%
Place last year: 1
Claiming the top spot of the best-selling Indian whiskies for the second year running is United Spirits' McDowell's No. 1 Whisky. Despite shifting 25.7m cases, the brand still marked a 16.4% drop in volume sales.
McDowell's was included in United Spirits' strategic review of some of its brands in February this year, as part of its strategy to improve profitability.