Female-founded hard seltzer Whisp hits the UK
Personal trainer Harriet Cuming has launched a new sustainable alcoholic sparkling water brand made using British ingredients.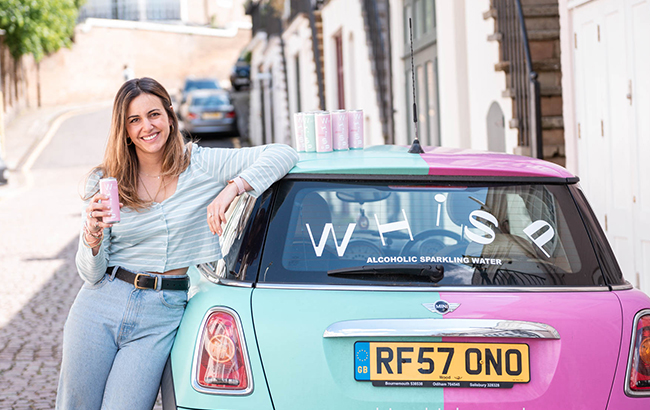 Cuming has unveiled alcoholic sparkling water Whisp in two variants: cucumber and mint, and raspberry and elderflower.
Whisp claims to be one of only 19% of startups founded by women.
The 4% ABV brand has been launched to target mindful drinkers, with Whisp being plastic-free, plant-based and climate-positive. Each can contains less than 66 calories, and is free from sugar, sweeteners or additives.
Whisp also uses milk thistle in its recipe to 'tackle inflammation'.
The 250ml cans are 100% recyclable and made in the UK. For every Whisp team member, 12 trees are planted every month. Currently, the company is a team of two, meaning 288 trees are planted annually, saving 28 tonnes of CO2.
Whisp has also partnered with The Drinks Trust charity, which supports the UK drinks industry.
Whisp Cucumber & Mint and Whisp Raspberry & Elderflower are priced at £10 (US$14) per four-pack.
The cucumber and mint-flavoured variant was named Taste Master during our inaugural Hard Seltzer Masters blind tasting.
The hard seltzer category will "far surpass" an initial forecast of 281 million case sales in the US by 2023 two years early, according to IWSR Drinks Market Analysis.