Breaking Bad stars sell minority stake in mezcal brand
Constellation Brands has acquired a minority stake in Dos Hombres Mezcal, founded by Breaking Bad actors Aaron Paul and Bryan Cranston, for an undisclosed sum.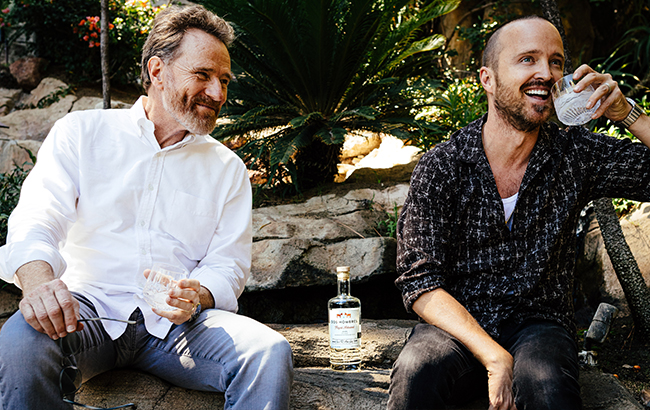 American actors Paul and Cranston launched Dos Hombres in July 2019. The brand made its debut in the UK through department store Selfridges last year.
Dos Hombres will remain independently owned and will continue to manage, market and produce its mezcals, Svedka vodka owner Constellation Brands said.
"We have fallen in love with all things mezcal – the process, the community behind the spirit, the tradition," said Paul. "We were just two guys on a quest to find a spirit that we felt everyone would love, and we've put a lot of energy into this.
"We couldn't be more excited for the next chapter with Constellation and continuing to build this brand. We have big hopes and dreams for Dos Hombres and we are thrilled that Constellation's vision for Dos Hombres is aligned with ours."
The deal was made through Constellation's venture capital subsidiary, which acquired a minority stake in Los Angeles-based Mezcal El Silencio in April 2019.
In September 2020, Constellation made its first outright purchase through its venture arm when it acquired Kentucky-based brandy producer Copper & Kings.
"Aaron and Bryan have turned their shared passion for mezcal into a truly unique brand and have created an exceptional liquid that receives frequent praise from both the industry and its consumers," said Jennifer Evans, vice-president, Constellation Ventures.
Booming mezcal market
Constellation said the US mezcal category has risen rapidly in the last few years and is predicted to continue its growth trajectory. The US mezcal category grew by 14% in 2020, according to IWSR Drinks Market Analysis figures cited by the brand, while ultra-premium variants (priced above US$30) are expected to be the largest and fastest-growing segment within the category.
Evans added: "Our goal is to make strategic, minority investments in high-potential brands in growing categories, and the US mezcal market continues to show great potential. We're excited to further invest in the category with a great team and brand that we feel has a lot of growth runway."
Dos Hombres (42% ABV) is made using espadín agave. The piñas from the plants are cooked in earthen pits to release their sugars before being crushed using a tahona wheel. After fermenting for seven to 10 days, the mezcal is distilled in copper stills.
The brand is made in the village of San Luis del Rio, Oaxaca, by third-generation mezcal maker, Gregorio Velasco.
The resulting liquid offers 'signature smokiness' and hints of apple, mango, local Oaxacan fruits and wood.
Constellation Brands also owns Tequila brands Casa Noble and Mi Campo.
We looked back at some of the latest investments in the mezcal category.