Mauricio Vergara on turning Patrón into a global phenomenon
By Melita Kiely
As he takes the lead at Patrón Tequila, president and chief operating officer Mauricio Vergara tells us how e-commerce, global travel retail and the mighty on-trade will help replicate the brand's US success further afield.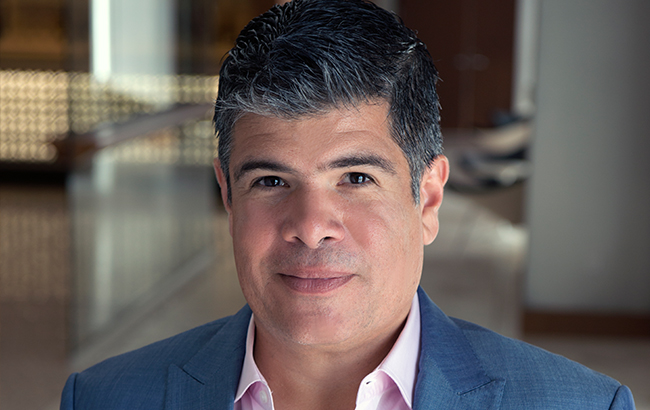 *This feature was originally published in the January 2021 issue of The Spirits Business
In December 2020, Mauricio Vergara swapped life Down Under for the sunny shores of Bermuda as he embarked upon a new venture – president and chief operating officer of Patrón. The ultra‐premium Tequila joined family‐owned Bacardi's portfolio in 2018 following the firm's multi‐billion‐dollar takeover of parent company Patrón Spirits International, in a deal that valued the Tequila maker at US$5.1 billion.
Bacardi had already bought a 30% stake in the firm in 2008, but the complete acquisition positioned the company as the second‐ biggest spirits firm by value market share in the US, and the number‐one super‐premium spirits company in the country.
Vergara's journey with Bacardi began in 2013, but his experience in the drinks trade spans 25 years. His first foray in the beverage business was working for Coca‐Cola, before moving into beer after a decade with the firm. "I had a few years with Brown‐Forman, and now I've been with Bacardi for the last eight years, so it's been a long time in beverages," Vergara says.
SPIRITS SPECIALIST
Over the past 10 years, Vergara's specialty has been spirits, holding numerous local roles in markets worldwide, including leading Bacardi rum and Grey Goose vodka internationally, managing commercial operations in Latin America and the US, as well as being in charge of global commercial and customer marketing teams.
Most recently, Vergara worked as managing director of Bacardi‐Martini Australia and New Zealand. His responsibilities included outlining the long‐term vision for the business in those countries to "continue driving growth for the company in the region", and expanding the group's portfolio through innovation and "owning the full profit and loss for the business in Australia".
"I come from huge companies, and what really attracted me to Bacardi is it's family‐owned, and that family perspective," Vergara recalls. "Bacardi is really in the middle of being a global company with global iconic brands, but at the same time a smaller size that allows you to be closer to everyone that works for the company. Part of this industry is all about relationships and Bacardi being a family‐owned company means we really take that to heart and want to make sure we're building those relationships with everyone we interact with for the long term."
After moving into his new role with Patrón, Vergara's ambition for the brand is clear: to turn Patrón into a global phenomenon. Patrón has performed almost consistently well year on year since 2015. Following a slight dip in volume sales in 2018, the brand recovered to report 11.6% growth in 2019 as volumes reached 2.9 million nine‐litre cases, as reported in The Brand Champions 2020.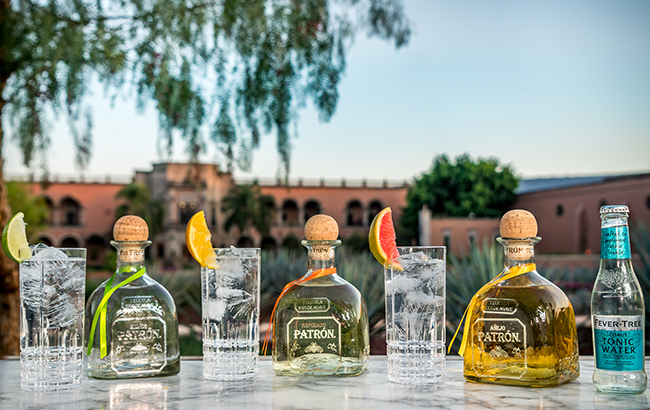 "The brand has been really successful until now and I don't see a massive change in strategy," Vergara notes. "It's a balance of focus for us now, as we've historically focused only on the US. Now there's a big emphasis for us to lead the global expansion of Tequila, with Patrón leading that growth."
Vergara says the team will "aggressively" take on the "commercial expansion of the brand in international markets". He cites the UK, Australia, Canada and global travel retail as important opportunities for the brand, while "Mexico for sure is a market we really want to make sure we win".
"One of the reasons we chose those markets is that's where we see Tequila actually starting to gain momentum, and we want to make sure that with Patrón we're the ones leading that charge," he adds. The US will also remain a hugely important part of the brand's future strategy, however, assures Vergara. "We will continue strengthening our position in the US, making sure we keep the category interesting through innovation," he says.
"Patrón has always been a brand that is innovating within Tequila, and we want to make sure that continues to keep the brand relevant, the category interesting and just encouraging new consumers to discover what Tequila is all about and just finding different ways of enjoying it."
DISTINGUISHED DEDICATION
Vergara says Patrón is fully integrated into the Bacardi portfolio behind the scenes, but the dedication the brand will receive front of house, in terms of marketing, will be distinguished for a while.
"We want to make sure that we leverage the scale of Bacardi from the back office, but then keep Patrón separate for a little bit in the front line in terms of the dedication we have within marketing and sales, to make sure we don't lose focus behind how we build brands internationally," Vergara explains. "So even though we're fully integrated in the back office, when it comes to trading with customers, our key partnerships, we're staying focused on Patrón and keeping that relationship special within the brand."
Vergara's appointment is the latest change for the brand, which welcomed a new master distiller in July 2020, David Rodriguez. His promotion followed the retirement of former master distiller Francisco Alcaraz after more than 30 years with Patrón. Rodriguez spent 18 years shadowing Alcaraz, helping him to perfect each batch of Patrón Tequila that left the distillery in Jalisco, Mexico.
While Vergara is certain the brand will continue to innovate mindfully and carefully, he is assured that Rodriguez's experience working alongside Alcaraz will guarantee consistency going forward. "David was really prepared for this moment; we don't want to suddenly overhaul the brand and its taste profile," he says.
"David is extremely prepared to continue that consistency because he worked under the tutelage, coaching and mentoring of Franciso, who pretty much was at the core of creating Patrón. Of course, he will bring a lot of new thinking and innovation going forward with his own creativity. One of the things we also need to keep doing for the future is finding new expressions, new ways of interpreting the brand as we launch further innovation in the future."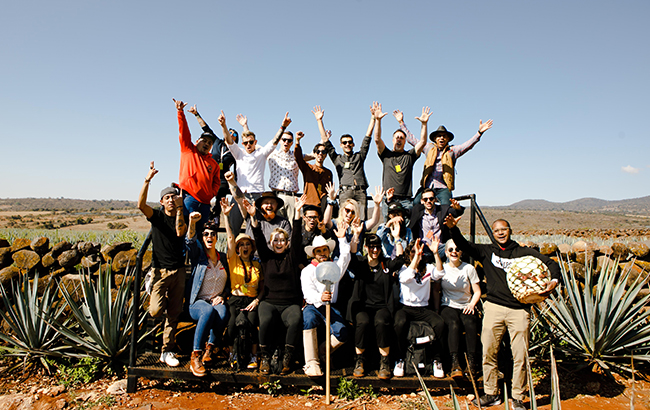 IMPORTANT INNOVATION
An example he gives is the launch of Gran Patrón Smoky Tequila in 2018. The new expression was designed to tap into the growing popularity of Tequila's smoky agave‐based cousin, mezcal. While a fully‐fledged move into mezcal isn't on the cards for Patrón, Vergara says, keeping up with evolving trends will remain of significant importance for the brand.
"We will always be open to innovation and thinking about how trends are evolving, how Patrón can capture those preferences," Vergara says. "That's something we will continue doing, to see what's happening in the market that is interesting, then asking what is the Patrón perspective so we can always keep the brand fresh and interesting for consumers."
Like all companies and brands, the Covid‐19 pandemic has presented both monumental challenges and opportunities. In June, Patrón was forced to postpone the 2020 edition of its Perfectionists Cocktail Competition because of the coronavirus crisis. Vergara insists it "always will be a priority for us to engage with the bartender community, either through competitions or education or other platforms we put in place".
"As the on‐trade normalises, Perfectionists will always play a role in our portfolio as a way to engage and educate bartenders and keep Patrón at the forefront of that partnership with bartenders because they are so important to us," he says, adding he hopes the event will be able to resume in 2021.
STRATEGIC ROLE
Vergara says the on‐trade has always been "very strategically important" for brands like Patrón. However, in the brand's biggest market, the US, the off‐trade has historically been a "bigger proportion of the business" for Patrón.
"From a focus perspective, it's equally important for us to support both the off‐trade and the on‐trade because the on‐trade plays a very strategic role for us in building the brand, engaging with consumers and educating people about the category," says Vergara.
E‐commerce has also grown into an important part of Patrón's plans, particularly since the pandemic struck. In June last year, Patrón expanded its UK Amazon Brand Store with the launch of a 'first of its kind' section focused on cocktails – the Patrón Pantry. The initiative was created as a direct response to the rapid rise in e‐commerce due to the Covid‐19 pandemic, reflecting the brand's ability to move with fast‐evolving trends and opportunities. The notion was to make shopping for cocktail ingredients easier for consumers. The pantry was supported by a series of videos and recipe cards to guide consumers through creating cocktails at home.
"The pandemic has just proved that it's critical to embrace e‐commerce and do it so that we can keep connected with our customers in a relevant way, like helping them figure out recipes to entertain at home so they can really embrace the Tequila category even further," Vergara says.
"For us, e‐commerce will continue to be a huge priority at the core of our strategy; that's where businesses are growing and we're just going to continue that, following our consumers in that journey and making sure we facilitate that engagement with the brand on the digital space."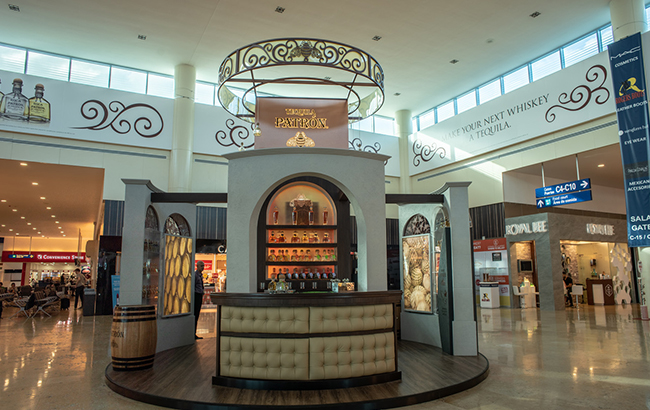 TRAVEL RETAIL BECKONS
Another space Patrón is keen to return to once it reopens is global travel retail. "We were very active [in global travel retail], it has always been a core component of ours," Vergara notes. Once travel resumes, Vergara says Mexico – particularly airports in Guadalejara, Mexico City and Cancun – will be critical for Patrón.
The American global travel retail market will also be a focus point for the brand, along with Heathrow Airport in London, UK. "The airport in Sydney, Australia, is a gateway to Asia because there are a lot of Asian tourists who go through it," he adds. "So those will be airports we will continue to focus on as we follow the consumer journey around the world." He anticipates the strategy in global travel retail will be different from the brand's approach to the channel before the pandemic.
As consumer confidence comes back, Vergara says Patrón's innovative vision will also have to encompass marketing tactics designed to entice travellers to the brand. "Innovation will not only come in the shape or form of liquid; it will also be in the way we engage with consumers and digital experiences," he explains.
"For example, virtual reality can play a big role – how can we use things like VR to take people from the airport down to the hacienda on a virtual tour? Or, how do we find ways to explore that through sight, sound and visuals. That's definitely part of how we're thinking about innovation, how do we keep adapting to whatever the reality is, but still build a strong human connection with our consumers."
He believes consumer interest in the Tequila category will continue throughout 2021, and beyond. The US market, he believes, has shifted its opinion of Tequila as a party, shot‐slamming spirit to a sophisticated sipping serve that can now sit alongside single malts.
"Patrón was the brand that really made that happen for Tequila, to take it from a party category to a super‐premium spirit," Vergara says proudly. "In Mexico, it's the same. I feel very happy about where the Tequila category is in general, in terms of its sophistication, and it just continues to premiumise."
CONTINUING THE JOURNEY
Outside of the US and Mexico, Vergara believes the category is "at the beginning of that journey". In markets such as the UK, Australia, Canada and some parts of Asia, Vergara says the brand is on a path to educate consumers on how to enjoy Tequila, through methods such as showing how it can be interchangeable in classic cocktails like the Negroni or Old Fashioned.
"It's all part of that international expansion we talked about," Vergara says. "Patrón is a brand that can really be one of those icons that consumers relate to as we continue to build the brand in the category. It's a great challenge to be president and chief operating officer, but I also feel a great responsibility of continuing the legacy of the brilliant team that has taken Patrón to where it is right now. I'm very excited for the future and what's to come."