The Scotch Whisky Masters 2020 results
By Melita Kiely
A second tasting seemed only logical to ensure all Scotch whisky brands could take the chance to be rewarded for their products during the pandemic. Happily, the results prove their efforts were worthwhile.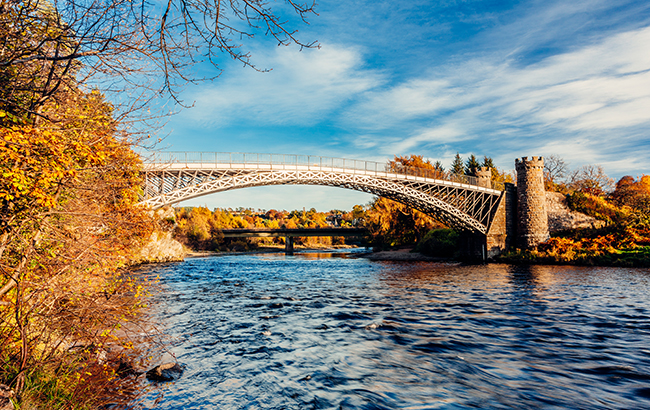 As the leaves turn crisp and golden across the UK, it's extraordinary to think back on how much has changed over the past few months. In spring, The Global Spirits Masters trialled its first digital blind tasting with the 2020 Scotch Whisky Masters. Our judges assembled over Skype, locked down in their London homes, determined to continue with this small part of normality and ensure that the world's leading brands could be assessed and rewarded for their quality products.
But lockdown brought a throng of logistical challenges, meaning many brands were unable to submit their products as planned. As such, The Global Spirits Masters team decided to host a second round of The Scotch Whisky Masters to give more brands a chance to be celebrated on the world stage.
Logging back on to Skype to judge the second part of The Scotch Whisky Masters were Matt Chambers and Karen Taylor, co‐founders of the Whisky for Everyone blog. The tasting was chaired by me, Melita Kiely, editor of The Spirits Business magazine.
The tasting began with a flight of Blended – Aged up to 12 Years entries, which saw a Gold medal awarded to Sir Edward's 12 Years Old. The judges described this blend as being "fresh and vibrant" with "green apple notes and light baking spices". Scottish Leader 12 Years Old was given a Silver medal in the same round for its "creamy, rich, malty" palate. Taylor described both expressions as "solid whiskies". Chambers added: "Both were very good products. It shows there are some very well made whiskies to be found in this range."
Moving on to a flight of slightly older blends, aged between 13 and 18 years, and a Gold was handed to Chivas Regal 18 Blue Signature. The judges discovered "nuttiness and caramel" on the palate, along with some "red apples". "This had a nice rich nose," noted Taylor. "This was exactly what I would expect from this sort of product."
The next entrants were assessed by price point, starting with a flight of Blended – Standard. All the whiskies in this heat were priced under £20 (US$25), and the panel unearthed three Gold medallists. Sir Edward's Finest won Gold for flavours of "grapes, raisins and baking spices", while Scottish Leader Signature was given a Gold for having notes of "dried fruit and lots of cereal".
Isle of Skye 8 Years Old also scored Gold with its "rich caramel" on the nose and "grassy notes and some white pepper" on the palate. The flight also produced two Silvers. Chambers said: "These were solid; I'd be happy with all of those for under £20, and I'd mix them. A lot of them have sweetness, and they would stand out if you mixed them with your basic set of mixers. Most are what you'd expect, and you get what you pay for."
The Gold standard continued into the Blended – Premium flight, one for Scottish Leader Supreme, with aromas of "baked apple and cinnamon", and the second for Scottish Leader Sherry Cask Finish, with notes of "dried fruits, honeycomb and oatcakes".
In the ultra‐premium heat, Chivas Regal 18 Blue Signature picked up a second Gold medal, praised for being "highly fragrant" on the nose, with "baking spices" on the finish to add extra complexity.
The blended malt contingents proved they were just as deserving of recognition, with Douglas Laing's The Gauldrons continuing the Gold trend in the no‐age‐statement round. This whisky had a "rich mouthfeel" with "toffee apple sweetness" that "mellowed into biscuit and malt".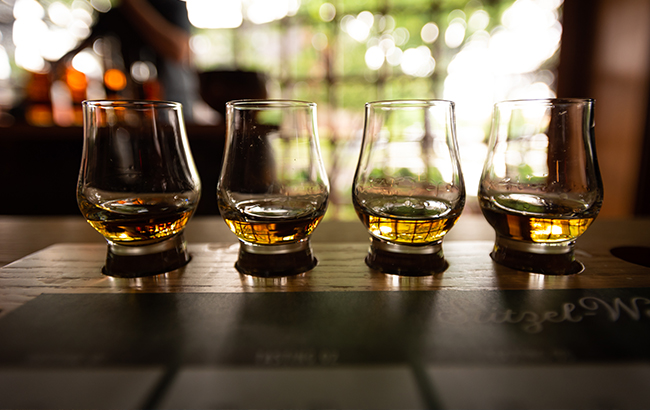 Douglas Laing went on to win a Gold for its Rock Island 21 Years Old blended malt in the 19‐30 years flight. On the palate, the judges found this to be "malty, saline, with damp peat smoke, lemon zest and white chocolate". Wemyss Malts also collected a Gold for its Velvet Fig 25 Years Old, said to be "tropical: mango, pineapple, peach, with underlying cereals and baking spices".
In the Blended Malt – Special Edition heat, Wemyss Malts also received a Gold for its Nectar Grove Batch Strength bottling. Tasting notes included a "sophisticated nose with florals, citrus and fresh fruit" leading to "burnt toffee and ashy woodiness" on the palate. "This whole section of blended malts has been really impressive," enthused Taylor. "These all had a bit more depth to them."
Chambers was equally impressed by the flights. He said: "It's an area that's expanding all the time, and people are using it to be a bit experimental. People seem to be pushing the boundaries of the category. It's a category a lot of people have been entering into for the past two to three years. To see that quality is really good."
In the Single Grain – Premium flight, Taisteal Explorer's Grain was awarded Gold for its "honeysuckle, icing sugar" nose, which finished with flavours of "honey, a hint of lemon peel and vanilla" on the palate.
As the competition moved onto single malts, these entries were divided by region. In the Single Malt: Highlands & Islands – No Age Statement flight, Highland Park Spirit of the Bear won a Gold with "biscuit notes and some spices" on the nose, and "green apples" on the palate.
Highland Park took home three more Gold medals in the Single Malt: Highlands & Islands – Aged 13‐18 Years. The first was awarded to Highland Park 16 Years Old Wings of the Eagle with "rich caramel viscosity and balanced sweetness". The second Gold went to Highland Park 14 Years Old Loyalty of the Wolf, with "malt, late drying oak spice and a hint of gingerbread" on the palate.
Completing the hat‐trick was Highland Park 18 Years Old Viking Pride Travel Edition. This bottling had "cocoa and allspice" on the nose and a "hint of pineapple, golden syrup and cocoa" on the palate. "These were very good whiskies," noted Chambers. "Very drinkable."
FOUR GOLDS
A whopping four Golds were discovered in the Single Malt: Highlands & Islands – Premium flight, beginning with "dried apricot, heather honey, peachy" Tullibardine 15 Years Old. Gold winner Glengoyne 12 Years Old was described as tasting like "tarte tatin" with "a hint of orange zest", while fellow Gold medallist Glengoyne 10 Years Old was said to be "earthy, malty, robust" on the nose, with "vanilla and sultanas" on the palate. Taisteal Explorer's Malt also won a Gold medal in this flight, celebrated for its "bitter herbal and orange zest" aroma.
Taylor said she found these whiskies were "a little classier". "They definitely showed a distinct style," she added. "It was a good style and it worked well. I felt like these whiskies really stepped up." Chambers agreed, and said: "They were quite similar, but perhaps the producers are playing it a bit safe because they know people like that style. They were very good at what they're doing."
In the Single Malt: Highland & Islands – Ultra Premium round, the first Master medallist was discovered. Glengoyne 18 Years Old was deemed worthy of the top accolade for its "rich, sweet, earthy" nose and "allspice, clove, caramel and hint of pineapple" on the palate.
Taylor noted: "It's got the depth, it stands head and shoulders above the rest. It's got layers of flavour, and every time you go back there's something new. It is a classic Highland style, that beautiful rich character with those lovely malty notes, some tropical hints, but still some freshness. I'm not sure how you could improve on that."
MULTI-LAYERED MASTER
As we moved from the Highlands and Islands to the Lowlands, premium single malt whisky Kingsbarns Dream to Dram also scooped a Master. "It's multi‐layered, big vanilla, white chocolate, creamy, apple, then this late oaky spice and a bit of white pepper heat at the end, which accentuated everything," said Chambers.
Taylor was just as excited about this discovery. "I just loved these gentle, subtle hints combined with big bold flavours. It had a nice balance between delicacy and strength. Lots of complexity in the glass."
Benromach 10 Years Old secured a Gold medal in the next flight, Single Malt: Speyside – Aged up to 12 Years. Taylor found aromas of "burnt meaty hotdogs" on the nose, with "malty biscuits and peaches" on the palate.
The slightly older Benromach 15 Years Old also won a Gold medal in the next age bracket, aged between 13‐18 years. Tasting notes included "chocolate fondant and runny caramel with loads of malty biscuit".
Benromach Cask Strength Vintage 2009 Batch 4 was found to be particularly special, and joined the Master ranks. With "green apple, fudge and underlying malt" on the nose, the whisky developed into "creamy milk chocolate, pear, toffee apple and oak dryness" on the palate.
The standard single malt Speyside whisky from Aldi Stores Bathgate, priced under £25 (US$32), was also found to be deserving of a Master: Glen Marnoch 12 Years Old Speyside Single Malt. It had flavours of "rich caramel up front with some milk chocolate" on the palate, with a "slightly drying bitterness of orange peel marmalade" on the finish. As Chambers put it: "What more do you want from a Speyside whisky?"
The competition ended on a high with a Gold medal for Ian Macleod Distillers' Smokehead in the Single Malt: Speyside – Premium flight, with its mix of "sweet and peaty" flavours.
The second part of The Scotch Whisky Masters 2020 left no doubts about the quality of the category in any of the judges minds.
STRONG TASTING
"This was an incredibly strong tasting," said Chambers with confidence. "The fact that we've given almost everything a Gold in all different categories and regions, and in various styles, just shows Scotch is at the top of its game."
The blended malts in particular were a stand out part of the competition for Taylor. "I'm really looking forward to blended malts in the next couple of years," Taylor added. "Blended malts are showing some huge potential."
Click through to the following page to see the results from our second Scotch Whisky Masters 2020 competition.
To see the results from the first competition, click here.
Blended – Aged up to 12 Years
| | | |
| --- | --- | --- |
| Company | Product | Medal |
| La Martiniquaise-Bardinet | Sir Edward's 12 Years Old | Gold |
| Distell | Scottish Leader 12 Years Old | Silver |
Blended – Aged between 13‐18 Years
| | | |
| --- | --- | --- |
| Company | Product | Medal |
| Chivas Brothers | Chivas Regal 18 Blue Signature | Gold |
Blended – Standard
| | | |
| --- | --- | --- |
| Company | Product | Medal |
| Distell | Scottish Leader Signature | Gold |
| Ian Macleod Distillers | Isle of Skye 8 Years Old | Gold |
| La Martiniquaise-Bardinet | Sir Edward's Finest | Gold |
| La Martiniquaise-Bardinet | Sir Edward's Smoky | Silver |
| Distell | Scottish Leader Original | Silver |
Blended – Premium
| | | |
| --- | --- | --- |
| Company | Product | Medal |
| Distell | Scottish Leader Supreme | Gold |
| Distell | Scottish Leader Sherry Cask Finish | Gold |
Blended – Ultra Premium
| | | |
| --- | --- | --- |
| Company | Product | Medal |
| Chivas Brothers | Chivas Regal 18 Blue Signature | Gold |
Blended Malt – No Age Statement
| | | |
| --- | --- | --- |
| Company | Product | Medal |
| Douglas Laing & Co | The Gauldrons | Gold |
Blended Malt – Aged between 19‐30 Years
| | | |
| --- | --- | --- |
| Company | Product | Medal |
| Douglas Laing & Co | Rock Island 21 Years Old | Gold |
| Wemyss Malts | Velvet Fig 25 Years Old | Gold |
Blended Malt – Special Edition
| | | |
| --- | --- | --- |
| Company | Product | Medal |
| Wemyss Malts | Nectar Grove Batch Strength | Gold |
Single Grain – Premium
| | | |
| --- | --- | --- |
| Company | Product | Medal |
| Milestone Beverages HK | Taisteal Explorer's Grain | Gold |
Single Malt: Highlands & Islands – No Age Statement
| | | |
| --- | --- | --- |
| Company | Product | Medal |
| Edrington | Highland Park Spirit of the Bear | Gold |
Single Malt: Highlands & Islands – Aged 13‐18 Years
| | | |
| --- | --- | --- |
| Company | Product | Medal |
| Edrington | Highland Park 16 Years Old Wings of the Eagle | Gold |
| Edrington | Highland Park 14 Years Old Loyalty of the Wolf | Gold |
| Edrington | Highland Park 18 Years Old Viking Pride Travel Edition | Gold |
Single Malt: Highlands & Islands – Premium
| | | |
| --- | --- | --- |
| Company | Product | Medal |
| Terroirs Distillers Group | Tullibardine 15 Years Old | Gold |
| Ian Macleod Distillers | Glengoyne 12 Years Old | Gold |
| Ian Macleod Distillers | Glengoyne 10 Years old | Gold |
| Milestone Beverages HK | Taisteal Explorer's Malt | Gold |
Single Malt: Highlands & Islands – Ultra Premium
| | | |
| --- | --- | --- |
| Company | Product | Medal |
| Ian Macleod Distillers | Glengoyne 18 Years Old | Master |
Single Malt: Lowland – Premium
| | | |
| --- | --- | --- |
| Company | Product | Medal |
| Kingsbarns Distillery | Kingsbarns Dream to Dram | Master |
Single Malt: Speyside – Aged up to 12 Years
| | | |
| --- | --- | --- |
| Company | Product | Medal |
| The Benromach Distillery Company | Benromach 10 Years Old | Gold |
Single Malt: Speyside – Aged between 13‐18 Years
| | | |
| --- | --- | --- |
| Company | Product | Medal |
| The Benromach Distillery Company | Benromach 12 Years Old | Gold |
Single Malt: Speyside – Cask Strength
| | | |
| --- | --- | --- |
| Company | Product | Medal |
| The Benromach Distillery Company | Benromach Cask Strength Vintage 2009 Batch 4 | Master |
Single Malt: Speyside – Speyside – Standard
| | | |
| --- | --- | --- |
| Company | Product | Medal |
| Aldi Stores Bathgate | Glen Marnoch 12 Years Old Speyside Single Malt | Master |
Single Malt: Speyside – Premium
| | | |
| --- | --- | --- |
| Company | Product | Medal |
| Ian Macleod Distillers | Smokehead | Gold |