The Scotch Whisky Masters 2020 results
By Melita Kiely
While it will be some time until we see the full effects of last year's changes to Scotch whisky's maturation rules, our taste test showed regions' typical styles are becoming more fluid.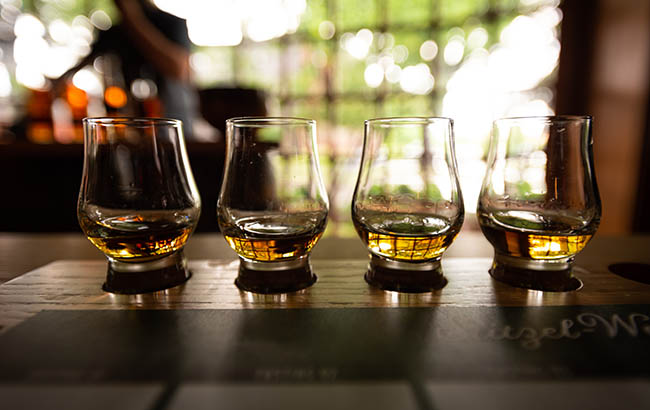 Last year saw a monumental move for the Scotch whisky category. The rules governing how Scotland's native spirit can be made were extended to include a greater variety of casks. It was hoped the decision would give the category more room for innovation and experimentation, but many feared it would dilute the quality that Scotch has come to be known for.
However, while it may be some time until we see more experimental cask finishes, this year's Scotch Whisky Masters proved that quality is at an all‐time high.
In the face of the Covid‐19 pandemic, it felt important to continue to recognise the brilliant work going on in the Scotch whisky world and to highlight some of the best brands and bottlings in the business. Thanks to lockdown restrictions in the UK, the competition was not able to take place in its regular format. However, thanks to a helping hand from Wine Sorted, which ensured all bottles were packed and shipped anonymously to the judges, The Scotch Whisky Masters 2020 was able to take place from the judges' homes in London, UK, completely blind.
EXPERT JUDGES
Forming this year's expert panel were Matt Chambers and Karen Taylor, co‐founders of the Whisky for Everyone blog, and me, Melita Kiely, editor of The Spirits Business. I chaired the event at a safe distance over Skype. The tasting got under way with the Blended – No Age Statement flight, which brought with it the first Master medal of the day. Johnnie Walker Blue Label impressed the judges with its notes of "dried fruits, caramel, hint of smoke" and "dried apple".
Taylor said: "From the nose to the palate to the finish, everything evolved and kept delivering more and more. It just kept opening up. This was an example of how no‐age‐statement can really deliver on quality."
Three Gold medals were also awarded to: "rich, buttery" Green Isle from the Character of Islay Whisky Company; "malty" Johnnie Walker Red Label; and "creamy" Johnnie Walker Gold Label Reserve. The round also produced a Silver. "There was no real set style in this round," Chambers noted, "and that was the beauty of it."
A flight of Blended – Aged up to 12 Years followed, with a Gold going to Diageo's Johnnie Walker Black Label. The judges found aromas of "apples and whipped cream" on the nose, leading to flavours of "dried fruits" and "orange peel" on the palate. A Silver medal went to Highland Black 8 Years Old.
The tasting then progressed to the Blended – Standard flight, which produced three Golds for three budget supermarket bottlings. Aldi Stores UK secured a Gold for its Highland Black 8 Years Old, which was described as "sweet and delicate". A second Gold went to Aldi Stores Australia for its Highland Earl blended Scotch, which was found to have a "lovely richness" on the palate.
Completing the trio of Golds was Lidl GB, with its three‐year‐old Queen Margot 3 Years Old, which impressed with its "sweet, earthy" aroma and notes of "poached pear" and "honey". Three Silver medals were also awarded to Glen Orchy 5 Years Old, Cutty Sark Original and Label 5 blended Scotch.
"They were all pretty reasonable," said Chambers. "They all went in slightly different directions, but were really decent whiskies for under £20. These aren't for the malt fanatics that only drink whisky neat, but perfect for people who are buying whisky to mix with something. "These will be perfectly good; there is enough characteristic to stand out from whatever you mix it with."
Next, the judges indulged in a Master‐ worthy Blended – Special Edition release: Label 5 Bourbon Barrel. The single grain blew the judges away with its aromas of "poached pears and golden syrup", leading to notes of "coconut, creamed soda and bitter almonds".
"This was quite delicious, really juicy with lots of pear and coconut – just lovely," said Chambers. Taylor was equally impressed, remarking that the expression was "very well balanced".
The high standard continued as the judges moved on to the Blended Malt – Aged 13‐18 Years flight. Douglas Laing's Timorous Beastie 18 Years Old scooped a Master medal thanks to its hints of "salty seaside, green apples and vanilla" on the nose, which evolved into flavours of "robust cereals, ashy smokiness" on the palate and "refreshing citrus" on the finish. "It was really sophisticated," said Taylor. "It had a lovely honey, vanilla, malty cereal quality too. Delicious."
The judges found a Gold in the form of Rock Island 21 Years Old as they sampled the blended malt aged between 19 and 30 years. The whisky, made by Douglas Laing & Co, presented a "punchy peaty nose" with "underlying sweetness and a hint of treacle".
A Gold was also awarded to Glen Scotia Double Cask in the Single Malt: Campbeltown – Premium flight. The judges enjoyed tastes of "sweet tropical fruits" on the palate combined with the whisky's "jamminess".
Three Golds were dished out in the Single Malt: Campbeltown – Super Premium round. The first was given to Glen Scotia 18 Years Old with notes of "juicy raisins and ripe plums", while the second went to Glen Scotia Victoriana, which had "plenty of warming baking/wood spice". The third Gold was given to Glen Scotia 15 Years Old, which the judges hailed for offering "rum and raisin ice cream" with a "background of soft peat smoke".
The "undeniably mouth‐watering" Glen Scotia 25 Years Old won Gold in the next heat – Single Malt: Campbeltown Ultra Premium.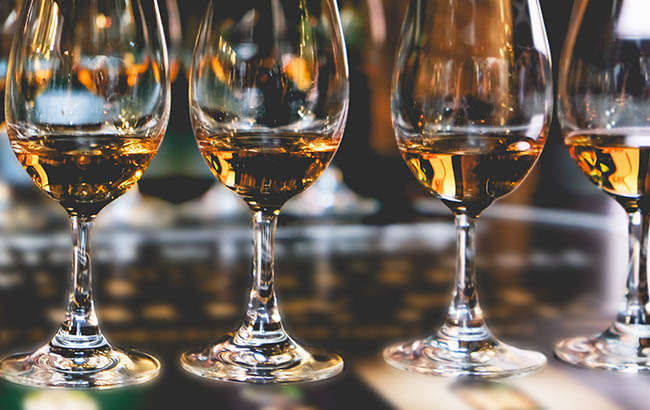 NO-AGE-STATEMENT WHISKIES
Leaving Campbeltown for the Highlands and Islands, the no‐age‐statement round offered two Golds: Highland Park Triskelion, with aromas of "redcurrants and fresh grass", and Glencadam Reserve Andalucia Oloroso Sherry Finish with "lots of cereals" on the palate. A Silver also went to Highland Park Valknut.
Highland Park 12 Year Old – Viking Honour scored a Gold in the Single Malts: Highlands & Islands – Aged up to 12 Years flight, hailed for its notes of "heather honey" and "peach".
Keeping with the same style and region, but moving up an age bracket to 13‐18 years, and Highland Park 18 Year Old Viking Pride was considered Gold‐standard for its notes of "walnut" and "candied orange".
Increasing the age range further to 19‐30 years, and two Golds were uncovered: the "waxy, with baked figs" Highland Park 21 Years Old November 2019 Release, and Glencadam 21 Years Old with "bubblegum and tropical fruits". "This flight was a step up from the previous rounds," said Chambers, who also felt the stereotypical Highlands & Islands style has gone. "Maybe the stereotype of each region doesn't exist anymore," he added.
Taylor agreed: "This category always had a very rich, complex style. These whiskies have all been quite light – not in a bad way, but it's different to what I was expecting."
Despite the change in style, it was evident that quality was still present, as the Single Malt: Highlands & Islands – Standard delivered two more Golds: Glen Marnoch Highland Single Malt, with "lots of honey on the nose", and Ben Bracken Highland Single Malt, which had a "hint of candied citrus".
The premium heat also produced two Golds: Loch Lomond 12 Years Old with the taste of "fresh pea shoots", and Loch Lomond Original for its "grassiness". Loch Lomond 18 Years Old also took a Gold in the super‐premium round, thanks to its "refreshing brightness with honey and citrus".
With Highlands & Islands done, it was on to a single Lowland flight of no‐age‐statement single malts. Glasgow 1770 – Peated Release No.1 won a Gold. "Typically, Lowlands has a light, delicate style – and it's just so untypical of that. It's much heavier, sweeter, might be even a little pear – definitely a lot of wood spice. It was delicious – just not what you would expect," said Chambers.
The judges then took on the Speyside region, starting with a no‐age‐statement single malt. The Gold‐winning Tomintoul Seiridh was said to be "dry but sweet" with notes of "honeysuckle and biscuit". The Golds kept coming as the panel moved on to the up‐to‐12‐years flight. Mortlach 12 Years Old – The Wee Witchie was "soft" yet "robust", with "earthy wood spices", while Darkness 8 Years Old offered flavours of "soft brown sugar, fudge and walnut".
VISCOUS PALATE
The quality only got better as the judges took on a round of Speyside single malts aged from 13 to 18 years, giving a Master to Mortlach 16 Years Old – Distiller's Dram. Chambers said he liked the whisky's "rounded, rich, viscous palate", with flavours of "juicy raisin, treacle". Two Golds were also awarded.
The next age range, 19‐30 years, produced two Masters medals. The first was won by Mortlach 20 Years Old – Cowie's Blue Seal, which had hints of "stewed apples, deep earthy spices and cigar box". The second Master went to Tomintoul 25 Years Old. The judges enjoyed tastes of "coconut, almonds, allspice, underlying malt and gingerbread".
"This really felt like a step up," enthused Taylor. "There was a clear differentiation as to why these were older and it came through. They had so much going on."
Chambers was equally impressed by this round, which also produced a Gold for Tomintoul 21 Years Old. "The Masters in particular had all these different things going on that you can only get from good barrels and decent age. You can't fake that. All three were delicious, but two were the best we've had today."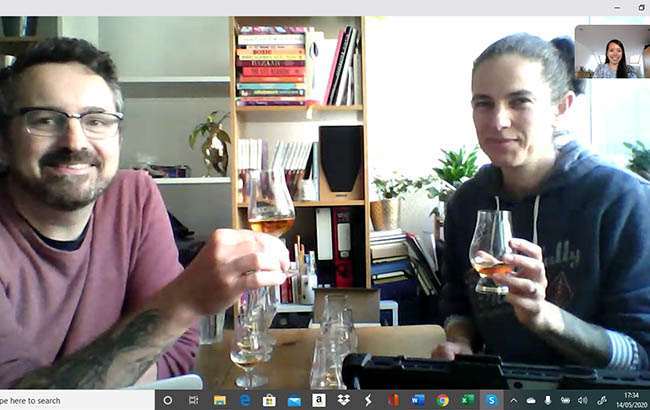 Speyside also proved you can get a lot of bang for your buck, as the standard single malts round delivered two deserving Golds: the "apple, cinnamon" Glen Marnoch Speyside Single Malt and the"soft and sweet" Ben Bracken Speyside Single Malt. Meanwhile, Glen Turner 12 Years Old received a Silver in the Single Malt: Speyside – Premium flight, thanks to its "creamy, viscous" character.
The tasting culminated in a set of smoky Islay whiskies, starting with a single malt aged for up to 12 years old. Aerolite Lyndsay (The Character of Islay Whisky Company) won Gold for offering flavours of "honeycomb, bonfire smoke and apples" on the palate.
In the 19‐30 years old single malts round, Grace Île (The Character of Islay Whisky Company) was also deemed to be worthy of a Gold due to its notes of "bonfire embers" and "dried seaweed".
The Legend of Fiona Macleod (The Character of Islay Whisky Company) also reached the Gold standard in the Single Malt: Islay – Aged Over 31 Years heat.
SOFT AND GENTLE
Tasting notes included "pineapple, mango and a hint of floral". Completing the Islay whiskies was a flight of standard single malt bottlings, with a Gold awarded to Ben Bracken Islay Single Malt, which had a "pinch of green chilli" on the palate and a Silver went to "soft, gentle" Glen Marnoch Islay Single Malt.
On the Islay rounds, Taylor said: "The younger versions were really good examples of Islay whiskies, but the older ones didn't quite hit the mark in the same way. There were two distinct sets, and they both show what you can get from Islay. Typical young Islay is vibrant and fresh, and when it's older the peat is more mellowed and integrated."
As is custom in every Global Spirits Masters competition, the judges retasted the Master medallists to determine The Scotch Whisky Taste Master 2020.
The decision was far from easy, with all three judges taking considerable time to choose between two expressions in particular. The judges were truly enamoured with Timorous Beastie 18 Years Old, which they said was "beautifully balanced" and "full of character". But the 'best in class' title went to Tomintoul 25 Years Old, with "so much complexity and flavour".
Reflecting on the tasting, the judges highlighted several points – including how the typical characteristics that differentiate one region from another seem to be less prominent now.
Taylor said: "There were some really exceptional whiskies – the blends and blended malts were particularly good. And the whiskies today showed no‐age‐statement doesn't equate to being cheap and easy – but it does equate to some really lovely quality, without the barriers of having to put an age on it."
Click through the following pages for the Scotch Whisky Masters 2020 results in full.
Blended – No Age Statement
Company
Product
Medal
Diageo
Johnnie Walker Blue Label
Master
Atom Brands
Green Isle (The Character of Islay
Whisky Company)
Gold
Diageo
Johnnie Walker Red Label
Gold
Diageo
Johnnie Walker Gold Label Reserve
Gold
Atom Brands
World Whisky Blend
(That Boutique‐y Whisky Company)
Silver
Blended – Aged up to 12 Years
| Company | Product | Medal |
| --- | --- | --- |
| Diageo | Johnnie Walker Black Label | Gold |
| Aldi Stores (Australia) | Highland Black 8 Years Old | Silver |
Blended – Standard
| Company | Product | Medal |
| --- | --- | --- |
| Aldi Stores (UK) | Highland Black 8 Years Old | Gold |
| Lidl GB | Queen Margot 3 Years Old | Gold |
| Aldi Stores (Australia) | Highland Earl Blended Scotch Whisky | Gold |
| Lidl GB | Glen Orchy 5 Years Old | Silver |
| La Martiniquaise | Cutty Sark Original | Silver |
| La Martiniquaise | Label 5 | Silver |
Blended – Special Edition
| Company | Product | Medal |
| --- | --- | --- |
| La Martiniquaise | Label 5 Bourbon Barrel | Master |
Blended Malt – Aged 13‐18 Years
| Company | Product | Medal |
| --- | --- | --- |
| Douglas Laing & Co | Timorous Beastie 18 Years Old | Master |
Blended Malt – Aged 19‐30 Years
| Company | Product | Medal |
| --- | --- | --- |
| Douglas Laing & Co | Rock Island 21 Years Old | Gold |
Single Malt: Campbeltown – Premium
| Company | Product | Medal |
| --- | --- | --- |
| Loch Lomond Group | Glen Scotia Double Cask | Gold |
Single Malt: Campbeltown – Super Premium
| Company | Product | Medal |
| --- | --- | --- |
| Loch Lomond Group | Glen Scotia 18 Years Old | Gold |
| Loch Lomond Group | Glen Scotia Victoriana | Gold |
| Loch Lomond Group | Glen Scotia 15 Years Old | Gold |
Single Malt: Campbeltown – Ultra Premium
| Company | Product | Medal |
| --- | --- | --- |
| Loch Lomond Group | Glen Scotia 25 Years Old | Gold |
Single Malt: Highlands & Islands – No Age Statement
| Company | Product | Medal |
| --- | --- | --- |
| Edrington | Highland Park Triskelion | Gold |
| Angus Dundee Distillers | Glencadam Reserva Andalucia Oloroso Sherry Finish | Gold |
| Edrington | Highland Park Valknut | Silver |
Single Malt: Highlands & Islands – Aged up to 12 Years
| Company | Product | Medal |
| --- | --- | --- |
| Edrington | Highland Park 12 Years Old – Viking Honour | Gold |
| Angus Dundee Distillers | Glencadam 10 Years Old Highland Single Malt | Silver |
Single Malt: Highlands & Islands – Aged 13‐18 Years
| Company | Product | Medal |
| --- | --- | --- |
| Edrington | Highland Park 18 Years Old Viking Pride | Gold |
Single Malt: Highlands & Islands – Aged 19‐30 Years
| Company | Product | Medal |
| --- | --- | --- |
| Edrington | Highland Park 21 Year Old November 2019 Release | Gold |
| Angus Dundee Distillers | Glencadam 21 Years Old Highland Single Malt | Gold |
Single Malt: Highlands & Islands – Standard
| Company | Product | Medal |
| --- | --- | --- |
| Aldi Stores (UK) | Glen Marnoch Highland Single Malt | Gold |
| Lidl GB | Ben Bracken Highland Single Malt | Gold |
Single Malt: Highlands & Islands – Premium
| Company | Product | Medal |
| --- | --- | --- |
| Loch Lomond Group | Loch Lomond 12 Years Old | Gold |
| Loch Lomond Group | Loch Lomond Original | Gold |
Single Malt: Highlands & Islands – Super Premium
| Company | Product | Medal |
| --- | --- | --- |
| Loch Lomond Group | Loch Lomond 18 Years Old | Gold |
Single Malt: Lowland – No Age Statement
Company
Product
Medal
Glasgow Distillery Company
Glasgow 1770 Single Malt Scotch Whisky –
Peated Release No.1
Gold
Single Malt: Speyside– No Age Statement
| Company | Product | Medal |
| --- | --- | --- |
| Angus Dundee Distillers | Tomintoul Seiridh Speyside Single Malt | Gold |
Single Malt: Speyside– Aged up to 12 Years
| Company | Product | Medal |
| --- | --- | --- |
| Diageo | Mortlach 12 Years Old – The Wee Witchie | Gold |
| Atom Brands | Darkness 8 Years Old | Gold |
Single Malt: Speyside– Aged 13‐18 Years
| Company | Product | Medal |
| --- | --- | --- |
| Diageo | Mortlach 16 Years Old – Distiller's Dram | Master |
| Angus Dundee Distillers | Tomintoul 16 Years Old Speyside Single Malt | Gold |
| Angus Dundee Distillers | Glencadam 15 Years Old Speyside Single Malt | Silver |
Single Malt: Speyside– Aged 19‐30 Years
Company
Product
Medal
Angus Dundee Distillers
Tomintoul 25 Years Old Speyside Single Malt
Master &
Taste Master
Diageo
Mortlach 20 Years Old – Cowie's Blue Seal
Master
Angus Dundee Distillers
Tomintoul 21 Years Old Speyside Single Malt
Gold
Single Malt: Speyside– Standard
| Company | Product | Medal |
| --- | --- | --- |
| Aldi Stores (UK) | Glen Marnoch Speyside Single Malt | Gold |
| Lidl GB | Ben Bracken Speyside Single Malt | Gold |
Single Malt: Speyside– Premium
| Company | Product | Medal |
| --- | --- | --- |
| La Martiniquaise | Glen Turner Single Malt Scotch Whisky 12 Years Old | Silver |
Single Malt: Islay – Aged up to 12 Years
| Company | Product | Medal |
| --- | --- | --- |
| Atom Brands | Aerolite Lyndsay (The Character of Islay Whisky Company) | Gold |
Single Malt: Islay – Aged 19‐30 Years
| Company | Product | Medal |
| --- | --- | --- |
| Atom Brands | Grace Île (The Character of Islay Whisky Company) | Gold |
Single Malt: Islay – Aged Over 31 Years
Company
Product
Medal
Atom Brands
The Legend of Fiona Macleod (The Character of Islay
Whisky Company)
Gold
Single Malt: Islay – Standard
| Company | Product | Medal |
| --- | --- | --- |
| Lidl GB | Ben Bracken Islay Single Malt | Gold |
| Aldi Stores (UK) | Glen Marnoch Islay Single Malt | Silver |