SB meets… Angus Lugsdin, Salcombe Distilling Co
By Nicola Carruthers
The co-founder of English gin producer Salcombe Distilling Co discusses his collaboration with Michelin-starred chef Niall Keating, and the company's plans to expand production and move into non-alcoholic 'spirits'.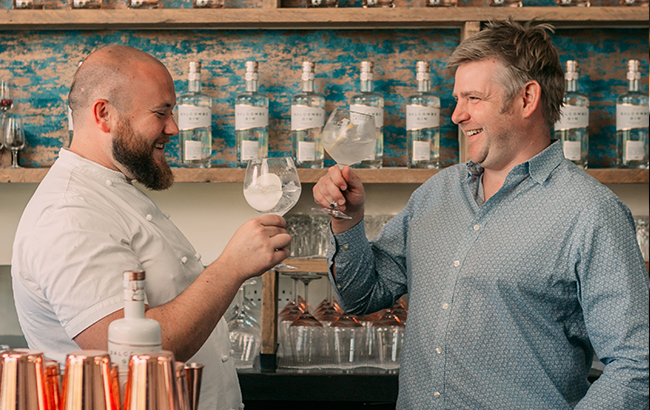 What is your background in spirits?
I used to work in underwater technology in the US and spent quite a lot of time in the oil and gas industry. When I moved back to the UK, I spent some time at Springbank distillery in Campbeltown in November 2010 and did a couple of weeks up there at a time when they had massive snow storms. When I left there I went back to my day job for a few years but still had this nagging feeling that I wanted to leave and get into distillation. I then had a soul searching moment in Easter 2014. I started contacting people on Linkedin, and one of them was fellow co-founder Howard Davies who I had met teaching sailing in Salcombe. In July 2014 we then formed Salcombe Distilling Co.
Why did you decide to open a gin distillery?
We put together a detailed business plan with a view to do whisky. We were two young lads and didn't have access to any capital to open a whisky distillery on a scale that made commercial sense. We needed a product to bring to market. We both loved gin and tonics, and Salcombe and gin is a match made in heaven. They were two very different business models and plans. The barriers to entry to starting a gin distillery were lower so we decided to focus on gin for the moment and build our reputation on gin. We spent two years building the distillery, developing the recipe and getting investors on board, before launching our first gin, Start Point, in summer 2016.
What challenges have you faced since opening the distillery?
We were the third gin brand in Devon when we launched, there was Plymouth and Wicked Wolf before us. There are now at least a dozen since we launched. I wish we had launched a year or two earlier, but equally we wouldn't have been as good a year earlier. We wanted to launch with our best foot forward. Salcombe is very much about the liquid, which took 18 months. We've continued to win awards for both the liquid and the packaging.
We're trying to be the best we can possibly be, and have fun with it. We're a small team with 35 people. We've had more than 7,000 people come to the on-site gin school. We've got a shop, as well as a cocktail bar overlooking the water.
Can you tell me about the Voyager series and the new gin, Restless?
Restless is the fifth in the Voyager series and each release is developed in collaboration with a world-renowned chef or a winemaker. The collaboration came out to reflect the chef or winemaker's personality, style and approach to their craft. It's about telling the story through their eyes and our shared experiences. We launched the first one in 2018 with chef Michael Caines. We started work on what would be the sixth release in the series a year ago, which will be released in autumn.
How did the collaboration with Niall Keating begin?
Through various industry contacts I had spoken to chef Gary Jones from Michelin-starred Le Manoir Aux Quat'Saisons about the Voyager series and he suggested Niall Keating as someone who was really dynamic. The first call with Niall was in January, and then we decided in February we would do it for release this summer. That was prior to coronavirus and plans got thrown out of the window slightly. When that all happened we decided we might not be able to do it how we normally do it, which involves the chef or winemaker coming to visit us and then we start to create prototype gins, but we couldn't do that.
However, it didn't stop us as we can still get stuff out in the post. We took to using Zoom and WhatsApp, sharing ideas on Niall's journey and love of different cuisines and then set about incorporating and telling that story in the gin. Niall kept sending us boxes of weird and wacky botanicals and ingredients, and his own kombucha. Some of them I wasn't sure what they were as they didn't have English on them.
We had Chinese black dates, perilla leaves, Asian pears, sencha sakura tea, kaffir lime, Japanese salted plums, and a few other things that didn't make the cut. We looked at Niall's love of Japanese and Korean cuisine and his time spent in Copenhagen, and we wanted to tell Niall's story and his love of these cuisines and ingredients in our gin.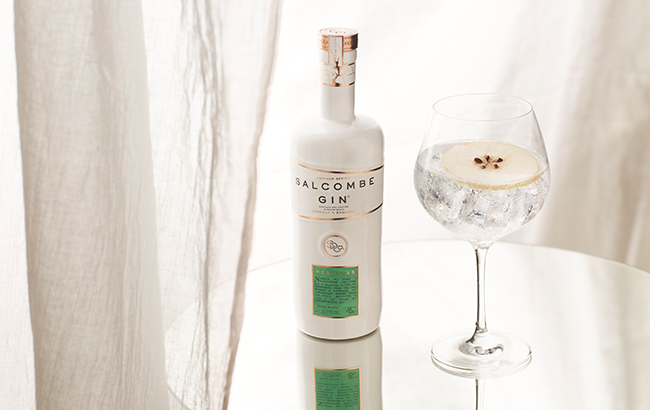 Why did you decide to use kombucha?
Niall loves creating kombucha and it was really interesting, on trend and lots of people are talking about it. I really like it as an alternative to alcohol – it has lots of layers of complexity and challenges the senses and the palate in the way soft drinks don't normally. We always create single botanical distillates of everything. We distilled the blood orange kombucha separately and the array of aromas and flavours were complex. We thought 'why don't we use this as a botanical in its own right?'. We had this idea of using it as a liquid botanical. We don't believe there's been another gin distilled with kombucha but we could be wrong. We'll take it as the first and see if anyone wants to challenge us.
Can you tell me about the process of distilling kombucha as a liquid botanical?
All the botanicals you put in gin are solid. So we treated it as a botanical but in liquid form. It's created through that fermentation process so it has developed its own properties that it gives to the gin, and we treated it as a separate botanical. It added sweetness like liquorice wood, citrus notes and notes of vanilla, even though there's no vanilla in it. So we combined it in the same way as any of other gins, using the one-shot method and added it in with the other botanicals. We also decided to use it in two ways, so we created a separate distillate itself so we could capture the best of the aroma and flavour profile. Then we worked out the exact ratio that we wanted to blend the kombucha distillate. It became quite a complicated gin.
The Chinese black dates gave a nice smokiness, the Asian pear offered a fresh fruity tang – different to normal pears – while the Japanese salted plums gave a real umami depth and richness to the gin. The addition of Mexican orange blossom gave it a citrus, peppery warmth. The Citra IPA from California was the most volatile aromatic that we used, far more than citrus peel. You end up with a perfectly balanced gin, warming richness on the nose, and the freshness of hops. The palate is smooth and creamy and the finish is lovely and aromatic.
Can you tell me about the next gin in the Voyager series?
The next one will be with a winery and that will be released in the autumn. We're planning to do two a year. The series will continue indefinitely. For us it's a really exciting concept – we love finding partners that have a shared passion and outlook on life. We will hopefully work with chefs in the US. It's a very portable and unique concept that we own. We've slowly increased the number of bottles per edition. There's 3,500 bottles of Restless. At the moment we haven't reintroduced any of the ones we've done. We've had lots of requests to do so but we like the idea of when it's gone, it's gone.
Are there any other markets you'd like to move into?
We've done a little bit of exporting to Europe, but we're predominantly focused on the UK. The US is also a big focus for us. We're definitely open to expanding more. We'd like to be in Australia, Japan, and expand into Asia and some of the more mature markets in Europe. We're doing a bit in Germany at the moment. In the UK, we've gone from being a regional brand to a national brand. The UK represents 95% of our business.
Are you looking to move into other spirits categories?
We are actively planning on developing a range of non-alcoholic 'spirits'. We're doing rum from scratch, that's an interesting space. We keep being told rum is the next big thing but I'm not convinced because we don't grow the base crop in this country. We're looking at expanding capabilities of rum.
Are you looking to expand the distillery?
We can produce about 140,000 bottles a year. We'd look to double that or more. You reach a certain point where you have to plan a couple of years out. We're at capacity in terms of what we can do in Salcombe. We can produce a bit more but we've got no space currently to expand. We'd have to take on more buildings. We have a 5,000-square-foot warehouse in Kingsbridge, about seven miles away from Salcombe. We'll definitely be expanding production capacity and we're looking to do that soon. It's something that we're going to have to do if we want to keep up with demand as Salcombe grows as a brand.
We do everything in house. Packing and shipping is done from our warehouse. Everything else is currently done in Salcombe. The only thing we've contracted out is filling and labelling our miniatures.
Last year you launched a crowdfunding campaign. What did you do with the funds?
We raised £1.2 million [US$1.5m] in 24 hours. That was used to fund further growth, develop new products, launch in new territories, expand the sales team and expand investment in marketing initiatives. Given the current situation, we've slowed down some of the investment initiatives as we don't know how long this is going to last. We haven't cancelled anything. Everything is now starting to come back and we're increasingly speeding up our investment again as things start to come back online.
Where do you see the business in the next five to 10 years?
The five-year plan will be selling 100,000 nine-litre cases annually across all the markets that we operate in. We're on track to do that. It's ambitious but we have a fantastic product, a really strong brand at a super-premium price point.