Bacardi shifts spending to help bars during Covid-19
Drinks producer Bacardi has transferred investments from large events to supporting the on-trade at a "grassroots level" in the wake of the Covid-19 pandemic.
The Grey Goose owner was one of many international drinks producers that launched schemes to support the on-trade through the pandemic after bars around the world were forced to close their doors to help stem the spread of the virus.
As lockdown measures were implemented, Bacardi launched its #RaiseYourSpirits initiative, which was backed with a US$4 million investment globally, to help bar owners and bartenders throughout the crisis.
As part of the campaign, Bacardi pledged £1.5m (US$1.8m) to support the on-trade in Western Europe and partnered with delivery service Deliveroo to help bars offer an at-home cocktail delivery service.
Jacob Briars, global head of advocacy and education for Bacardi, said: "We have transferred our investment that would previously have been earmarked for large-scale industry and consumer events and reinvested into supporting the on-trade at the grassroots level.
"As well as commissioning bartenders to create 'how to' cocktail tutorial videos, support has included purchasing cocktail vouchers and prepaying for bartenders to host training events or to serve cocktails at events. As bars have opened up, Bacardi Limited has supplied them with pop-up bars and slushie machines to help drive their takeaway cocktail business and take advantage of the frozen cocktail trend."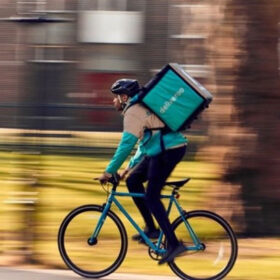 Lifeline for bars
During lockdown, takeaway cocktails provided a lifeline for bars around the world, allowing them to maintain cashflow while they were unable to welcome guests to their sites.
Research commissioned by Bacardi earlier this year found that takeaway cocktails were set for a "2020 moment" as 61% of Brits planned to spend their summer drinking cocktails and mocktails outside.
Briars said: "Covid-19 has had a huge impact on consumer trends, particularly when it comes to the way people enjoy cocktails.
"We always put the consumer at the heart of everything we do. That means, as a business we've been quick to rethink our plans and to adapt our business to new and future opportunities, and help our bar partners to do the same.
"One example is cocktails-to-go, which have been a lifeline for any bars around the world. The home delivery of cocktails took off during lockdown as people looked to support their local bars and enjoy a bar-quality cocktail despite their doors being closed. We helped bars adapt their offering to jump on that trend."