Unmissable Scotch distilleries to visit
By Lauren Eads
Covid-19 might have scuppered a summer's worth of tourism for much of the UK, but with restrictions continuing to ease an increasing number of Scotch whisky distilleries are now reopening to visitors. Here, we look at 10 sites worth making a stop for.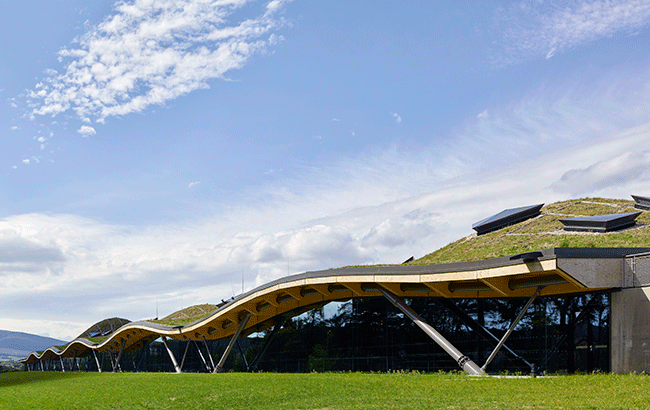 It might not be business as normal, but there are plenty of distilleries open for business and waiting to welcome you once more, with a range of Covid-safe measures in place. The most important being that booking ahead is now mandatory in nearly all distilleries, as are face coverings and in some cases temperature checks on arrival.
More than two million people visited Scotch distilleries in 2018, according to figures from the Scotch Whisky Association (SWA), which compiled the figures as part of its annual survey. While figures for 2019 have not been released, the SWA found that in 2018 visitor numbers had risen to 2,004,745 – representing a 6.1% year-on-year rise. The increase in visitor numbers at distilleries across Scotland represents a 56% growth in the popularity of Scotch distilleries since 2010.
Results from the SWA's 2018 survey also revealed that spending at visitor centres was up by 12.2% to £68.3 million (US$86.5m), with the average visitor spending £34 (US$43) on each trip – a 5.8% year-on-year increase.
The pandemic might have put a substantial dent in the trajectory of Scotch whisky tourism, but with increasing numbers of distilleries continuing to reopen safely things are beginning to get back to normal, albeit at a slow and steady pace.  
Over the following pages, we have rounded up a selection of Scotch whisky distilleries already open for tours or that will be reopening soon, which also happen to be some of the best to visit.
Glenfiddich Distillery – Dufftown, Moray

Website: glenfiddich.com
The Glenfiddich visitor centre in Dufftown first opened in the summer of 1969, and was described as the "first-of-its-kind" for the Scotch whisky sector. William Grant & Sons also operates a visitor centre for its Balvenie single malt Scotch brand in Dufftown, making it easy to visit both at the same time.
While the Glenfiddich Distillery and visitor centre was temporarily closed in March due to the coronavirus pandemic, it reopened relatively early, on 15 July, with a number of new safety measures in place. The distillery and visitor centre are currently open under the reduced hours of Wednesday to Sunday from 9.30am to 4pm, with the team offering tutored tastings and tours as normal, with a number of restrictions.
Advance booking is required for all visits and groups will remain in separate bubbles throughout with a temperature check carried out on arrival. Hand sanitiser stations will be located throughout and face masks will be required in some areas.
Several of the distillery's bar areas are also open, including the Robbie Dhu Terrace and Whisky Lounge, though advance reservations will be required. Guests booking onto the Robbie Dhu Terrace or Whisky Lounge will also be offered a complimentary highlights tour giving a brief introduction to distilling and access to some production areas where safety restrictions and availability allows.
Nc'nean Distillery, Morvern
Website: ncnean.com
The remote distillery of Nc'nean is located on the Morvern peninsula, some 12 miles down a single track road on Scotland's western coast. Annabel Thomas founded Nc'Nean after leaving her job in London in 2013. She then spent four years raising funds to build the distillery with production starting in 2017 and its first whisky launched this year.
This month, the fledgling distillery broke a world record after bottle number one of its inaugural single malt whisky sold for £41,004 (US$54,183) during an online auction. The distillery is known for its dedication to sustainability, as well as its experimentation with different strains of yeast. The team uses organic Scottish barley in a distillery powered by renewable energy and recycles 99.97% of its waste. 
As for visitors, Nc'Nean has been taking bookings for distillery visits since 3 August. This was initially restricted to those staying on the Morvern peninsula, but from 17 August the distillery has been open to all, reservations mandatory. Tours themselves have been free throughout August (with a £5/US6.50 charge for tasting) but the distillery itself remains off limits.
Nevertheless, visitors are still able to hear from the team about its process, its sustainability initiatives, browse the shop and taste its whisky while taking in its wild surrounding, home to sea eagles, otters and pine martens.
Dewar's Aberfeldy Distillery – Aberfeldy, Perthshire
Website: dewars.com
One of the world's biggest Scotch whisky brands, Dewar's is based in Perthshire, where its distillery encompasses both its flagship Dewar's and Aberfeldy whiskies, with the latter making up much of the Dewar's trademark blend. The distillery itself is on the banks of the Upper Tay, just outside Aberfeldy itself.
Whisky tours and tasting are now operating under new safety measures, with booking ahead required. The Aberfeldy distillery tour costs just £9 (US$11.70), and includes a whisky tasting in the whisky lounge. The Cask Tasting tour (£16.50/US$21.60) comprises the Aberfeldy tour plus the chance to taste an aged Aberfeldy single malt from the cask, and a complimentary glass. Finally the Whisky Connoisseur tour (£26.50/US$34.70), includes the Cask Tasting Tour, plus a portfolio whisky tasting of the team's top whiskies.
This year Dewar's was named The Spirits Business' 2020 Scotch Whisky Brand Champion. The Bacardi-owned brand increased its volumes by 6.4% to reach three million nine‐litre cases in 2019, thanks to its consistent innovation and clever marketing surrounding the launch of three new whiskies. The first of the trio was released in March 2019 exclusively for the global travel retail market: Dewar's Double Double, comprising three whiskies aged for 21, 27 and 32 years. The series was supported by a four‐part short film, created in partnership with actor Tuppence Middleton, best known for her roles in The Imitation Game and Black Mirror.
This was followed by the release of its Cask Finish Series, which started with the launch of Dewar's Caribbean Smooth Rum Cask, created by finishing eight‐year‐old Dewar's in ex‐rum casks. The Cask Finish Series was extended further this year with the launch of eight‐year‐old, mezcal cask‐finished Dewar's Ilegal Mezcal.
Glenmorangie Distillery – Tain, Ross-shire
Website: glenmorangie.com/en-gb/experiences/distillery-tour
The Glenmorangie Distillery is set to reopen from 31 August and is now taking advance bookings for tours and accommodation at Glenmorangie House.
Enhanced safety measures and social distancing will be in place and tours will continue as normal, offering "unparalleled access" to the distillery and its warehouses. During its tours, visitors are taken through all stages of whisky production, from mashing and fermenting to distilling and maturation, and also taken to visit The Still House (nicknamed the Highland Cathedral), which is home to the tallest stills in Scotland. Their long copper necks are the same height as a fully grown giraffe.
Tours include The Original, featuring a distillery tour and tasting, and The Signet Tour, which offers an in-depth distillery tour alongside a visit to the Signet Room, where you can sample some of the team's rarest expressions. A tasting masterclass, hosted by director of distilling, whisky creation and whisky stocks, Dr Bill Lumsden, is also available to book in limited groups.
Deanston Distillery – Deanston, Perthshire
Website: deanstonmalt.com
Deanston, on the banks of the River Teith, was originally a cotton mill, built in 1785. The Adelphi mill grew to become a self contained community, with accommodation for 300 workers on site. By 1808, it had become known as Deanston village, and was the first industrial establishment to issue its own currency. Its coins were known as 'Deanstons' and were only redeemable in the village grocers and haberdashery.
When the cotton industry began to decline in the 1960s, its conversion to a distillery began, with the first bottle of Deanston Highland Single Malt released in 1974. In the years that followed, Deanston was chosen as the location for film director Ken Loach's whisky film, The Angel's Share. In 2012 the distillery opened its visitor centre.
Deanston reopened on 3 August amid the coronavirus pandemic, starting with its distillery shop. Some tours have already been reintroduced, albeit at weekends only. These include whisky tastings, distillery tours and a warehouse experience, where you can sample a dram straight from the cask. Temperature checks are required on arrival and face coverings will be required on parts of the tours, depending on location.
Glenlivet Distillery – Ballindalloch, Moray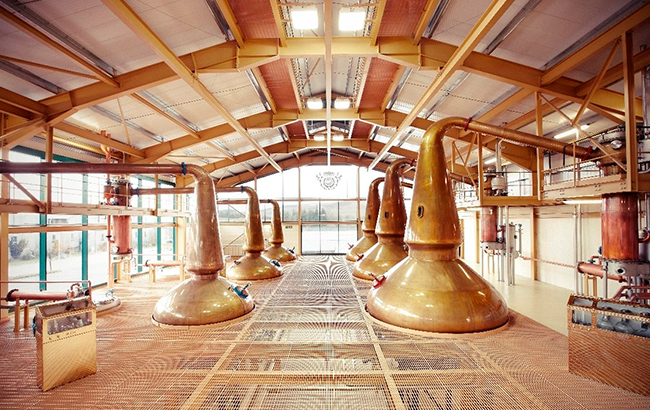 Website: maltwhiskydistilleries.com/theglenlivet
The Glenlivet Distillery is situated in remote Moray, off the northern coast of Scotland. The distillery reopened on 29 July with safety measure including physical distancing, enhanced hygiene, temperature taking on arrival and mandatory face masks. Pre-booking is essential with tasting limited to a maximum of eight people and for over 18s only.
The Glenlivet Collection Tasting (£15/US$19.60) offers visitors an introduction to the process of whisky making and a tutored sampling of three whiskies: The Glenlivet 12, 15 and 18. For the more serious whisky fans there's The Glenlivet Distillery Exclusives Tasting (£30/US$39), a one-hour experience which includes a tasting of four exclusive single cask whiskies from the Distillery Reserve range.
Finally there's The Glenlivet Rare Tasting (£45/US$59), a 90-minute tasting exploring the history of The Glenlivet and a guided tasting through its premium range of single malt whiskies, including The Glenlivet 21 Archive, The Glenlivet XXV and two exclusive single cask editions.
Highland Park Distillery – Orkney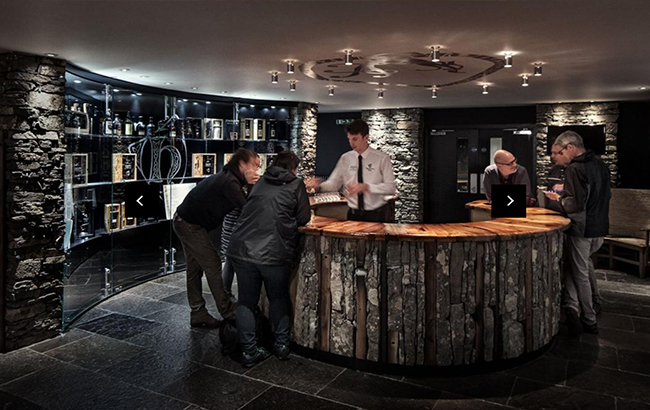 Website: highlandparkwhisky.com/en/distillery
The Highland Park Distillery in Orkney reopened its Albert Street shop on 8 August, and the distillery has said it is aiming to reopen its tour offering from September, along with its visitor centre.
While this is yet to be confirmed, and the particulars of how the tours will be put on are yet to be revealed, the distillery has a wide range of tours that are well worth booking ahead for. Its Viking Soul (£15/US$19.60) and Viking Heroes (£20/US$26) tour offers an introduction to Highland Park, starting with a video about the brand's viking roots, followed by a tour of its distillery and a tasting of two or four drams, depending on the tour selected.
There's also the Viking Harmony (£60), a tour and tasting of five single malts plus a souvenir glass, a signed and framed certificate and a book about the history of the distillery, and the chance to purchase an exclusive single cask bottling. The Viking Legends tour (£100) offers the same as the Harmony, but with the added luxury of a private tasting of the Valhalla Collection, comprising the Thor, Loki, Freya and Odin expressions.
The top flight experience though is the Orcadian Vintage (£325) which offers a behind-the-scenes tour of the distillery and the chance to sample directly from the cask, followed by a guided tasting of four Highland Park Vintages – 1968, 1970, 1971 and 1976.
Strathisla Distillery – Keith, Moray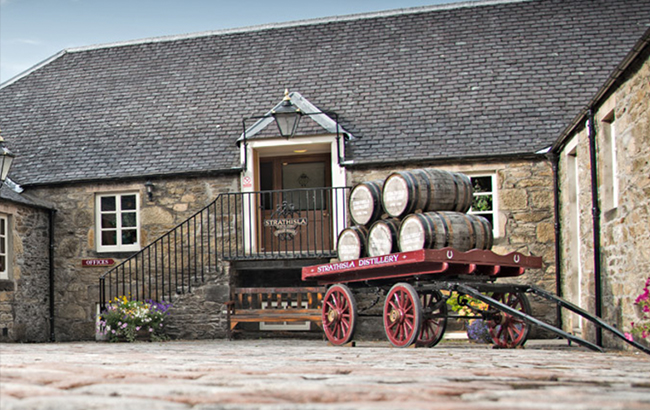 Website: maltwhiskydistilleries.com/strathisla/tours
The Strathisla Distillery is billed as the oldest continuously operating distillery in Speyside, and was first founded as the Milltown Distillery by George Taylor and Alexander Milne in 1786. Ownership transferred to William Longmore by 1830, and by 1940 it had been bought by Jay Pomeroy, a fraudulent financier. In 1950 it was acquired by James Barclay, who retains ownership today, and it remains the key production site for the malts that make up Chivas Regal blended Scotch whisky.
Having temporarily closed in March, the distillery reopened its doors to the public on 7 August. Safety measures are in place, which include a welcome tent where the temperatures of each visitor are taken and face masks enforced.
Pre-booking is essential, with tastings and tours offered in groups of up to six people, and for over 18s only. All visitors will have the chance to taste some rare and exclusive drams only available at the distillery, and given the opportunity to create their own blended whisky. Its flagship tour, Chivas: The Blend, will be running alongside the Reserve Collection tour, priced at £30 (US$39) and £50 (US$65.50) respectively.
Ardbeg – Islay
Website: ardbeg.com/en-gb/visit-us
After an extended hiatus, Ardbeg on the wild Isle of Islay will be reopening five days a week from 2 September, offering pre-booked tastings from Wednesdays to Sundays. The shop and visitor centre will also reopen, however distillery tours will not yet be reintroduced and are unlikely to be running for a while, according to the distillery's latest announcement. The Old Kiln Café will also remain closed, along with the Seaview Cottage, which will not be open for booking for at least the rest of the year. But guided tastings are still available, offering an insight into the Ardbeg portfolio, which must be booked at least 24 hours in advance.
While the distillery itself may remain free of visitors for some time yet, the team has been hard at work behind the scenes. Earlier this year, Ardbeg bottled a Pinot Noir cask-matured Ardbeg single malt to celebrate Ardbeg Day and 20 years of the Ardbeg Committee. The Pinot Noir casks used to mature Ardbeg Blaaack were sourced from New Zealand, with the limited edition Scotch launched on Ardbeg Day (30 May), an annual celebration that takes place on the final Saturday of the Fèis Ìle music and whisky festival on Islay.
The release also marked 20 years since the Ardbeg Committee was established on 1 January 2000. Today, the committee comprises more than 100,000 Ardbeg followers worldwide. Members are often consulted on new whiskies and offered exclusive committee bottlings.
The Macallan Distillery – Craigellachie, Moray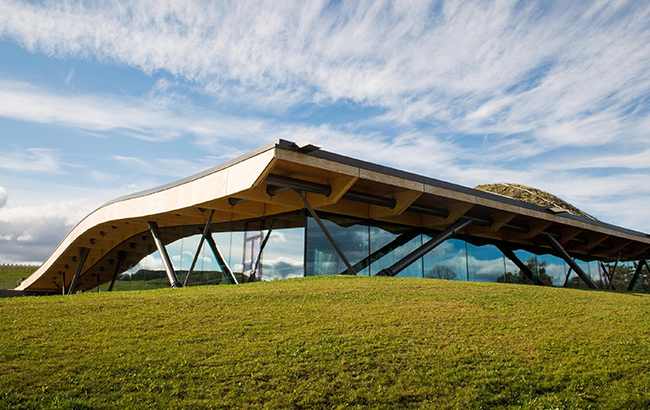 Website: themacallan.com/en/distillery
The Macallan's stunning new distillery and tour has quickly become a must visit attraction within the world of whisky. But fans will have to wait a little longer to visit, with the distillery set to begin a phased reopening from 26 September 2020.
Edrington opened its new £140m (US$188.4m) Macallan distillery and visitor centre in June 2018, enabling it to increase production of the single malt Scotch whisky to increase by a third. The new site, located on the Easter Elchies estate near Craigellachie in Moray, is part of Edrington's £500m (US$655.3m) investment in the brand, which will be spent on the whisky and warehousing, with particular focus on The Macallan's Sherry-seasoned oak casks.
The site was designed by leading architect Rogers Stirk Harbour and Partners and built by Elgin-based Robertson. The design of the roof takes inspiration from ancient Scottish hills while "minimising the visual impact" on the Speyside countryside. The undulating timber roof structure, thought to be one of the most complicated of its kind in the world, comprises 380,000 individual components.
In more normal times, visitors can expect to experience a number of different tours through the high-tech site, taste its whiskies, dine in the Elchies Brasserie and relax in The Macallan bar, which offers panoramic views of the surrounding hills of Speyside.