Scotch Whisky Brand Champion 2020: Dewar's
By admin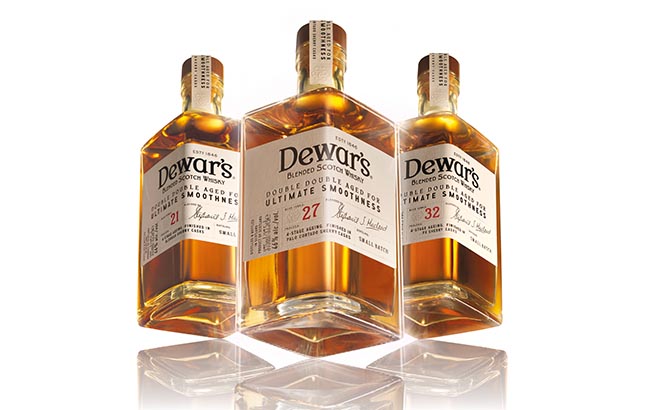 "Some people think only single malts have flavour and complexity, but I believe with the [Dewar's] Double Double range we've shown that blends can be just as interesting and complex as a single malt," Stephanie Macleod, master blender at John Dewar & Sons told The Spirits Business this year.
Consumers have voted with their money when it comes to Dewar's blended Scotch whisky, pushing volumes up by 6.4% to reach 3 million nine‐litre cases in 2019. Consistent innovation and clever marketing have taken the brand past its 2013 volumes again, and secured Dewar's the title of Scotch Whisky Brand Champion 2020.
Adam Oakley, global vice president of Bacardi‐owned Dewar's, says: "Dewar's was built on innovation, including our unique 'double‐aged'‐ for‐extra‐smoothness‐process, pioneered in 1881.
"Over the past 12 months we've continue to marry an experimental outlook with our unique smooth mouthfeel to launch three innovations for Dewar's."
The first of the trio was brought out in March 2019 exclusively for the global travel retail market: Dewar's Double Double, comprising three whiskies aged for 21, 27 and 32 years that have each undergone a four‐stage maturation process.
The series was supported by a four‐part short film, created in partnership with actor Tuppence Middleton, best known for her roles in The Imitation Game and Black Mirror.
Dewar's followed this with its Cask Finish Series, which started with the launch of Dewar's Caribbean Smooth Rum Cask, created by finishing eight‐year‐old Dewar's in ex‐rum casks. The Cask Finish Series was extended further this year with the launch of eight‐year‐old, mezcal‐cask‐finished Dewar's Ilegal Mezcal.
"Dewar's innovation and positioning as a smooth, accessible, quality whisky has helped accelerate recruitment of new drinkers," adds Oakley. "In the US, for example, [legal drinking age]‐34‐year‐old drinkers of Dewar's White Label have increased threefold over the past four years. For new drinkers, reinforcing quality credentials is just as important as establishing a clear, emotional brand point of view. Double‐aging is by no means the easiest way to make a blended Scotch, but we believe in quality."
Dewar's did well to increase volumes as it did in 2019. The overall Scotch whisky category faced its fair share of challenges last year, triggered by trade wars with the US.
Total Scotch whisky exports by volume grew by 2.4% to 1.31 billion 700ml bottles in 2019, according to HMRC figures released by the Scotch Whisky Association. However, export volumes to the US dropped by 7% to 127m 700ml bottles last year because of the introduction of a 25% tariff on single malt Scotch.
However, the million‐case‐selling single malt Scotch brands – The Glenlivet and Glenfiddich – delivered a solid performance in 2019. William Grant & Sons‐owned Glenfiddich continues to be the world's leading single malt Scotch, growing sales by 9.4% in 2019 to reach 1.5m cases. And Pernod Ricard's The Glenlivet experienced a 6.8% volume increase last year to reach 1.3m cases.
*The Brand Champions data is listed to one decimal place for ease of reading, but the percentage changes are based on the full data supplied. All brand data is supplied in millions of nine-­litre cases.
Scotch whisky (figures: million 9l case sales)
BRAND
OWNER
2015
2016
2017
2018
2019
%+/-
Johnnie Walker
Diageo
17.6
17.4
18.3
18.9
18.4
-2.8%
Ballantine's
Pernod Ricard
6.2
6.7
6.9
7.4
7.7
4.6%
Chivas Regal
Pernod Ricard
4.4
4.3
4.2
4.5
4.4
-1.1%
Grant's
William Grant & Sons
4.4
4.5
4.5
4.6
4.2
-8.4%
William Lawson's
Bacardi
3.1
3.0
3.1
3.3
3.3
-0.6%
Dewar's
Bacardi
2.7
2.8
2.6
2.8
3.0
6.4%
J&B
Diageo
3.5
3.5
3.4
3.2
3.0
-6.0%
Black & White
Diageo
1.5
1.8
2.4
2.7
2.8
5.2%
Label 5
La Martiniquaise‐Bardinet
2.6
2.6
2.6
2.6
2.7
3.5%
Bell's
Diageo
2.2
2.2
2.2
2.2
1.9
-14.7%
Buchanan's
Diageo
1.5
1.7
1.7
1.7
1.8
7.6%
White Horse
Diageo
1.5
1.3
1.5
1.6
1.8
11.5%
Sir Edward's
La Martiniquaise‐Bardinet
1.5
1.5
1.6
1.6
1.8
8.0%
Passport
Pernod Ricard
1.9
1.7
1.7
1.7
1.7
1.2%
100 Pipers
Pernod Ricard
1.5
1.4
1.4
1.5
1.6
2.0%
Glenfiddich
William Grant & Sons
1.1
1.2
1.3
1.4
1.5
9.4%
Teacher's Highland Cream
Beam Suntory
1.1
1.0
1.1
1.1
1.4
31.4%
Clan Campbell
Pernod Ricard
1.6
1.6
1.6
1.5
1.4
-1.4%
Vat 69
Diageo
1.3
1.2
1.3
1.3
1.3
-1.5%
The Glenlivet
Pernod Ricard
1.1
1.0
1.1
1.2
1.3
6.8%