Top 10 best-selling Scotch whisky brands
Despite a challenging year for Scotch in the wake of trade tariffs, the category's top performers have benefitted from new regulations and innovative line extensions. We take a look at the world's biggest-selling brands.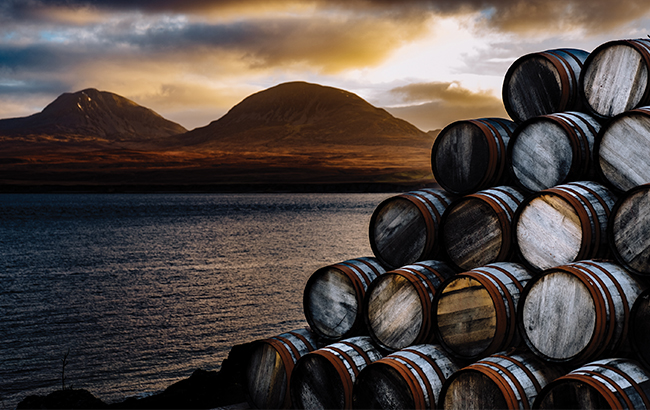 Total Scotch whisky exports by volume grew by 2.4% to 1.31 billion 700ml bottles in 2019, according to HMRC figures released by the Scotch Whisky Association. However, export volumes to the US dropped by 7% to 127 million 700ml bottles last year because of the introduction of a 25% tariff on single malt Scotch.
It was a challenging year for Scotch producers as they faced trade wars, market volatility and political tensions. However, it wasn't all bad news for Scotch distillers. In June 2019, the rules that govern how Scotch whisky is made were amended to expand the use of casks allowed for maturation.
Looking across our top 10, six brands were in decline, with modest growth rates for the world's biggest Scotch brands.
Click through to the following pages to discover the largest Scotch brands listed in order of their nine-litre case sales.
Data is listed to one decimal place for ease of reading, but the percentage changes are based on the full data supplied to The Brand Champions 2020.
*The Spirits Business' full Brand Champions 2020 report is available to view here.
10. Bell's
2019: 1.9m
2018: 2.2m
% change: -14.7%
Place last year: –
Entering our list at number 10 is Diageo's blended Scotch whisky brand Bell's. The brand was the only Scotch whisky to fall by double-digits in 2019 after witnessing a decline of 14.7% to 1.9m cases.
In Diageo's financial results for the last six months of 2019, the group's primary Scotch brands remained largely flat as growth of Black & White and Vat 69 was offset by declines of Haig Club in Greece and Bell's in Great Britain.
9. Label 5
2019: 2.7m
2018: 2.6m
% change: 3.5%
Place last year: 10
Moving up one place to ninth position is La Martiniquaise-Bardinet's blended Scotch brand Label 5, which grew by 3.5% in 2019.
Last year, the French group updated the bottle design for its core Label 5 expression to enhance its "modernity and impact".
In 2019, Label 5 partnered with five bartenders to create a series of cocktails inspired by UK cities. In 2018, the brand launched a new international marketing campaign centred around the idea of 'group power'.
8. Black & White
2019: 2.8m
2018: 2.7m
% change: 5.2%
Place last year: 9
Also moving up one spot is Diageo's Black & White blended Scotch whisky, which grew a modest 5.2% last year.
In Diageo's financial results for the last six months of 2019, Black & White was one of the firm's growth drivers in India.
7. J&B
2019: 3.0m
2018: 3.2m
% change: -6.0%
Place last year: 6
Dropping one spot to seventh place is Diageo's J&B brand. The whisky has unfortunately been falling consistently for five years – dropping 6% in 2019 to 3m nine-litre cases.
In May last year, Justerini & Brooks, the maker of J&B, brought distribution of the blended Scotch brand back in house after 21 years. The product is a blend of more than 40 Scotch whiskies.
6. Dewar's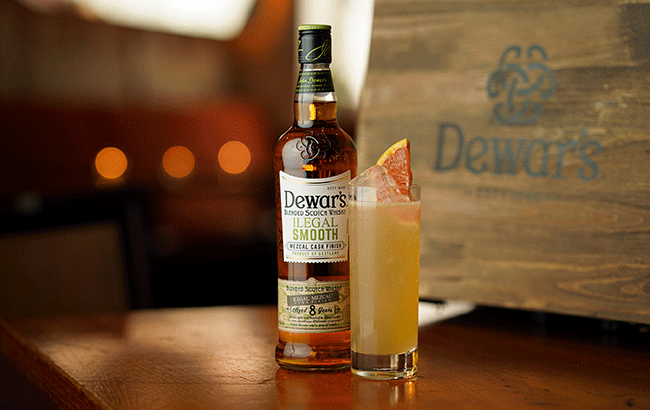 2019: 3.0m
2018: 2.8m
% change: 6.4%
Place last year: 8
This year's Scotch Whisky Brand Champion, Dewar's, grew volumes by 6.4% to reach 3m nine‐litre cases in 2019.
Last year, the Bacardi-owned brand released its travel retail-exclusive range, Dewar's Double Double, comprising three whiskies aged for 21, 27 and 32 years, which have each undergone a four‐stage maturation process.
Dewar's followed this with its Cask Finish Series, which started with the launch of Dewar's Caribbean Smooth Rum Cask, created by finishing eight‐year‐old Dewar's in ex‐rum casks. The Cask Finish Series was extended further this year with the launch of eight‐year‐old, mezcal‐cask‐finished Dewar's Ilegal Mezcal.
5. William Lawson's
2019: 3.3m
2018: 3.3m
% change: -0.6%
Place last year: 5
The second Bacardi brand to make our top 10 list is blended Scotch William Lawson's, which witnessed a flat performance in 2019 after growing 0.3%.
According to a report by Times of India in December 2019, Bacardi is looking looking to double its whiskey bottling capacity in the country and increase market share through entry-level whisky William Lawson's.
4. Grant's
2019: 4.2m
2018: 4.6m
% change: -8.4%
Place last year: 3
Blended Scotch Grant's, owned by Scottish spirits group William Grant & Sons, witnessed a decline of 8.4% in 2019.
Grant's unveiled a major brand overhaul in July 2018, which included a packaging redesign, a name change from 'Family Reserve' to 'Triple Wood', and the launch of new expressions – such as Grant's Triple Wood Smoky – while other products were discontinued.
"We wanted to emphasise the versatility of Grant's and to introduce occasions and flavour expectations," Freddie Vereker, Grant's brand manager, told The Spirits Business last year. "In terms of reception, we've been retained by all the grocers who were originally stocking us. Blends are being pushed off shelves as consumers trade up to single malts, so we feel the threat of delisting going on around us. But Triple Wood has allowed us to keep our place safe in all the top five grocers in the UK."
3. Chivas Regal
2019: 4.4m
2018: 4.5m
% change: -1.1%
Place last year: 4
Third place in this year's top 10 goes to Pernod Ricard's Chivas Regal blended Scotch whisky brand, which dipped by 1.1% to 4.4m.
In October last year, Chivas Regal created a special Manchester United-themed blended Scotch whisky that pays tribute to former team manager Sir Alex Ferguson.
The brand also launched Chivas Extra 13 American Rye, a 13-year-old Australia-exclusive expression finished in ex-rye whiskey casks.
2. Ballantine's
2019: 7.7m
2018: 7.4m
% change: 4.6%
Place last year: 2
The second Pernod Ricard brand to make our list was Ballantine's, which rose 4.6% to 7.7m cases.
In Pernod Ricard's H1 fiscal 2020 results, the brand helped to boost the group's sales and witnessed strong double-digit growth in Eastern Europe, Brazil and India. Ballantine's Finest continued to perform well in emerging markets, particularly China.
1. Johnnie Walker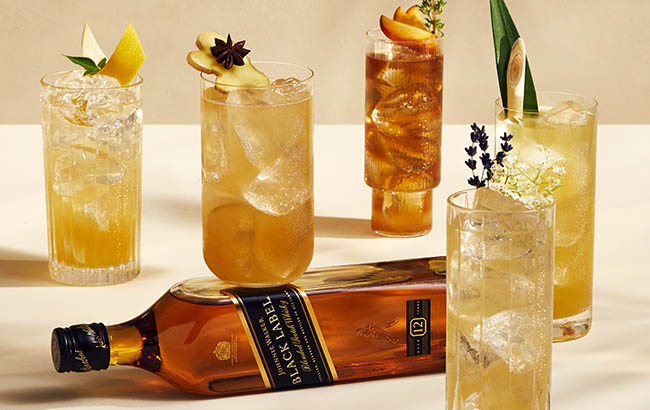 2019: 18.4m
2018: 18.9m
% change: -2.8%
Place last year: 1
The world's biggest Scotch whisky brand, Johnnie Walker, sits comfortably at the top with 18.4m cases, but this reflects a 2.8% volume decrease in 2019 compared to the previous year.
In Diageo's preliminary results for the year ending 29 June 2019, Scotch growth was driven by Johnnie Walker, which delivered a strong performance. The blended Scotch brand reported a net sales growth of 7%, benefitting from the successful launch of White Walker by Johnnie Walker, which was inspired by hit HBO show Game of Thrones.
In July last year, the brand "ramped up" it focus on Highballs with a new global campaign that aims to make Scotch and soda "the next big drinks trend".
Johnnie Walker also released the third blend in its limited edition Ghost and Rare series, made using stocks from the closed Highland distillery Glenury Royal.
Diageo has also invested in a global flagship visitor centre for Johnnie Walker in Edinburgh, Scotland, which gained planning approval last year.