The world's 10 best-selling vodka brands
By Melita Kiely
While global vodka volumes may be showing a downward trend, those at the top end of the category continue to shift some hugely impressive volumes. These are the world's best-selling brands.
As consumers continue their love affair with gin, vodka is increasingly left in the doldrums. But although volumes continued to decline in 2019 – dropping from 322.89 million nine-litre cases in 2018 to 321.63m last year, according to Euromonitor International – the size of the category remains remarkably impressive.
Not only this, but the world's biggest-selling million-case brands continue to sell enormous volumes. Morosha made a return to the top-10 best selling vodka brands this year, after also taking the title of Vodka Brand Champion 2020.
After publishing our full Brand Champions 2020 report earlier this month, we've rounded up the top 10 biggest-selling vodka brands on the market today.
Click through the following pages to discover the top 10 best-selling vodka brands of 2019, listed in order of their nine-litre case sales.
Data listed is to one decimal place for ease of reading, but the percentage changes are based on the full data supplied to The Brand Champions 2020 report.
10. Soplica
2019: 4.2m
2018: 3.9
% change: 8.2%
Place last year: 10
Retaining 10th position is Roust-owned Soplica, which was a new entry to the best-selling vodka brands last year.
The Polish vodka brand reported another year of growth in 2019, rising 8.9% from 3.9m cases in 2018 to 4.2m last year. Soplica's upward trajectory puts it firmly ahead of other big-name brands, such as Russian Standard, Grey Goose, Skyy and Ketel One.
9. Nemiroff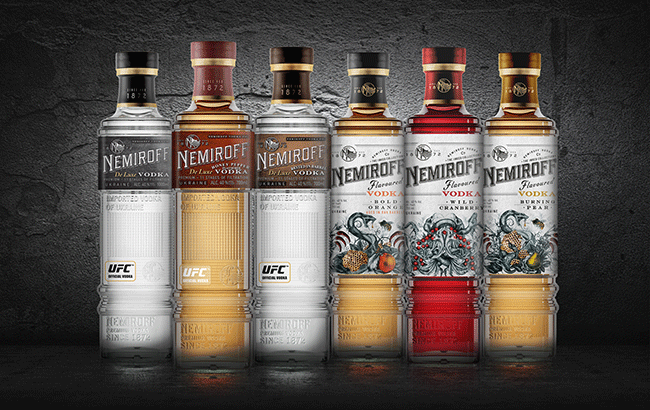 2019: 4.3m
2018: 4.7m
% change: -8.2%
Place last year: 6
Despite sales slipping by 8.2% in 2019, Ukrainian vodka brand Nemiroff continues to be one of the world's leading brands after selling 4.3m cases last year.
The brand put a large focus on the global travel retail (GTR) channel last year, and released a trio of new flavoured expressions in the GTR channel, called the Inked Collection. Bottled at 40% ABV, the collection comprised "velvety smooth" Burning Pear, "bright and clean" Blood Orange and "slightly sweet" Wild Cranberry.
Nemiroff also appointed African Eastern as its travel retail distributor in the UAE and on the Indian subcontinent. Furthermore, the vodka brand continued to build on its partnership as the official sponsor of the Ultimate Fighting Championship (UFC).
8. Pyat Ozer
2019: 4.3m
2018: 4.3m
% change: 0.0%
Place last year: 8
Neither going up nor down, it was another steady year of sales for Alcohol Siberia Group's Pyat Ozer brand in 2019. Volumes remained constant at 4.3m cases in 2019.
The brand is available in 55 markets and is made from water drawn from the Taiga lakes. The Pyat Ozer range features three variants: Classic, Special and Premium.
7. Svedka
2019: 4.7m
2018: 4.4m
% change: 5.0%
Place last year: 7
Holding on to seventh position is Constellation Brands-owned Svedka vodka, which reported a solid 5% increase in volume sales last year to hit 4.7m cases.
Last year, Swedish vodka Svedka tapped into the trend for all things pink with a colourful bottling made with 5% rosé wine.
6. Morosha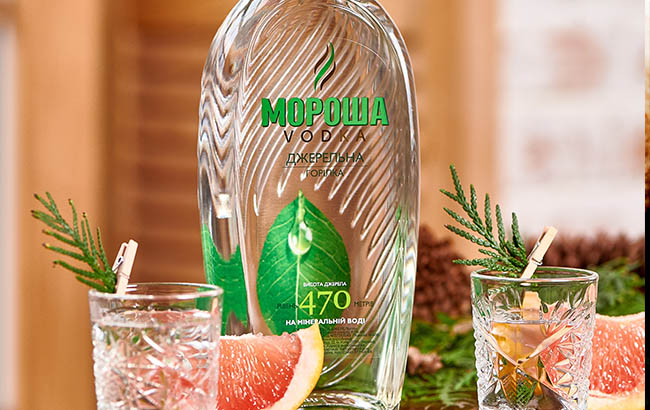 2019: 6.2m
2018: 3.6m
% change: 72.2%
Place last year: N/A
New to the top-10 list this year is this year's Vodka Brand Champion: Morosha. Owned by Global Spirits, Morosha reported a 72.2% leap in volume sales in 2019 to reach 6.2m cases, up from 3.6m in 2018.
The brand attributed its impressive growth spurt to opening three new third-party bottling production sites in various markets, as well as launching five new SKUs for international markets.
Jose Guerrero, director of sales at Global Spirits, said: "In 2020, we are planning to take Morosha to a new level. This year, Morosha will introduce several new products and concepts to the market. Some of the concepts in the works are: natural symbiosis, a new filtration process, the highest-quality spring water and oxygen enrichment."
5. Hlibny Dar
2019: 8.0m
2018: 7.5m
% change: 7.4%
Place last year: 5
Back in fifth place is Bayadera Group's Hlibny Dar. In 2019, the brand posted a solid 7.4% rise in volume sales, up from 7.5m cases in 2018 to 8.0m in 2019.
The Ukrainian vodka brand now boasts five expressions: Classic, Wheat, On Sprouted Grain, Rye Lux and Ginger Honey.
4. Żubrówka
2019: 9.7m
2018: 8.6m
% change: 12.8%
Place last year: 4
Years of sustained growth have seen Roust-owned Żubrówka grow its volumes by more than a third from 2015 to 2019.
Last year, the brand reported strong double-digit growth (12.8%) as volumes grew from 8.6m cases in 2018 to 9.7m in 2019.
3. Khortytsa
2019: 9.8m
2018: 8.9m
% change: 10.1%
Place last year: 3
Khortytsa has scooped third place in our best-selling vodka brands' list for another year after achieving double-digit volume growth last year.
The Global Spirits-owned vodka grew volumes by almost 1m cases last year, jumping from 8.9m in 2018 to 9.8m in 2019. The vodka is made from the "best 100% grain alcohol" and pure spring water. The vodka undergoes a seven-step filtration process to deliver the "finest purity and mildness of vodka".
2. Absolut
2019: 11.2m
2018: 11.3m
% change: -0.7%
Place last year: 2
Although sales slipped by 0.7% for Absolut in 2019, the vodka brand is still the second-best seller in the category. Volumes dipped to 11.2m cases in 2019, down from 11.3m the previous year.
Absolut produced a high level of innovation last year, from a grapefruit-flavoured iteration for the travel retail channel and a redesign for Absolut Elyx (pictured above), to a partnership with The Paper Bottle Company to create a fully bio-based and recyclable paper bottle.
1. Smirnoff
2019: 25.6m
2018: 26.0m
% change: -1.3%
Place last year: 1
Despite a slight decline in volume sales last year, Diageo-owned Smirnoff remains king of the vodka category shifting more than double the number of cases compared to its nearest rival.
The brand celebrated its 155th anniversary last year and marked the milestone occasion with a new campaign in partnership with the director of Snow White and the Huntsman. The brand also took note of the growing health-conscious consumer group with the launch of Smirnoff Zero Sugar Infusions last May, a range of no-sugar, lower-ABV expressions.
While the pandemic will undoubtedly have an effect on this year's sales, Smirnoff has already released a raft of innovative products this year, including the a zero-sugar hard seltzer version of its Smirnoff Red, White and Berry vodka in the US, plus the launch of Smirnoff Seltzer in the UK.