Manchester Gin sets world record for biggest gin tasting
By Nicola Carruthers
UK-based Manchester Gin has set a new Guinness World Record for the largest gin tasting across multiple venues after 1,865 drinkers took part in a live-streamed event last Saturday (4 June).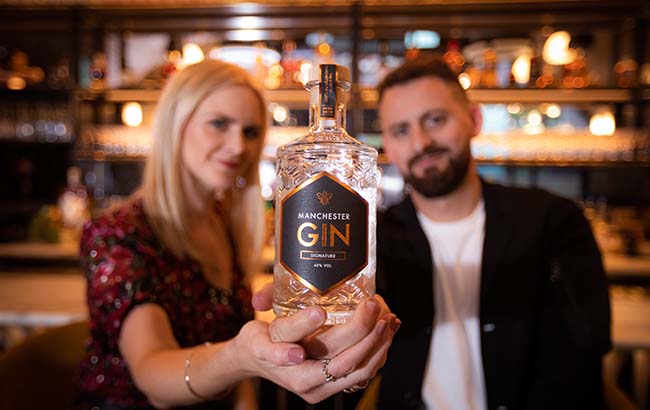 Over the weekend, Manchester Gin broke the previous record for biggest gin tasting event across multiple venues, which was previously set by bar operator The New World Trading Company in February 2016 with 796 people across its nine venues in the UK.
Manchester Gin's Stay Home tasting experience was live-streamed on the brand's social media channels on Saturday 4 June, allowing consumers to learn about the gin process and botanicals.
The tasting was led by founders and master distillers Seb Heeley and Jen Wiggins. TV presenter Phillip Schofield was among the gin fans who tuned in for the event.
The producer also raised £2,778 (US$3,482) for Big Change MCR, an organisation providing direct support to vulnerable homeless people during the pandemic.
"Our Stay Home tastings began as a bit of fun and a way to adapt so that we could still interact with our customers during lockdown," said Wiggins. "We decided that we would host our gin tastings virtually to help to ward off some boredom and to also bring people together for a night of G&Ts at a time when it's impossible to actually be together.
"After the overwhelmingly positive response from our first two sell-out tastings, we decided to ask the gin community to join forces from the safety of their homes and attempt to host the world's biggest gin tasting.
"Unfortunately, staying home to protect our NHS and save lives isn't a luxury that everyone has. Homelessness is a huge and ongoing issue in Manchester and the homeless community are less able to social distance and protect themselves.
"To help our city's homeless community, we decided to donate 20% of profits from our world record tasting to Big Change MCR, which helps individuals build a new life away from the streets."
The producer is one of a number of distilleries across the world producing hand sanitiser to help tackle the pandemic. Manchester Gin is also offering 20% off its products online for NHS staff and key workers.