Distilleries making hand sanitiser to combat coronavirus
As the coronavirus outbreak causes a shortage of hand sanitisers across the world, a large number of distilleries have started producing the disinfectant to help their local communities.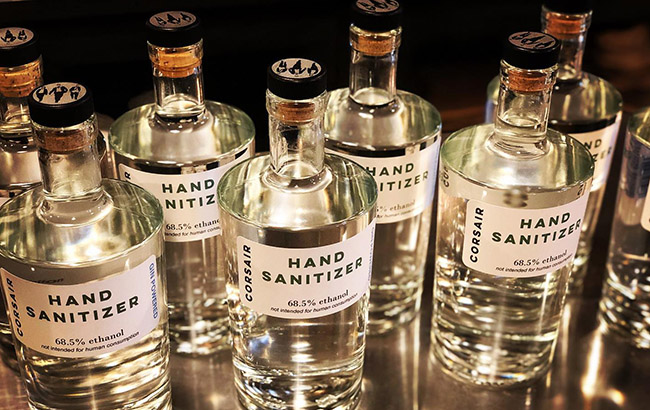 Fears over coronavirus has led to a global shortage of hand sanitisers with many retailers and pharmacists moving to limit the purchase of the disinfectant.
To meet demand for the cleaning agent, spirits producers across the US and Europe are halting production of their products to aid in the creation of hand sanitiser instead.
Pernod Ricard's subsidiaries across the world are providing alcohol from distilleries, and the French group has partnered with the Cooper Laboratory to offer 70,000 litres of pure alcohol.
Scottish distillers BrewDog, Verdant Spirits and Leith Gin have also moved to supply hand sanitiser for those who need it.
In the US, the Alcohol Tobacco Tax and Trade Bureau (TTB) has relaxed rules to permit distillers to make hand sanitiser, but were unable to waive the tax for producers using undenatured ethanol.
Click through the following pages to see distilleries' efforts to make hand sanitiser. 
Pernod Ricard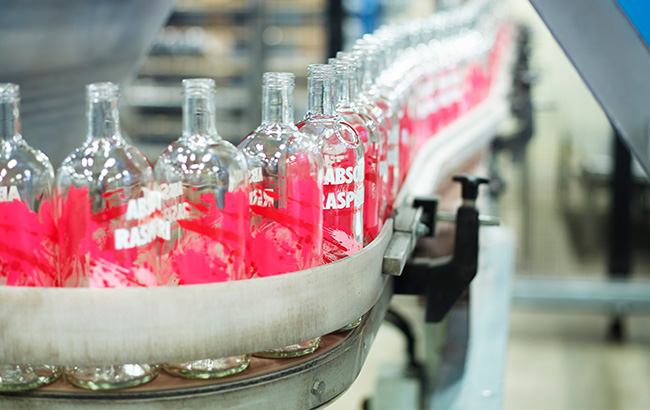 Yesterday (18 March), French firm Pernod Ricard said it would donate alcohol from its distilleries for the production of hand sanitiser.
Paris-headquartered Pernod Ricard is providing 70,000 litres of pure alcohol to Cooper Laboratory, a leading French company that produces health products.
The measure will allow Cooper to increase alcohol deliveries to pharmacies for the production of hydroalcoholic gel, the equivalent of around 1.8 million individual 50ml vials of sanitiser.
In Sweden, Absolut vodka's distillery is offering spirits on a large scale for the production of hand sanitisers.
Meanwhile, in the US, Pernod Ricard's Arkansas manufacturing plant and distilleries for Rabbit Hole in Kentucky, Smooth Ambler in West Virginia, and TX whiskey in Texas, are producing hand sanitisers.
Pernod Ricard's Spain unit and Irish Distillers arm will also provide their technical support, workers and production facilities to the authorities in an effort to produce hand sanitiser.
Circumstance Distillery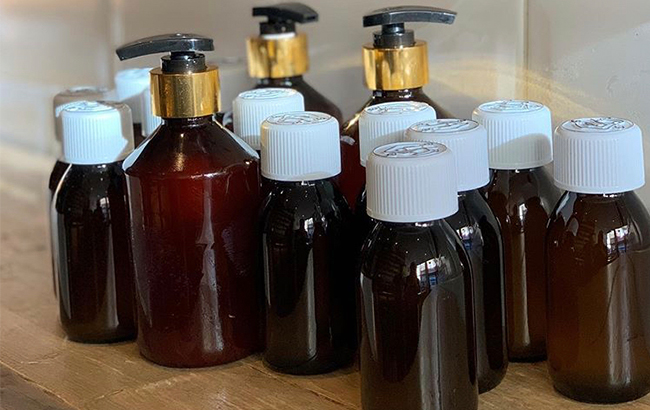 Bristol-based Circumstance Distillery and its sister site Psychopomp microdistillery created hand sanitisers for its team after they were sold out everywhere, according to co-founder Liam Hirt.
The hand sanitiser is made with 65% ethanol and botanicals, predominantly juniper, as well as coriander seed, angelica root, cassia bark, fresh grapefruit zest and fennel seed.
The producer is now offering the sanitiser to the public in exchange for a donation, 100% of which will go to charities including Bristol Children's Hospital Charity's The Grand Appeal.
BrewDog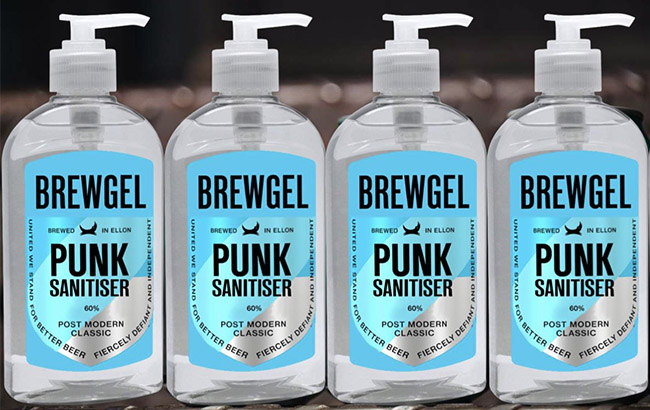 Scottish brewer BrewDog has also joined a number of distillers making their own disinfectant with its Brewgel Punk Sanitiser.
On Twitter, BrewDog said: "To help with the shortages, we have just started working on making hand sanitiser at our distillery in Scotland. We are determined to do everything we can to try and help as many people as possible stay safe. It's time to keep it clean."
The brewer's co-founder James Watt tweeted that the sanitiser is not for sale and will be given to those who need it.
The Ellon-based producer has also launched BrewDog Drive Thru, which allows its customers to pick up food and drink from their BrewDog bars across the UK by making orders through the new Hop Drop app.
Listoke Distillery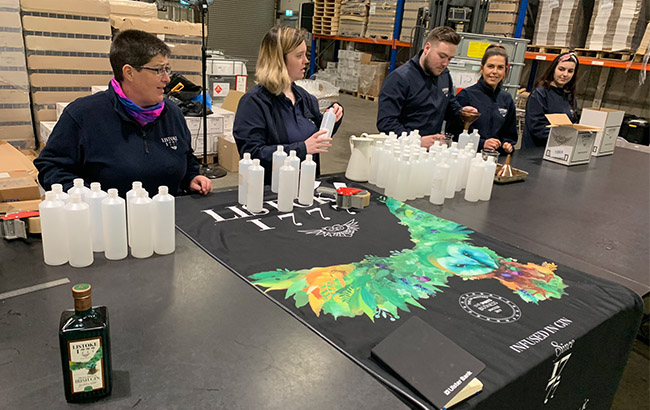 Ireland's Listoke Distillery is also making hand sanitiser at its site in County Louth.
According to the gin producer, the hand sanitiser is made with 62% alcohol. The distillery is selling 250ml bottles for €6 (US$6.50) which covers production costs only. Listoke is also limiting sales to one litre per person and is encouraging consumers to bring their own bottles.
For updates on times that the hand sanitiser can be purchased on-site, visit Listoke Distillery's Facebook page.
Koval Distillery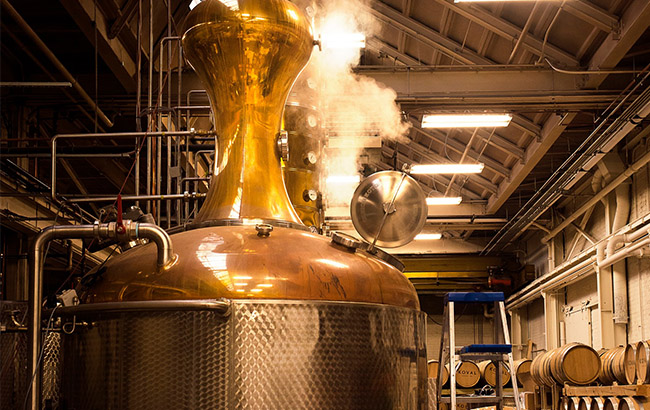 Chicago's Koval Distillery also said on its Facebook page that it had been in contact with city official and medical professionals on offering hand sanitisers.
The organic spirits producer said yesterday (18 March) that it had ordered the necessary ingredients to make the disinfectant.
The post read: "In the coming weeks, Koval will be focusing efforts on providing hand sanitisers in bulk to the medical community, retirement homes, and those on the front lines in this war against covid-19. We hope that you will respect that we will not have hand sanitiser available for the general public at this time."
58 Gin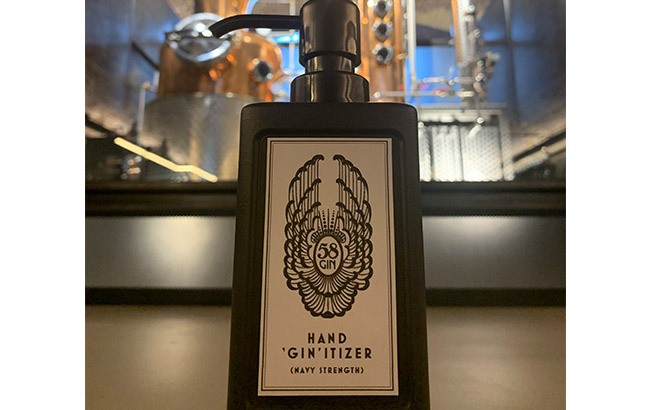 London-based distillery 58 Gin is swapping gin making for hand sanitiser production, following the producer's one-off run of the disinfectant for The Benevolent Ball last week (12 March).
Now, 58 Gin is using its full capacity to make its Hand Gin-itizer with plans to make 3,000 bottles, which will be available to buy next week for £8 (US$9.35) per 200ml.
The distiller will donate 10% of sales to industry charity The Drinks Trust, formerly known as The Benevolent.
The hand sanitiser will be made using the distillery's 450-litre copper still, and contains a blend of ethanol, glycerol, hydrogen peroxide and essential oils.
The distillery aims to supply supermarkets and convenience stores which are running short on supplies due to the coronavirus outbreak. The move to make hand sanitisers is "critical" to ensure 58 Gin can keep its staff and protect the firm's future.
Corsair Distillery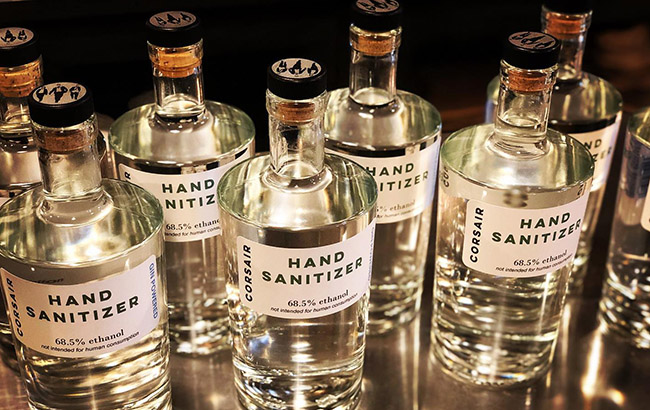 American whiskey and gin maker Corsair Artisan Distillery is also offering hand sanitiser from its Nashville site.
On Facebook, the producer said it was donating its 'Gintervention', a disinfectant distilled with gin, to local restaurants, food service establishments, bottle shops and community organisations.
Corsair Artisan Distillery said: "We will be coordinating free dock-side pickups of this 70% alcohol sanitiser at our Nashville headquarters location (601 Merritt Avenue), between the hours of 10am-4pm. We plan to have smaller individually portioned sizes in the coming days. For more information, and to schedule pickup, please email us at info@corsairartisan.com."
Kyrö Distillery Company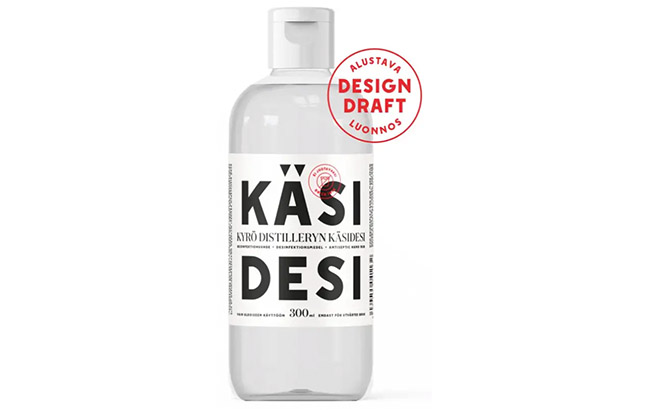 Finland's Kyrö Distillery Company has also joined the efforts to make its own disinfectant.
The rye whiskey and gin producer has produced käsidesi, Finnish for hand sanitiser, to help tackle coronavirus.
According to the distillery's website, the disinfectant is a work in process. Consumers can leave their email address for updates on its production.
The sanitiser will only be available in Finland and will be prioritised to critical functions such as hospitals, elderly care, and cleaning companies, followed by consumers and retailers.
Verdant Spirits
Scottish gin producer Verdant Spirits has halted production to use its facilities to make hand sanitiser.
The Dundee-based distiller is nearing its £2,500 (US$2,900) target through a Go Fund Me campaign to pay the alcohol duty for the production of its first 100-litre batch of hand sanitiser.
Verdant Spirits is seeking to make 400 litres of hand sanitiser for local health and care workers.
On the Go Fund Me page, Verdant Spirits said: "Currently, to make this amount will cost us almost £10,000 (US$11,600) in alcohol duty alone. Usually, production of hand sanitiser would not require any duty to be paid.
"However, because we are a distillery we have to pay around £25 duty for every litre of sanitiser we produce. As it stands, HMRC [Her Majesty's Revenue and Customs] have not said that they will be refunding any duty paid for this and, as such, we will be massively out of pocket, so we are turning to you to help."
Caledonia Spirits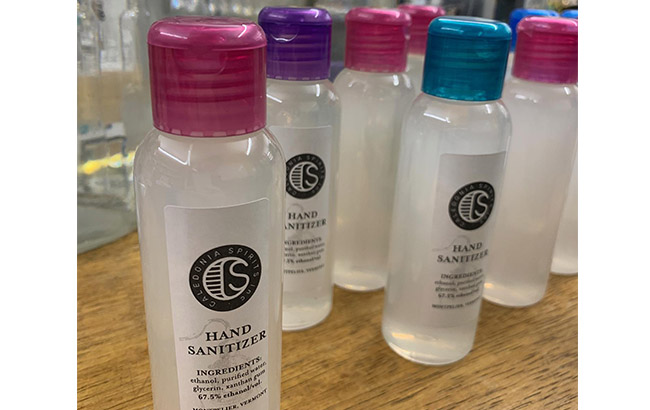 US gin and vodka producer Caledonia Spirits has been making hand sanitiser from its site in Montpelier, Vermont.
The Barr Hill gin maker has been delivering the disinfectant to the Vermont Food Bank and will continue to keep providing hand sanitisers to the foodbank as long as supplies last.
The producer said on Facebook it is "thinking through ways to increase production".
Leith Gin
Scottish producer Leith Gin has also suspended spirits production to make hand sanitiser for free for those who need it.
On Facebook, the gin producer said demand for the hand sanitisers has been "overwhelming" and the company will do its "very best to ensure we get supplies to as many people/organisations as we possibly can".
Leith Gin said it will provide updates regarding distribution of the disinfectant.
Black Button Distilling
New York-based Black Button Distilling, which is backed by US drinks group Constellation Brands, has stopped manufacturing operations to provide hand sanitisers.
The disinfectant will be provided to hospitals, doctor's officers and other at-risk communities at cost in the Rochester area. It is currently not available to the public.
In the event that production can be increased, interested hospitals, homeless shelters, senior citizen centres, paramedics, fire stations, daycares and other high-risk operations should reach out to cheers@blackbuttondistilling.com with hand sanitiser requests.
In addition, Black Button Distilling's tasting room is offering limited service in the form of curb-side pick-up for spirits and specialty cocktail kits.