The Rock's Teremana Tequila tops 600,000 cases
Teremana Tequila has sold more than 600,000 nine-litre cases in 2021, solidifying it as "the fastest-growing Tequila in the history of all spirits", according to co-founder Dwayne 'The Rock' Johnson.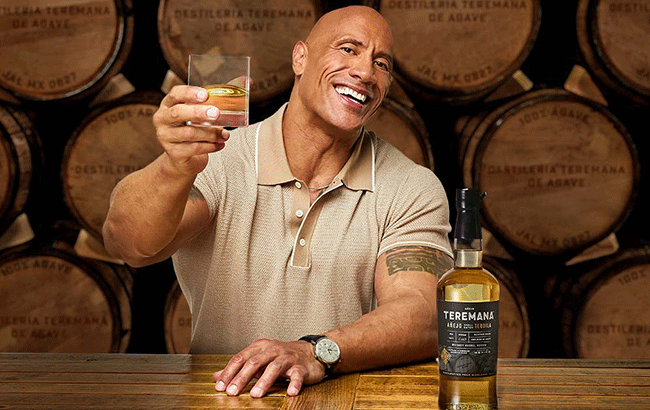 Professional wrestler-turned-actor Johnson launched Teremana in March 2020 with his partners Dany Garcia, Jenna Fagnan, Ken Austin and the Lopez family. In its first year, the brand was on track to sell 300,000 cases.
This year, Teremana has doubled its sales, surpassing 600,000 cases. "No one has ever seen that for a brand's first full year in business," said a spokesperson for Teremana, which recently unveiled an Añejo expression.
While its sales continue to climb, Teremana is positioned as a 'small batch' Tequila. The brand is produced 'by hand' at a purpose-built distillery in Jesús María, Jalisco, Mexico (NOM 1613).
Johnson told The Spirits Business: "At Destileria Teremana de Agave, the team uses only one process, and everything involved in the production process is made there, including brick ovens, copper pot stills, open fermentation tanks, etc. and, of course, the Tequila.
"The nature of handmade copper stills dates back to the days of traditional Tequila making and produces a cleaner, brighter Tequila. Our copper pot stills are small, they are only 3,800 litres each.
"We harvest only fully mature agave, slow roast in old world brick ovens, and distil in small handmade copper pot stills to bring out rich, flavourful Tequila that reflects the earth it comes from."
Due to this "ultra-premium process", the brand said it has been "out of stock at times throughout the year, but [its] team in Mexico is working hard to keep the trucks rolling".
Johnson revealed that Teremana is "poised to begin [its] international rollout", working with distributor Mast-Jägermeister. "I want to build Teremana into a true international brand," he said.
For an in-depth interview with Johnson, check out the January issue of The Spirits Business magazine, out soon.