Dead Man's Fingers teams up with Kerrang!
Halewood Artisanal Spirits has partnered with music magazine Kerrang! to supply Dead Man's Fingers rum cocktails at live gigs.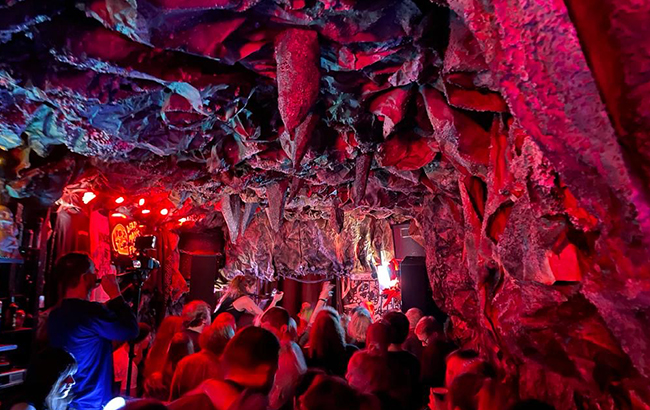 The K! Pit is a series of live gigs, launched by Kerrang! in 2018, which provides the 'ultimate fan experience' for 50 ticket holders. Bands perform to guests and six cameras, with the event streamed across social media platforms Facebook and YouTube to a combined audience of more than 1.3 million.
For the latest season of K! Pit, rum brand Dead Man's Fingers will be serving cocktails and giving away goodie bags, which include a branded skull glass.
The rum brand's global marketing manager Rachel Adams said: "As the non-conformist rum of choice, we naturally love what Kerrang! represents in terms of alternative culture, and are really excited to be working together.
"Dead Man's Fingers rum drinkers are adventure seekers who thrive on the unconventional so it's a natural fit for both brands.
"We can't wait to unite rum fans and music lovers for our fantastic line-up of disruptive events so they can fulfil their joint passion for good rum and good times."
The new K! Pit series kicked off on 4 November with a performance from emo-punk group Hot Milk. The latest show featured grit pop artist Cassyette on 13 November, in East London bar Blondies. Both performances are available to watch on Youtube.
Kerrang! editor Luke Morton commented: "It's fantastic to be able to continue our relationship with Dead Man's Fingers Rum following their involvement in the Kerrang! Awards.
"The K! Pit is a cornerstone of Kerrang! and one of the best nights out you can have, and having Dead Man's Fingers Rum involved only makes it even more special.
"Who doesn't want a rum cocktail served inside a skull, while also watching your favourite band?"
The brand's rum range comprises a number of flavoured iterations, including Lime, Raspberry, Passionfruit and Hazelnut, as well as a pineapple variant. 
Last month, the brand revealed its aim to "reinvigorate" the traditional rum category with the launch of two new bottlings: Black Rum and White Rum.