Dead Man's Fingers adds Pineapple Rum to range
By Nicola Carruthers
Halewood Wines & Spirits-owned spiced rum brand Dead Man's Fingers has tapped into "booming cocktail trends" with the launch of a pineapple-flavoured variant.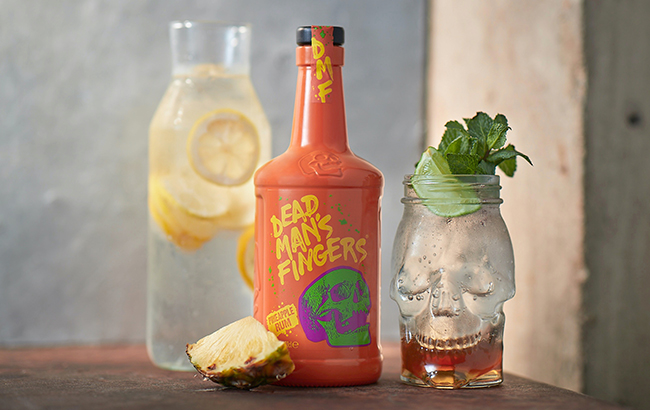 CGA Mixed Drinks Q3 data cited by the brand showed that four out of the top 10 mainstream cocktails were rum-based, with pineapple named the fourth most popular cocktail flavour. Piña Colada, which is made with pineapple juice, ranked as the third most mixed rum cocktail.
Available from this month, the new pineapple flavour follows "rapid growth" of 574% sales volume increase for the Dead Man's Fingers brand in 2019.
Lucy Cottrell, brand manager for rum at Halewood Wines & Spirits, said: "Consumers want fresh, contemporary tastes and diversity in flavours. This has caused [a] decline in some of the more traditional spirit categories like white rum and is leading to a whole new generation of adventurous and artisanal drinkers who are now looking to other categories for something more exciting to try.
"This is why we're seeing massive growth in Dead Man's Fingers. We're meeting demand for innovative flavours, which are packaged in boldly designed bottles that stand out from the crowd.
"Sales of our Original Dead Man's Fingers Spiced Rum flavour rocketed by 286% [Nielsen] last year in the UK, making us the fastest-growing spiced and flavoured rum and the biggest contributor to total rum growth by any premium rum brand.
"Whilst our extended flavoured rum range now accounts for a growing and significant share of total sales for the brand, the addition of pineapple will drive further intrigue towards the rum category and appeal for light night consumption."
Dead Man's Fingers Pineapple Rum has "hints of sweetness from roasted and candied pineapple, soft brown sugar and nutmeg", along with aniseed and lime.
The new rum is recommended served with lemonade, plenty of ice, a lime wedge and fresh mint to create the 'hero' serve, Tropical Lemonade.
Dead Man's Fingers Pineapple Rum joins three other flavours in the range including Coconut, Coffee and Hemp, as well as the flagship Spiced expression.
Bottled at 37.5% ABV, Dead Man's Fingers Pineapple Rum is priced at £22 (US$28.60) per 700ml.
In addition, Halewood will open a new bar and distillery in Bristol, UK, where its core spiced variant will be distilled. The site will also house a rum school.