Matthew McConaughey thanks bartenders
Actor Matthew McConaughey gave a special thank you to UK bartenders during a Wild Turkey Thanksgiving dinner at Homeboy, London, on Tuesday.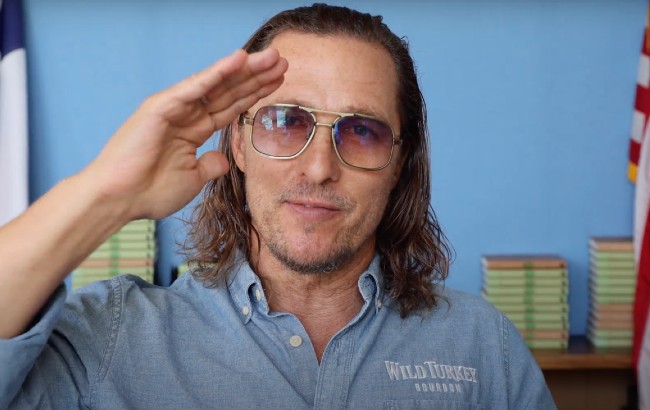 Wild Turkey welcomed 50 bartenders to Homeboy on 23 November to enjoy a three-course Thanksgiving dinner and cocktails, including the Wild Turkey 101 Old Fashioned.
McConaughey, who is Wild Turkey's creative director and co-creator of Wild Turkey Longbranch, joined the dinner via video call to thank UK bartenders for sticking with hospitality despite the challenges of the Covid-19 pandemic.
He said: "At a time when so many people in the UK hospitality industry have changed their careers, you stuck it through and you're still here."
Furthermore, Wild Turkey has partnered with Code, a hospitality industry benefits app. The partnership is offering the app's 10,000 hospitality-only members 50% off Wild Turkey 101 Old Fashioneds at select bars throughout the UK.
Bars taking part include Coupette, Heads + Tails, and Opium in London, plus Impossible in Manchester and Crying Wolf in Bristol. The deal will run until 14 December.
Sandra Brunet, Campari Group UK's marketing director, said: "Wild Turkey is incredibly honoured to be able to celebrate the work of the UK hospitality industry and show their gratitude to this community.
"We recognise the efforts and resilience of bartenders across the UK, and are grateful to have an opportunity to celebrate such important members of the industry, to create a moment where we can show our thanks for all their hard work in true Wild Turkey style."
Last Thanksgiving, Wild Turkey and McConaughey honoured everyday heroes as part of the Bourbon brand's 'With Thanks' campaign.
McConaughey also encouraged bartenders to have the "patience and the fortitude" to keep going during the pandemic, reminding everyone that at some point "it's going to end".