Union files unfair labour charges against Heaven Hill
Heaven Hill employees currently on strike have condemned an alleged move by the Kentucky distillery to hire non-union workers.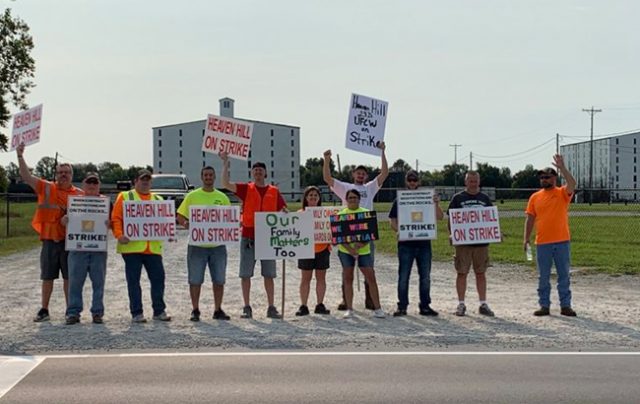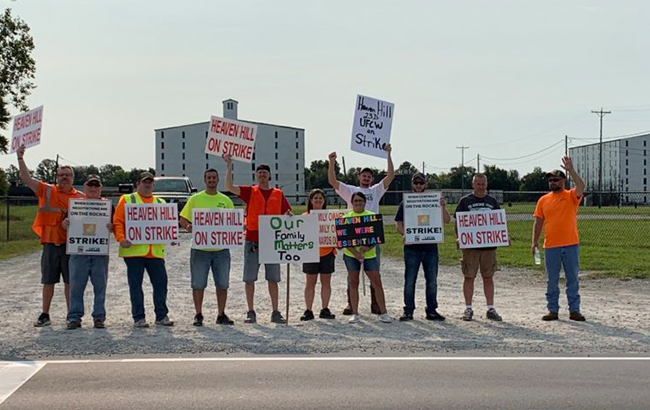 More than 400 employees at the Bardstown-based distillery went on strike on 11 September 2021 over a proposed five-year contract that increases the price of healthcare.
The 420 workers, members of the United Food and Commercial Workers (UFCW) Local 23D union, said they have been in discussions with Heaven Hill for six months over the new deal.
The contract is said to remove a cap on health insurance premium increases, resulting in a drop in take-home pay, a cut to overtime and 'drastic' changes to work schedules.
UFCW Local 23D president Matt Aubrey said: "Heaven Hill immediately cut the healthcare of its workers and retirees when they spoke out for a stronger contract and went on strike.
"The contract proposed by the company threatens good jobs in our community by cutting overtime and trying to divide workers with unclear and potentially unfair scheduling."
The union said the alleged hiring move by the distillery is an attempt to 'push long-time employees out of jobs'.
The UFCW Local 23D launched a new #StepUpHH grassroots campaign to urge other employees and supporters across Kentucky, Ohio, Indiana, Texas and Michigan to use the hashtag to call on the American whiskey producer to restore employee healthcare.
The campaign has resulted in at least 1,703 supporters sending 5,593 emails to distillery executives, the union said.
Furthermore, the UFCW Local 23D noted that the distillery has spent US$1 million on a baseball sweepstakes as the strike action enters its seventh week.
Aubrey added: "Heaven Hill should be working around the clock to reach an agreement on a fair contract that invests in its Kentucky workers, but instead it is trying to replace them and even spending US$1 million on a flashy baseball sweepstakes to further boost corporate profits."
Heaven Hill statement
In a statement, Heaven Hill said that it had reached an 'impasse' in contract discussions with the union and will start the process of hiring permanent workers.
Max Shapira, president of Heaven Hill, said: "We've heard from our employees in the community that they are in favour of the proposed contract terms and eager to return to work.
"Given the long-standing and positive working relationship Heaven Hill has with its employees, it is disappointing we were unable to reach an agreement with union leadership."
"Negotiations with the UFCW 23D leadership team have been made in good faith to come to agreement on a fair contract for both parties and maintain the collaborative working relationship with our employees and the union. The company has successfully collaborated with the UFCW for decades and it is unfortunate that another collective bargaining agreement could not be ratified."
Shapira partly attributed the failure to reach an agreement to the "mischaracterisation of the terms of our proposed contract by union leadership with their membership and the media."
He added: "Likewise, they have threatened Heaven Hill union members with fines should they choose to return to work."
The company has continued its operations with a "successful contingency plan with limited interruptions", Shapira noted.
'Refusing to bargain'
Aubrey said the union has now taken the dispute to US government agency the National Labor Relations Board.
"The reality is that Heaven Hill negotiations are not at an impasse," he continued. "UFCW 23D and Heaven Hill workers are ready and willing to meet with the company to continue talks so that we can reach a fair contract. Good faith bargaining by the company with its workers and their union can succeed.
"Unfortunately, Heaven Hill is refusing to bargain in good faith with its workers. For this reason, the union has filed unfair labour practices charges against Heaven Hill with the National Labor Relations Board to address this conduct.
"UFCW Local 23D is calling on the company to end the delays and work together with us to finally reach an agreement on a fair contract so that we can end this strike and get these hardworking Kentucky men and women back on the job."