Heaven Hill workers take strike action
By Nicola Carruthers
More than 400 employees at Kentucky's Heaven Hill Distillery have gone on strike over a proposed five-year contract that increases the price of healthcare.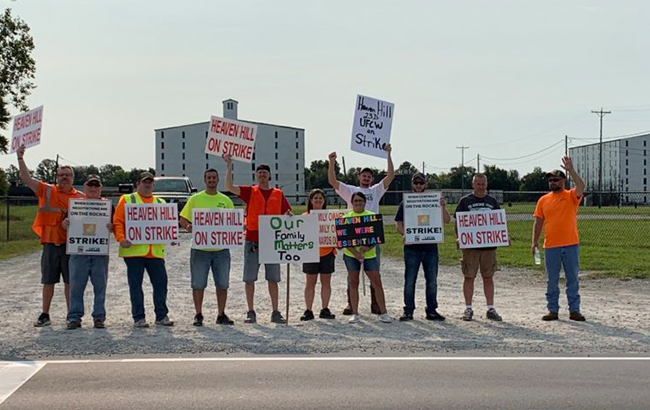 According to the United Food and Commercial Workers (UFCW) union, 420 workers at the Bardstown-based distillery have been on strike since 11 September in a bid to stop the suggested contract.
The deal is said to remove a cap on health insurance premium increases, resulting in a drop in take-home pay, a cut to overtime and 'drastic' changes to work schedules.
The UFCW Local 23D, the union for Heaven Hill's Bardstown employees, has been in talks with the spirits producer for six months over a potential agreement.
In July 2021, the union asked a federal mediator to help advance the negotiations.
On 9 September, the distillery's workers voted on the new proposal, with 96% voting to reject the offer. The UCFW noted that it had been two weeks since Heaven Hill left the discussion.
UFCW Local 23D president Matt Aubrey said: "Heaven Hill distillery workers have been on the frontlines of this pandemic since it began and helped produce the hand sanitiser that kept Kentucky doctors, nurses and so many other first responders safe when Covid-19 first ripped through our communities.
"When so many businesses shut down, Heaven Hill essential workers stepped up, helping to support our families and keep the company and our local economy strong throughout this crisis."
The UFCW said the move is despite the family-owned producer reporting US$500 million in annual revenue amid the pandemic.
Aubrey continued: "Healthcare price hikes that reduce take-home pay, cuts to overtime, and drastic scheduling changes are no way to recognise the incredible service of these Kentucky essential workers, but that is exactly what Heaven Hill is trying to do with this contract.
"How can a company making US$500 million a year justify making healthcare more expensive for essential workers in the middle of a pandemic? What kind of message does it send when a family-owned company is pushing scheduling changes that make it harder for workers to support and care for their own families?"
Heaven Hill must 'step up'
Aubrey added: "Heaven Hill has a responsibility to do right by these Kentucky essential workers and we are urging the company to step up and provide the strong contract that they have earned and deserve."
Heaven Hill Brands said in a statement: "Thursday evening, the membership of the United Food and Commercial Workers Local 23-D failed to ratify a new five-year contract with Heaven Hill.
"Since the company was founded, the support of our employees has been a source of pride and we have had productive conversations with the union for several months now regarding components of the contract. We will continue to collaborate with UFCW leadership toward passage of this top-of-class workforce package."
According to UFCW's latest data, among its members there have been 483 frontline worker deaths and at least 93,900 frontline employees infected or exposed to the virus.
Heaven Hill produces brands such as Blackheart Rum, Black Velvet Canadian whisky, Christian Brothers VS Brandy, Deep Eddy Vodka, Elijah Craig 12 Year Old, Evan Williams Kentucky Black Bourbon, Hpnotiq Liqueur, Old Fitzgerald Bourbon and Two Fingers Tequila.
In June this year, the Kentucky-based distiller opened its new US$19 million visitor centre.
In March 2020, Heaven Hill Brands donated US$400,000 to help communities and hospitality workers affected by the coronavirus pandemic.