Top 10 award-winning autumn spirits
Autumn has well and truly arrived for those north of the equator. While pumpkin spice lattes might be your tipple of choice during the day, we've picked some brilliant bottlings to enjoy as the nights draw in.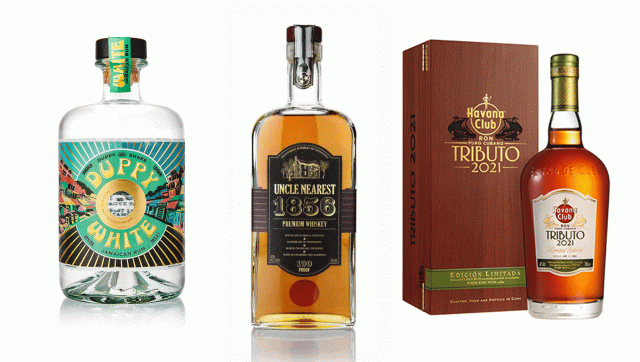 From a classic vodka and two standout white rums to high-quality whiskeys and a ready-to-drink Espresso Martini cocktail, there's an eclectic mix of award-winning products to add to your home bar this season.
Plus, for anyone abstaining from booze, there's even a delicious alcohol-free option included below.
Each product was picked from our top medal winners at this year's DB & SB Autumn Blind Tasting, securing either a Gold or Master medal – the highest award available.
The competition required three panels of spirits experts, who headed to the Ibis Hotel in London Bridge, UK, for the day's tasting. Forming the first panel were: Nicola Thomson, director of Fifteen 71; Julia Nourney, independent spirits consultant; Marie Cheong‐Thong, wine and spirits judge, and Wine and Spirit Education Trust (WSET) educator; and Melita Kiely, editor of The Spirits Business, and chair of the tasting.
David T Smith, spirits consultant and co‐founder of the Craft Distilling Expo, chaired the second panel. Bernadette Pamplin, spirits writer and judge; Dimple Athavia, founder of All Things Drinks; and Tobias Gorn, international drinks specialist, joined Smith for the tasting.
Sitting on the third panel were: Nicola Carruthers, deputy editor of The Spirits Business; Ivan Dixon, independent spirits consultant; and Matt Chambers, co‐founder of the Whisky For Everyone blog and North London Whisky Club, who also acted as chair.
Continue scrolling to peruse our selection of top spirits to sample this autumn, and let us know what you'll be drinking in the comments.
---
Au Original Gold Filtered Vodka
Price: £37 (US$51)
British vodka Au takes its name from the periodic table symbol for gold, 'Au'. The vodka is distilled five times, filtered through charcoal then put through a filter chamber containing gold.
The Master medallist was described as "clean and fresh" on the nose and "creamy on the palate, with vanilla, a hint of marshmallow and a nice warming, peppery nature".
---
Ezra Brooks 99 Kentucky Straight Bourbon
Price: £34 (US$47)
Master medallist Ezra Brooks 99 Kentucky Straight Bourbon wowed our judges with its "complex and big" flavour profile, with delicious flavours of "toffee, coffee and popcorn".
Bottled at a higher ABV of 49.5%, the oak-barrel-aged Bourbon is charcoal-filtered. It is made from a mash bill containing corn, rye and barley.
---
Ten to One Caribbean White Rum
Price: US$36.99
When it came to white rum, Ten to One Caribbean White Rum stole the show. The expression blew the judges away with its "estery, grassy" notes mingled with additional flavours of "toffee and caramel".
The makers of this award-winning expression combine unaged column still rum from the Dominican Republic with high-ester pot still rum from Jamaica. Ideal for mixing in cocktails, the rum sits at 45% ABV.
The brand recently got a boost with backing from singer Ciara, who joined the company as an investor, co-owner and director in early October.
---
Havana Club Tributo 2021
Price: €400 (US$475)
Havana Club's annual Tributo bottlings are always highly sought after – and this year's release did not disappoint. "Rich and delicious" Havana Club Tributo 2021 was finished in white Port casks from the Douro Valley in Portugal, before being bottled at 40% ABV.
It was made using reserves from previous Tributo releases, and blended with rum taken from a batch of 100 exclusive casks that have never been made available commercially.
---
Parafante Fig Leaf Liqueur
Price: £20 (US$28)
If you're looking for something deliciously light and on the sweeter side, Parafante Fig Leaf Liqueur could be your ideal choice this autumn. The liqueur can be chilled and sipped neat, or mixed in a simple cocktail.
At 20% ABV, this perfectly suits those looking for something with a lower alcohol content, while still delivering heaps of flavour. The Master winner was enjoyed for having "lovely fig notes and a hint of cocoa and white chocolate".
---
NIO Cocktails Espresso Martini
Price: £39 (US$54) for a pack of six
NIO Cocktails has created a Gold-worthy ready-to-drink Espresso Martini, perfectly blending Ketel One Vodka and Fair Café Liqueur. Sitting at 28.9% ABV, the cocktail simply calls for the addition of ice, and can be delivered straight to your door.
If pre-mixed cocktails are your thing, it's worth taking note of the brand's Margarita, which also secured a Gold medal in the Autumn Blind Tasting.
---
Lyre's Italian Orange
Price: £20 (US$28)
If you're taking part in Sober October, or simply looking to reduce your alcohol intake – whatever your reason for abstaining from the hard stuff, Lyre's Italian Orange is a delicious alcohol-free alternative.
The Master-winning orange 'spirit' was likened to "Campari" and offered notes of "gentian" on the nose.
---
Duppy White
Price: £19.75 (US$27)
Rapper Kano and The Duppy Share launched their collaborative Duppy White last month – the brand's first Jamaican expression. The partnership is evidently paying off, as our esteemed panel of judges deemed the white rum to be deserving of a highly coveted Gold medal.
Bottled at 40% ABV, the judges were taken by the rum's "funky Jamaican character", while remaining "accessible" to consumers – high praise indeed.
---
Uncle Nearest 1856 Premium Aged Whiskey
Price: £55 (US$76)
The judges were excited to delve into their samples of Uncle Nearest 1856 Premium Aged Whiskey, picking out notes of "treacle, honey and caramel", plus "peppery and oaky" flavours for added complexity.
The liquid is a blend of whiskeys aged in charred oak barrels for between eight and 14 years. The whiskey is distilled in small batches and is maple-charcoal-filtered.
---
Roe & Co Japanese Sugi
Price: €80 (US$93)
"It was well balanced, with beautiful grainy, fruity notes and the finish lingered," commented Thomson about this Gold medal winner.
Roe & Co Japanese Sugi (46% ABV) came to market in August this year and uses Japanese sugi wood and a 'unique' maturation process to make the 46% ABV Irish whiskey. To craft the liquid, the team extended the length of the bungs (stoppers) and added five of these to each cask. A total of 10 casks were laid down. Diageo, owner of Roe & Co, said the sugi wood adds aromatic and perfumed qualities to the spirit.