Teeling debuts fourth Renaissance whiskey
Irish whiskey producer Teeling has extended its Renaissance range with an 18-year-old single malt finished in ex-Pineau des Charentes wine casks.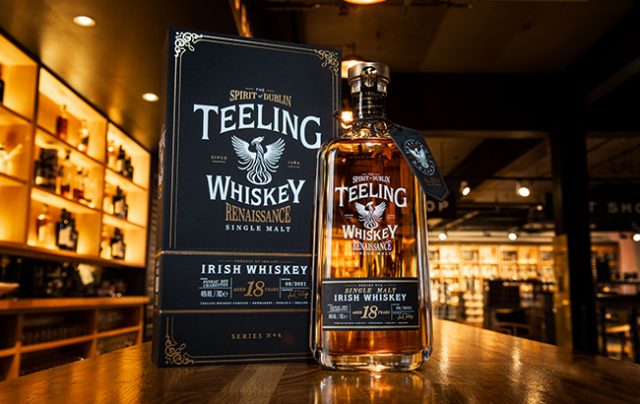 Launched in 2019, the Renaissance series was designed to celebrate the 'true global renaissance' of Teeling, Dublin and Irish whiskey. The series has so far included whiskeys finished in ex-Australian Shiraz, ex-Madeira and ex-Muscat casks.
Jack Teeling, founder and managing director of Teeling Whiskey, said: "These releases are a celebratory bottling series that mark the true renaissance of Dublin as the epicentre for world-class, city-based whiskey distillation. These whiskeys have established themselves as the golden standard of Irish single malts over the last two years."
The fourth bottling in the line was first aged in ex-Bourbon barrels for more than 16 years before being finished in ex-red Pineau des Charentes fortified wine casks from France. The casks are said to impart pressed grape and candied dried fruit flavours of apricot and pineapple character.
The single malt offers notes of apricot, pineapple, toasted almonds and clove spice on the palate, followed by a finish of soft spices and sweet cherries.
Bottled at 46% ABV, the whisky is non-chill-filtered and limited to 9,000 bottles.
Renaissance 18 Year Old will be available in Ireland from the Teeling Whiskey Distillery in Dublin, The Celtic Whiskey Shop, Irishmalts.com and premium independent off-licences. It is priced at RRP €140 (US$162) per 700ml bottle.
The whiskey will also be rolled out in key global markets such as the UK, Belgium, Holland, France, Denmark, Italy, Russia and select Asian countries.
Teeling added: "As the leader of the new wave of Dublin whiskey distillers, we look forward to contributing to and helping the continued renaissance of Teeling, Dublin and Irish whiskey.
"With our Dublin-distilled Irish whiskey now being celebrated and enjoyed around the world, we are experiencing a new chapter in Teeling Whiskey which is perfectly encapsulated in our Renaissance bottlings."