Patrón marks Day of the Dead with bar takeovers
By Nicola Carruthers
Tequila brand Patrón is celebrating Day of the Dead in the UK by partnering with bars in London, Manchester and Liverpool.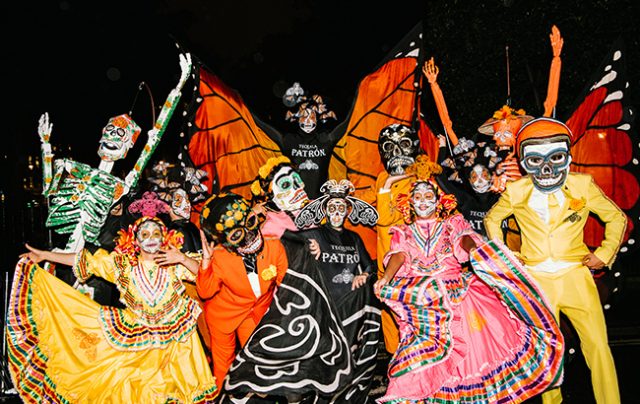 The Bacardi-owned Tequila brand will celebrate the Mexican holiday (1-2 November) with themed cocktails and bar takeovers across the UK until 7 November.
The Day of the Dead activities will conclude with street parades outside Cafè Pacifico in London's Covent Garden from 7pm on 2 November, and around The Oast House in Manchester from 8pm this evening (29 October).
Furthermore, Patrón has created a limited edition collector's tin inspired by Mexico's heritage. Created by artist Senkoe, the design honours the story of the origins of agave and is available from Harvey Nichols.
The Tequila brand is also offering tools to make cocktails at home to celebrate the occasion through its Patrón Pantry Amazon brand store.
The online store features cocktail ingredients bundles, recipe cards and will host a dedicated Day of the Dead section with themed cocktail recipes such as the Marigold Mule.
In 2019, the brand celebrated Day of the Dead with a month-long campaign in the UK.
The venues participating in Patrón's Day of the Dead celebrations include:
London
Cafè Pacifico, Covent Garden: 26 October – 7 November
Raffles, Chelsea: 28-31 October
Hacha, Dalston: 28 October – 7 November
Los Mochis, Notting Hill: 30 October – 7 November
Park Row, Soho: 29 October
Restaurant IT, Mayfair: 28 October – 2 November
Hush Terrace, Mayfair: 28 October – 7 November
Drake & Morgan sites, The Anthologist and The Folly, Bank: 18 October – 7 November
Manchester and Liverpool
The Oast House, Manchester: 26 October – 2 November
The Ivy Spinningfields: 11 October – 7 November
Ducie Street Warehouse, Northern Quarter: 30 October – 3 November
Crazy Pedro's, Manchester's Bridge Street and Northern Quarter and Liverpool: 29 October – 2 November
The Firehouse, Manchester: 26 October – 2 November
Present Company, Liverpool: 29 October – 2 November