Dead Man's Fingers unveils Halloween app
By Alice Brooker
Halewood Artisanal Spirits has launched a Halloween-themed game app with its spiced rum brand Dead Man's Fingers.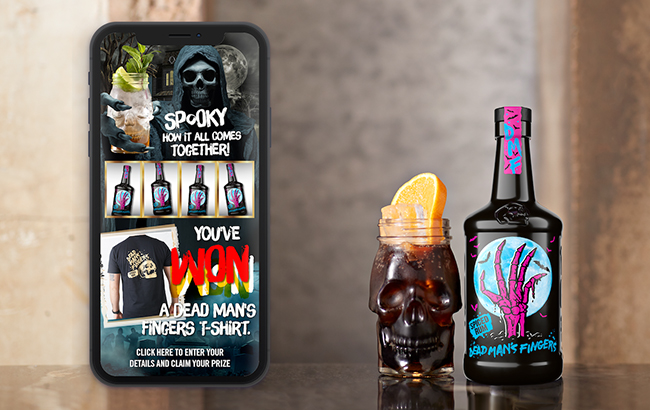 Designed in the style of a fruit slot machine, the new game aims to drive website traffic and purchases during the spooky season.
The app, called Fruit-Fright, can be accessed via QR codes displayed on cocktail stirrers served with the rum. These will be presented in more than 700 participating pubs across the UK.
Graeme Sharp, business development executive at Halewood Artisanal Spirits, said: "Today, the focus of the brand continues to be around challenging convention and having fun with new and exciting flavour combinations, and our new connected experience does just that with this spooky Fruit-Fright experience.
"We are seeing an increase in consumers looking to celebrate occasions like Halloween for longer, meaning that it is becoming more than just a one-day event."
The app has been created in partnership with digital experiences studio Appetite Creative, and offers instant prizes in the form of branded merchandise, including caps, t-shirts, beach towels and lanyards.
"We had a brilliant time working on this very fun and cool branded experience – taking all of the spookily stylish Dead Man's Fingers graphics – to create an interactive, fun and compelling user experience," said Jenny Stanley, managing director at Appetite Creative.
The game allows users to 'press the skull' to spin reels, with the hopes of matching Dead Man's Fingers bottles instead of fruit icons to receive rewards.
The app will be live for the whole month of October.
Earlier this year, Dead Man's Fingers revealed three limited edition bottles of its spiced rum range and announced a UK tour.
Dead Man's Fingers range includes a number of fruity iterations, Lime, Raspberry, Passionfruit and Hazelnut, as well as a pineapple-flavoured variant.