Wild Turkey debuts Master's Keep One
Campari Group-owned Wild Turkey Bourbon has released the sixth limited edition expression in its Master's Keep collection.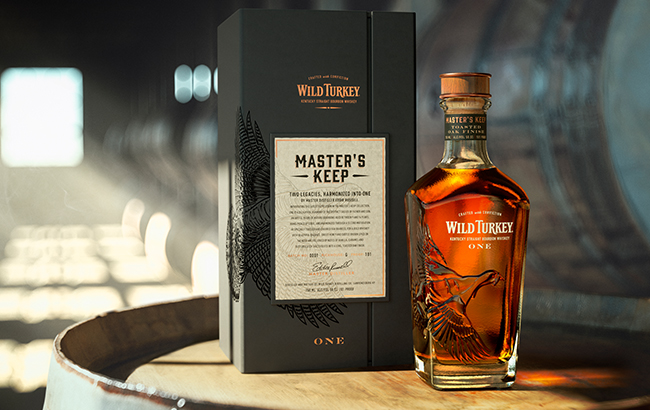 The first bottling in the annual Master's Keep series, a 17-year-old expression, was unveiled in 2015. The line includes last year's bottled-in-bond expression, Decades, Revival and Cornerstone Rye.
The series is a collaboration between Eddie Russell and his father, Jimmy, who share the role of master distiller for Wild Turkey.
The latest edition to the range, Master's Keep One, combines Jimmy's love of mid-aged Bourbons (eight to 10 years) with his son's passion for the complexity of older Bourbons.
As such, Jimmy has selected barrels that meet his preference for 'bolder' Bourbons, which have been combined with a 14-year-old chosen by Eddie.
Both whiskies have been matured twice using new oak barrels that have been toasted and charred in one of Eddie's preferred timber rickhouses – Tyrone G.
"Wild Turkey's heritage was built on family values, a love for whiskey making, and an endless search for bold flavours," said Eddie Russell, who celebrates his 40th anniversary at the distillery this year.
"Master's Keep One honours the tools, techniques and tradition that my father handed down, and is a culmination of our shared love of Bourbon. Jimmy instilled in me the most rewarding lessons for success in work and life – passion and discipline – and I'll always be grateful to him for setting me on this path 40 years ago."
The resulting liquid offers notes of sweet honey and brown spice, with vanilla, butterscotch and caramel.
Master's Keep One is priced at RRP US$175 and available to buy from select US retailers.