Diageo creates Australian RTD brand Reeftip
By Kate Malczewski
Spirits giant Diageo has unveiled Reeftip, a drinks brand that contributes to the regeneration of coral reefs, launching with a range of ready-to-drink (RTD) spiced rum cocktails.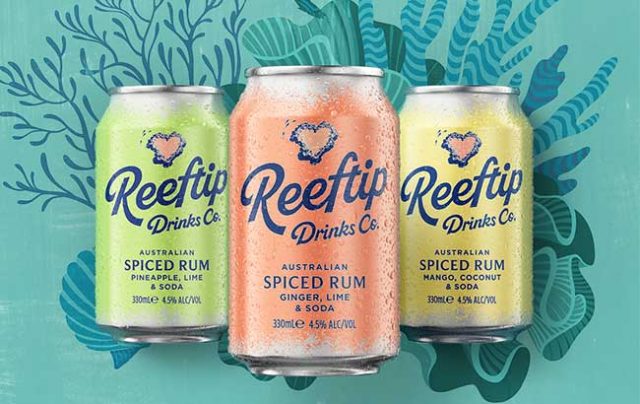 Through Reeftip Drinks Co, Diageo Australia aims to support the conservation of the Great Barrier Reef, the world's largest coral reef system, by donating 10% percent of the brand's profits to the Coral Nurture Program environmental project.
Reeftip has entered the market with three RTDs, each sitting at 4.5% ABV with a base of the brand's Australian spiced rum: Ginger, Lime & Soda; Pineapple, Lime & Soda; and Mango, Lime & Soda.
A full-strength spiced rum bottle serve is set to launch in October, with plans to extend the range and move into other categories in the future.
Hayden Abercrombie, head of innovation at Diageo Australia, commented: "Reeftip Drinks Co is the result of a combined passion for great drinks and a love for the Reef.
"Spiced rum is such a vibrant category in spirits, we saw an opportunity to create a product that not only tastes good but does good. This week's launch is just the beginning, with range and category extensions coming in the months ahead."
Diageo said the brand was created with 'the values and motivations of modern-day Australian consumers' in mind, citing Nielsen research which found that 66% of consumers are more likely to buy from companies that practice corporate social responsibility.
Angus McPherson, managing director at Diageo Australia, stated: "Australians are getting right behind the local spirits industry and that's why I'm so excited to launch Reeftip, Australia's newest spirits brand.
"People are becoming increasingly aware of the environment they live in, and they're passionate about brands that give back and make a positive contribution. That's why we've partnered with the Coral Nurture Program for Reeftip – to help those who live and work on the reef build its long-term resilience.
"Diageo has its own ambitious targets to create a more sustainable community through our Society 2030: Spirit of Progress action plan. We are passionate about leading and creating positive change for our industry, and environment. We're incredibly fortunate to have the world's largest coral reef ecosystem on our doorstep, and we all want to see it preserved."
Reeftip's RTDs are now available in liquor stores across Australia in four-packs of 330ml cans, with an RRP of AU$24.99 (US$18.51).
Last month, Diageo released its fiscal 2021 results, reporting a 16% increase in net sales for the financial year.