Whitley Neill targets al fresco dining with campaign
Halewood Artisanal Spirits has introduced a £1.2 million (US$1.6m) campaign for Whitley Neill Gin channelling summer outdoor dining occasions.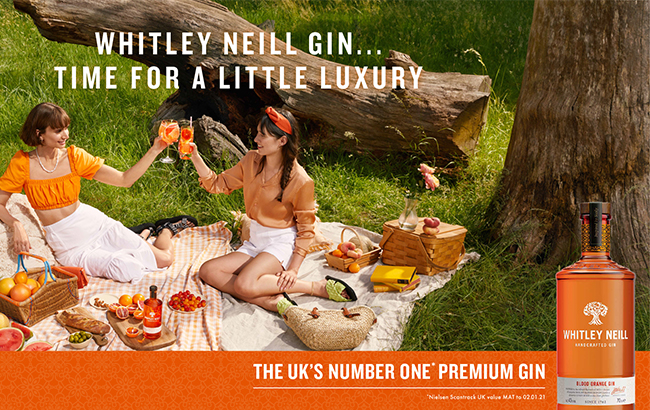 With the tagline 'time for a little luxury', the advertising campaign presents drinkers in a meadow with a picnic of fruits and Whitley Neill Gin.
The new initiative highlights three expressions in the producer's 12-strong portfolio: Blood Orange, Raspberry and Rhubarb & Ginger.
Simon Jackman, senior global marketing manager for White Spirits at Halewood Artisanal Spirits, said: "Our Whitley Neill Gin flavours such as Blood Orange, Raspberry and Rhubarb & Ginger have continued to see strong growth over the past year as consumers have become more experimental with their drinks choices."
One poster for the campaign features brand's Blood Orange Gin, describing the bottling's tasting notes as 'fruit bursts of Sicilian blood oranges and their zesty aromas'.
"Our new campaign is set to further drive awareness for our award-winning range, inspiring shoppers and showcasing how these delicious, vibrant gin flavours are the perfect choice for any summer drinking occasion," added Jackman.
The campaign will go live this August across social media, digital screens and on billboards and digital sites.
The news follows Halewood Artisanal Spirits' acquiring a Waitrose listing for its Samuel Gelston's Irish whiskey in the UK.