The big interview: Paul John, John Distilleries
Paul John is a pioneer of Indian whisky. With multiple million-case-selling brands to his name, he tells Melita Kiely about his single malt ambitions and enhancing the category's reputation in India and overseas.
*This feature was originally published in the May 2021 issue of The Spirits Business magazine.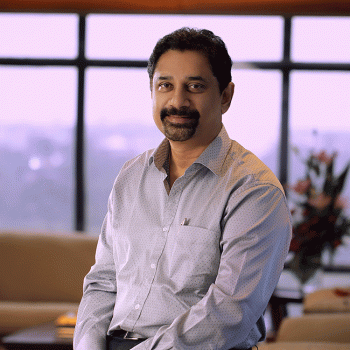 If any confirmation were needed that Indian whisky can compete alongside the world's top single malts and blends, look no further than Paul John's trophy cabinet. The chairman and managing director of John Distilleries, maker of million-case-selling brands such as Original Choice and Bangalore Malt, has collected more than 275 international awards for his spirits portfolio – and he's far from finished.
John was introduced to the drinks trade from a young age by his father, who was an alcohol retailer. After university, John tried his hand in the biscuit business, manufacturing his own sweet treats.
"I ran it for two years; it was a disaster," he confesses. After "losing everyone's money", it took him two years to "sort out all the financial issues" before he made the career move into alcohol production.
"I managed to get a licence somewhere around 1992 and I set up the plant to manufacture what we call IMFL – Indian-made foreign liquor," he recalls. "We started manufacturing that in the same premise that I actually started up the biscuit factory. I sold all the biscuit machines then utilised the same land to put up the factory for manufacturing liquor."
Multiple brands
With multiple brands now under his belt, the second business plan was indisputably a success. John started by making "lower-end brands" for the domestic market. "Then 1995 or 1996 is when I launched the brand called Original Choice whisky – it was a complete game changer," he says about the blended malt. "I brought a little dose of malt to that lower-end category, gave them good packaging and things like that, and it started picking up."
Although Original Choice was not John's first whisky brand, it has grown into the company's flagship bottling. In 2019, the brand shifted 12.7 million nine-litre cases, according to The Brand Champions 2020 data, marking a 10.3% increase on its 2018 sales. India remains the brand's strongest market, particularly South India, John says.
"But we do export to some Gulf countries like Dubai, Oman, and some African countries," he adds.
Expansion beyond these regions is tricky for the brand because "most of them require whisky to be matured for a minimum of two years for it to be called whisky, so in such countries that have those kinds of laws, we will not qualify", John explains.
The brand's strength in South India stems from John's familiarity with the region. "I'm from Kerala in South India, next to Karnataka. But I grew up in Bangalore and studied there," in the capital of Karnataka state, he explains. "So basically, my base was there and I started the first 10/15 years of the operations for John Distilleries in Karnataka. That's our home state, and we've established ourselves really well."
From there, John has expanded the brand's reach into other states including Kerala, Tamil Nadu and Andhra. Spotting a gap in the market for a quality Indian single malt, John expanded the company's portfolio with the launch of his namesake brand: Paul John Indian single malt whisky.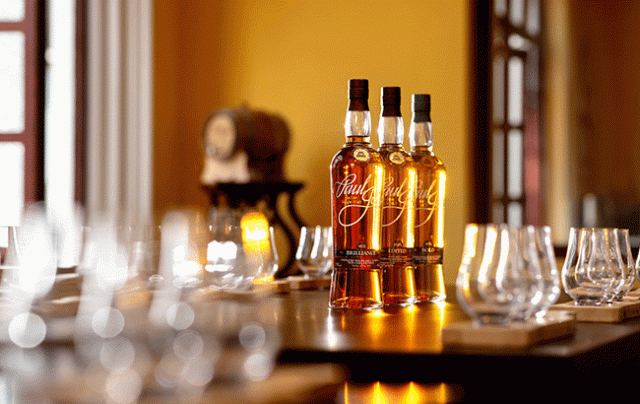 "Original Choice is a low-margin, high-volume business, and the mode of operation in terms of manufacturing, and the kind of consumer it brings in is completely different from the Paul John single malt," John says.
"Paul John single malt is my baby; I've given my name to it. It's something I'm doing with a lot of passion, and in the early stages when I started, there were no regulations in India on how you could make whisky or what you could call whisky – you could do anything and literally get away with it."
Now, he explains, the Food Safety Standards of India (FSSI) has "brought some kind of uniformity" to the category.
"There is a definition now on what you can call a single malt, which is the same as what is in the UK or Scotland," John says – but he already bound himself to these rules when he started marketing Paul John single malts.
"My first market was the UK," he continues. "I launched there first so that I could get traction and make sure that people who are mature and seasoned single malt drinkers got to taste it, and evaluate it, and give us the seal of approval before I took it to the rest of the world."
From the UK, John took his single malts to other parts of Europe, before heading to Australia, New Zealand, parts of Asia and the US. It was only after three years of pure export sales that Paul John Indian single malts made their debut in India "around two-and-a-half years ago", John says. Indian whisky drinkers have been welcoming of the range, to say the least.
The core range comprises three expressions: Edited, Bold and Brilliance. Brilliance is the unpeated variant, made from barley grown at the foothills of the Himalayas, and distilled and matured in Goa. Edited is a slightly peated expression to give whisky drinkers an introduction to smoky whisky. Bold is the peated bottling, made from Indian barley and smoked using Islay peat.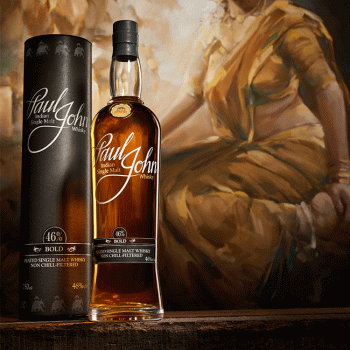 "In the second year of operation, my [Paul John single malt] volumes almost touched the entire export volumes in India," he says. "So I think this year, the domestic volumes will be larger than my entire export volumes. Going forward, I would say I expect at least 80% of the total volumes to come from India eventually."
He describes the country as a "maturing single malt market", and says most drinkers who have sampled single malts only know of international brands. "If they have tried single malts at all, it's because they've travelled abroad. Very few of them have picked up [single malts] from the domestic [market]," he adds.
"There was a big gap, which I filled with accessible, good-quality single malts that were reasonably priced. That gap I filled has given this substantial increase in volume in a short period of time."
Furthermore, John says the style of whisky drinking in India is very much skewed towards the classic Highball serve using blended whisky.
"To have a single malt, and sip it neat, or perhaps add just a little bit of water, is a completely different way of drinking whiskies, which is the challenge for me, to educate people in India," John says.
Outside of India, John notes France as a "reasonably good market" for his single malt whiskies, along with other parts of Europe.
"Most of the European countries have been able to give us some volumes. The next big market for me is the US; it's a huge market," he adds.
John Distilleries was able to build on its global ambitions further when Buffalo Trace Bourbon maker Sazerac acquired an equity stake in the company in 2017. But the company is also helping Sazerac realise its Indian goals.
"We have started manufacturing some of Sazerac's international brands for the domestic market, and we do produce the famous Fireball in India for the Indian market, so we are producing and marketing that brand now," John explains. It means Sazerac doesn't face the eye-watering duty India slaps on imported brands, which has been a constant barrier for most brands looking to enter the market.
"The duty is more than 150% for products imported into the country, so if it can be produced within the country it makes a lot of economic sense," John adds.
John Distilleries produces its portfolio – which also includes Indian rum and Indian brandy – in around 10 locations throughout the country, "but mainly focused in South India". Some are owned by John Distilleries, some are leased and "a few are hired, meaning it's somebody else's distillery, they have their own brands, we give them the raw materials and ingredients and they make it for us", John explains. Each distillery sells into the local market in India because "it's practically impossible" to produce in one state and sell into another.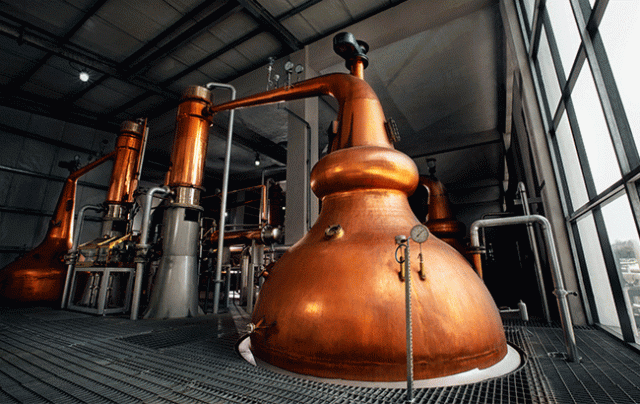 Permits required
"There are so many restrictions and formalities," John continues. "For example, you need an export permit from the exporting state, then you need an importing permit from the importing state, then both states have levy fees for exporting and importing. So all those things make it practically unviable."
Original Choice, for example, is produced in every state because it's a price-sensitive product. "Even a few rupees of either tax or import or export fees would make it unviable, so we have to produce it in every state," John says.
Karnataka is Original Choice's biggest market in India, accounting for more than 65% of total volume sales. Andhra, Telangana and Kerala follow, with interest also growing in Goa and parts of states in the north. To meet consumer demand for Original Choice, John Distilleries is producing around 153m litres of alcohol every year. While for Paul John single malt, "100m litres are being put into casks every year".
With demand so high, John Distilleries has been building "at least one or two warehouses" each year "because we have about 5,000 casks to be filled every year".
Warehouse capacity ranges from 2,000 casks to 1,000 casks, depending on the height and length of the building. "They're not all a standard size because unfortunately we've grown from a small area, so as we keep acquiring land, we have to demolish older, smaller buildings to put up bigger buildings, and land prices in India – especially in Goa – are extremely high. So we have to be cognisant of these things," John says.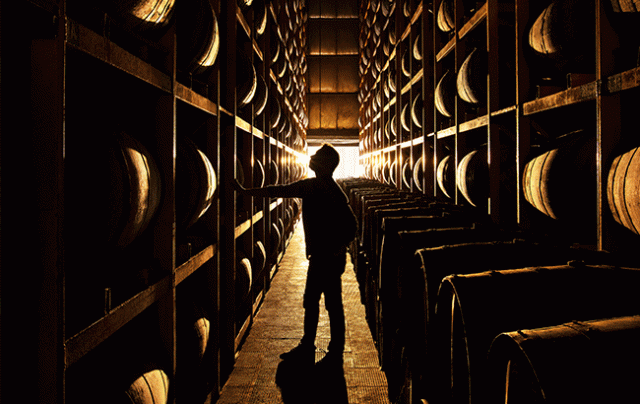 It's all part of the long-term plan for the company's single malts, which for more of the whiskies in the Paul John range means a minimum maturation time of six years. Paul John's Nirvana, which launched in May last year, is an exception to the rule. The 40% ABV unpeated whisky was aged in charred American oak casks and uses some whisky aged for just three years.
"We need to know what our volumes will be 15 years from now," he says. "About a year-and-a-half back we doubled our pot still capacity because we anticipated that we will definitely need more single malts going forward. And at the rate the evaporation is happening, although we are producing 150m litres per year, the evaporation after six or seven years means what you get is almost half [of what you started with]. So all that needs to be factored in to calculate our expected requirements 10 years from now, so we have to put the infrastructure in place."
It's a costly plan. John says he is investing "about 30-35 crores" in the expansion every year, meaning around 350 million rupees (US$4.7m).
It's big money – but John is confident he can deliver the big volume sales to match. In India alone, John forecasts the company's whisky volumes will be "35 million-40m cases" in 10 years' time.
"India is still a very young population; more than 65% are less than 30-34 years old," he says. "So the number of legal-age drinkers in the country is growing by an average of 6%-7% per year."
Factor international sales into the equation, and that overall case number will see a "small increase" – for John's standards, at least.
"Single malt is a very small percentage of the total volumes that we will be selling, so internationally, we may do a maximum of 15m-20m cases of single malts," he adds.
In the shorter term, John isn't looking to drastically modify his operations. Like everyone affected by the pandemic, John's goal for the immediate future is to "stay afloat".
Work to do
Plus, he says: "I've already got so many brands, such as Nirvana, and we have a lot of work to do on that brand and all the variants we have launched. I've delivered a lot of babies, I need to make sure that they grow as well," he quips. "I don't want to keep on just delivering, and they're all running around without anybody changing their diapers."
Ensuring each expression receives the right placement and exposure, and that quality standards are maintained will be John's main priority.
"There is a lot of money going into the capital investment, into the warehouse construction, cask buying and storing of the spirits," he adds.
"It's a lot of money and I don't want to dilute myself too thin so that I am not able to manage everything. So I have to remain very diligent in whatever new things I do. Everything must have a purpose; that is my intention."