Up for discussion: Ardbeg 8 Years Old
By Melita Kiely
Members of the Ardbeg Committee will have the chance to purchase a new whisky exclusive to the members' club: Ardbeg 8 Years Old For Discussion.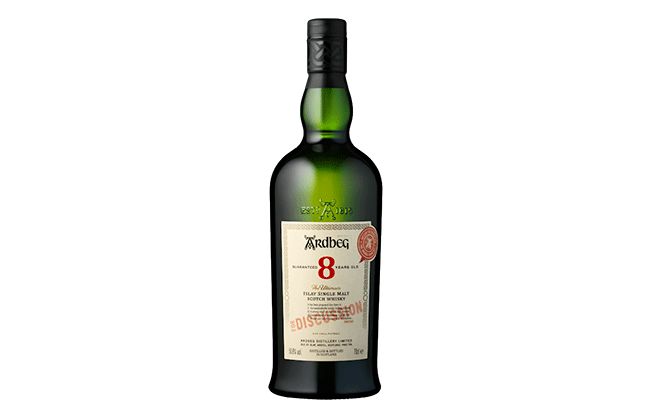 Ardbeg 8 Years Old for Discussion is the latest Committee-only bottling from the Scotch whisky brand, born out of an experiment by master distiller Dr Bill Lumsden.
The eight-year-old is the answer to Lumsden's question 'what if, in an alternative universe, Ardbeg Ten Years Old was not the distillery's "flagship" aged expression?'
Lumsden, Ardbeg's director of distilling, said: "Ardbeg 8 Years Old is a delectable, young and curious whisky – I like to think of it as the 'alternative universe' version of Ardbeg Ten Years Old.
"An aged ex-Sherry whisky is new territory for us, so naturally, we want some thoughts. We're sharing this with the Committee's experienced palates to help us find that smoky sweet spot.
"With notes of bold peat smoke, creosote, charcoal and salted caramel, it's more than guaranteed to provoke discussion among those privileged enough to taste it."
Bottled at 50.8% ABV, Ardbeg 8 Years Old For Discussion will be available to purchase in July, priced at £57 (US$78) per 700ml bottle.
Tasting notes include aromas of charcoal, treacle toffee, hints of milk chocolate and aniseed, which lead to a 'distinctively peppery mouthfeel' and flavours of salted caramel chocolate, eucalyptus, menthol and burnt toast. The finish is said to deliver a 'long and lingering' aftertaste, with a hint of peppermint and clove.
Distillery manager Colin Gordon will host a private online tasting for Committee members on 30 July. The Adbeg Committee is free to join at ardbeg.com/committee.
Gordon added: "If there's one thing we know about Ardbeggians, it's that they're an eclectic mix of people – whisky-mad and up for anything. But they're all bonded by one shared passion – smoky Ardbeg malt.
"We look forward to hearing their thoughts on our latest expression. And, to anybody not already part of the family, we invite you to join the Ardbeg Committee – and join in the conversation."