Patrón and John Geiger create streetwear collection
By Kate Malczewski
Bacardi-owned Patrón Tequila has teamed up with fashion designer John Geiger to launch a clothing line that merges the worlds of streetwear and street art.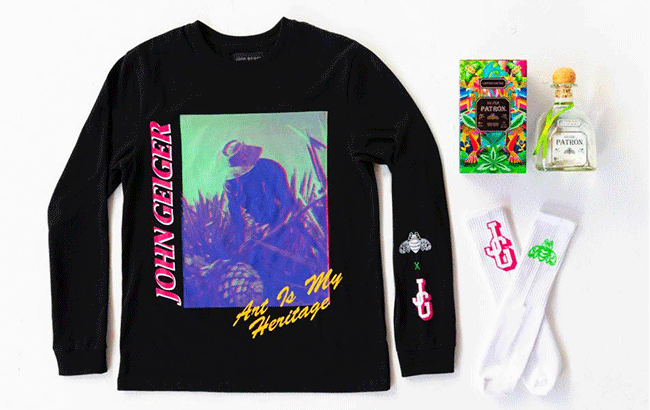 To create the collection, Geiger took inspiration from the recently released 2021 edition of Patrón's Mexican Heritage Tin packaging, which was designed by Mexican street artist Senkoe.
Chloe Lloyd-Jones, vice-president of Patrón North America, said: "For the past five years, Patrón has released a limited edition Mexican Heritage Tin that visually shares the history, traditions and culture of Mexico through spirited designs created by local Mexican artists.
"With this year's theme highlighting Mexican street art, we collaborated with fashion designer, John Geiger, to showcase the parallels between Senkoe's street art and streetwear."
The new clothing range includes a long sleeve shirt with an image of a jimador harvesting Blue Weber agave, the raw material used to make Tequila, as well as a pair of socks with brightly coloured accents.
Geiger said his designs drew from Senkoe's depiction of "the colourful and rich history of Mexican street art" on the Heritage Tin, which features traditional imagery including a tree of life and a maguey flower.
"Over the years I have admired Senkoe's work and how passionate he is about where he is from, using his murals to reclaim and beautify public spaces," Geiger explained.
"I wanted this collection to represent the dedication that goes into craft – whether that be a bottle of Patrón Tequila or a one-of-a-kind mural. There is so much dedication and character behind Mexican culture, and as a local artist, it is inspiring to see Senkoe convey it all through his work.
"With streetwear, it is important to bring together all aspects of cultural influences, and the Patrón x John Geiger collection reflects that by paying homage to the hardworking people that create Patrón Tequila from start to finish."
The new streetwear collection will be available at johngeigerco.com beginning July 24, National Tequila Day, with the socks retailing for US$30 and the shirts priced at US$85.
Meanwhile, the Patrón Mexican Heritage Tin can be purchased from local retailers across the US for RRP US$65.