Stanley Tucci partners with Tanqueray
Diageo has teamed up with Hollywood actor Stanley Tucci to present Tanqueray gin-based cocktails.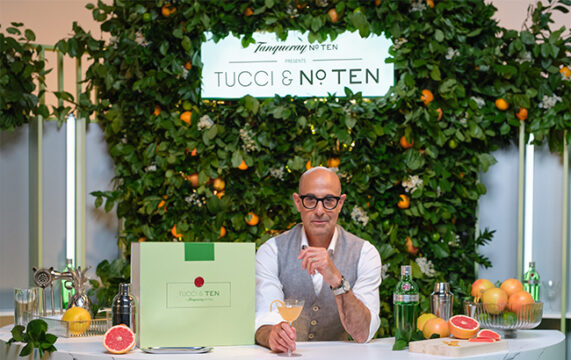 The global partnership between the Devil Wears Prada star and Tanqueray No. Ten was revealed in a live stream from the partnership's virtual bar, called 'Tucci and No. Ten: Open for Orders'.
Tucci and a team of bartenders crafted a Tanqueray cocktail together, before shipping the concoction to 100 fans.
The live stream of the event allowed spectators around the world to witness the mixing of a gin-based creation.
"I'm a big fan of a great-tasting cocktail, using the expertise of the amazing bartenders across the world, and bringing that to life in your own living room," Tucci said.
"I can't wait to show how people can experience the finest cocktails, when they take a fresh approach to their gin choice with Tanqueray No. Ten."
Tucci received an impressive reaction from Instagram audiences over lockdown, after posting a number of behind-the-scenes cocktail-making videos filmed at home.
The serves he created for fans included a Rob Roy, Old Fashioned, Negroni and Scotch Sour – as well as many others.
Tucci's signature cocktail is a Grapefruit Martini, which combines Tanqueray No. Ten, pink grapefruit juice and honey.
"It makes perfect sense," said Pedro Mendonca, managing director for Diageo's global reserve portfolio.
"A globally iconic gin like Tanqueray No. Ten, partnering with Hollywood's favourite aspiring bartender and Martini connoisseur bring a fresh and elevated approach to the gin cocktail experience – we're excited to launch the partnership and look forward to bringing it to life."
In celebration of the partnership, Tanqueray No. Ten is supporting the wider hospitality industry with a pledge to The Drinks Trust to help those struggling in the sector.
Earlier this year, Tanqueray also bagged a partnership with musician Joe Jonas to mark the US-wide launch of Tanqueray Flor de Sevilla gin.